We are all about planning, but a budget comes first. In fact, your Hawaiian vacation budget will actually dictate a lot of your planning. So, there's no planning without a budget.
But the costs of a Hawaiian vacation remain shrouded in mystery. There are rumors floating around that say the cost of food is sky high, that a drink will run you as much as a mainland meal and that there are surprise fees waiting for you at the check-in desk of those Hawaiian resorts.
Some of these rumors are based in reality and are partially true, but we're here to dispel the myths to set the record straight. Once you have a clear picture of the costs associated with your dream Hawaiian vacation, then you can begin to plan. And planning is half the fun. It gives you something to look forward to as you endure cold weather on the mainland.
---
Round-trip Airfare $300-$900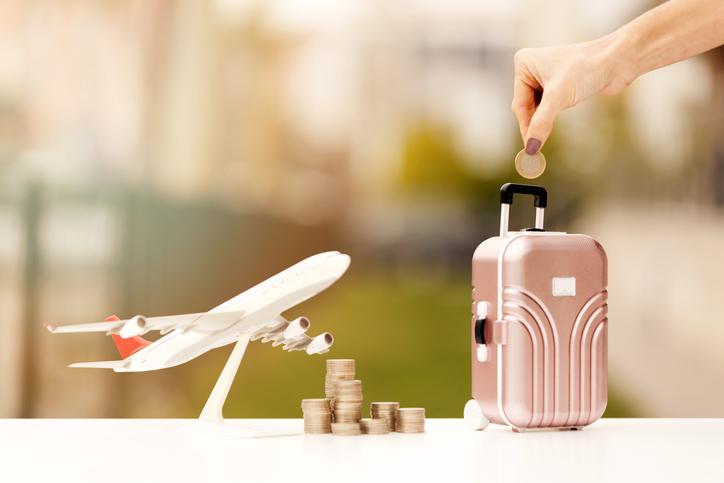 Flying to Hawaii takes a long time. These are the most isolated chain of islands in the world, and the nearest mainland city -- Los Angeles -- is a six-hour flight! And it takes six hours to fly from New York to Los Angeles. That makes the Hawaiian islands a 12-hour flight from the east coast of the mainland which is about a quarter of the way around the world.
To put Hawaii's distance into perspective, Tokyo is only eight hours from Honolulu and Sydney, Australia is 10 hours away. That puts the Asian and Australian continents closer to Hawaii than cities like New York, Boston, and Philadelphia.
This distance explains Hawaii's steep airfare. Plus, airlines flying to Hawaii are under increased scrutiny from the federal government. The planes must be inspected on a regular basis, and the airlines are subjected to further licensing due to the over-water nature of the flights. There are no airports for emergency landings between the west coast of the mainland and Hawaii, so pilots have to be specially trained and the planes have to be in tip-top shape. These regulations cost the airlines extra money, and those costs are passed on to you.
A good price for a round-trip flight from the east coast runs from $600 to $900. Flights from the west coast are a bit cheaper at $300 to $600. But there are a few tricks that can help you save big on your flights to Hawaii.
---
How to Save on Airfare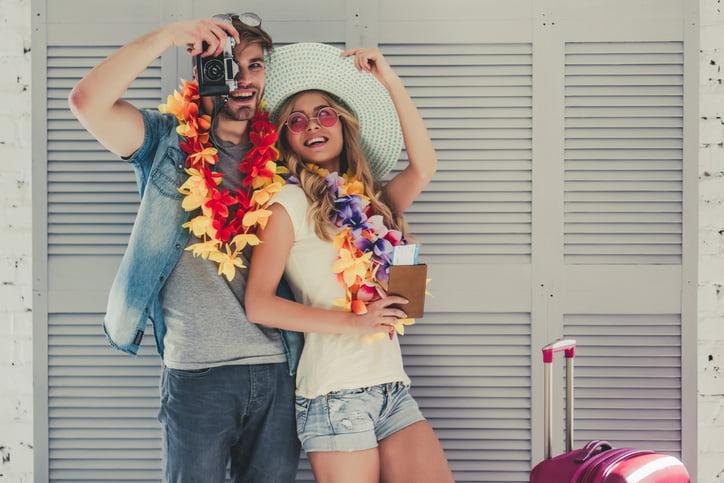 The very first thing you should do when planning a Hawaiian vacation is to block off a period of time that you are willing to fly. We recommend that you spend at least a week on one island, so, if you're planning a week-long Hawaiian vacation, you'll want to block off three or four weeks on the calendar. And you'll want to stay flexible inside that time frame.
You'll want to block off this period of time at least two months out into the future, and you should start scanning the internet for deals at least 70 days beforehand.
You'll notice that flights are generally cheaper on off-days, such as Tuesdays and Wednesdays, so you might want to look at booking a Tuesday-to-Tuesday vacation. Let the rest of the world pay sky-high airfare for the more crowded Friday, Sunday and Monday flights.
Choosing when to visit the islands will also have a big impact on airfare. Hawaii is busiest during school breaks which include Christmas, New Year's, Easter and the entire summer. But flights tend to be much cheaper in the low season and during the winter or "rainy" season. If you're looking for cheap airfare, book flights in September, October, the end of January or February. You might also find good fares in April or May.
And don't be afraid of the "rainy" season. It's only a few degrees cooler than summertime, and the rains can be quite refreshing. The mornings are usually beautiful during the rainy season, and then the humidity builds throughout the day. The humidity breaks in the afternoon with a quick rain shower, which usually creates a rainbow, and then Hawaii's beautiful weather returns soon after.
The most noticeable difference between Hawaii's two seasons -- dry summer and "rainy" winter -- is the surf. The waves tend to get pretty big during the wintertime, but there are many protected beaches to enjoy, and it's always a thrill to watch the surfers challenge the big waves. Plus, you get to enjoy the humpback whales breaching in the ocean for the breeding season between January and March.
---
How To Take Advantage of the 24-hour Free-cancellation Window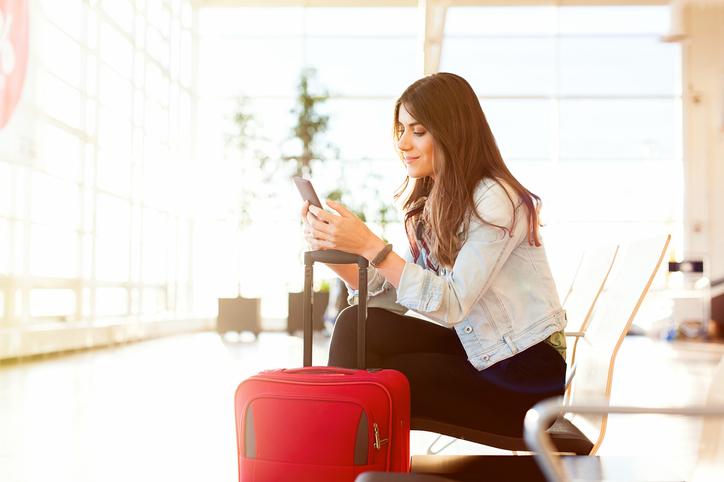 Your search for airfare doesn't stop when you find a good price. Federal law allows you to change or cancel your flight for free within 24 hours of booking so long as you booked at least a week in advance. This means you can continue hunting for good flight prices even after you've paid for your flights.
If you find a better flight within 24 hours, then book the new flight. After booking the new flight, cancel your previously booked flight for a full refund. Airlines usually allow you to manage your bookings online, or you can simply call your airline to cancel your flight over the phone. Then the 24-hour window starts again on your new booking. Continue hunting for the best price until your 24-hour window closes and you're locked in.
This applies to all airlines operating in the United States except for Southwest Airlines. Southwest Airlines operates on much more customer-friendly terms.
---
The Southwest Game-changer
Southwest Airlines disrupts every market that the company enters. Round-trip flights are $45 cheaper in each city that Southwest operates. The low-cost carrier creates an airfare war with America's other major airlines to the consumer's benefit, and they are now operating flights to Hawaii since early 2019.
You're able to fly to Lihue (Kauai), Honolulu (Oahu), Kahului (Maui) and Kona (Hawaii) from the California cities of Oakland, San Diego, Sacramento and San Jose on the low-cost carrier. The airline's entry into the market is a game-changer for vacation planners because Southwest offers unparalleled flexibility, and a fare war has begun.
Southwest is a customer-friendly airline that offers each flier two free checked bags, and no change or cancels fees. Here's how to use the customer-friendly airline to your advantage.
---
How to Use Southwest to Save on Airfare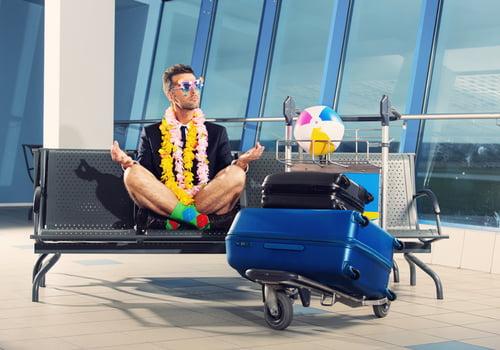 You cannot book Southwest Airlines flights on third-party websites like Kayak, Priceline or Orbitz. You must book flights directly through the airline's website. And you can easily find the cheapest flights using the airline's monthly grid searches.
Simply enter your origin and destination, then click "Low Fare Calendar" underneath the search matrix. You'll be able to pick a month, and a calendar listing the cheapest fares on each day will pop up. It makes planning a dream, but the customer-friendly policies don't stop there.
You can feel confident when you book Southwest because there is no change or cancel fees, so you can continue shopping for airfare long after you've booked your Southwest flights. If you find a better price, even if it's on the same flight through Southwest, you can cancel your old flights, book the new ones and you'll get your money back. They're just two caveats.
You can get a full refund for any flight so long as it's within 24 hours of booking. If it's outside that window, you'll still get your money back, but it will be in the form of flight credit for future Southwest flights. You must use this credit within one year. After that, it expires.
You're also on the hook for any fare difference. There are no change fees, but if you change your flight to a more expensive fare, you'll have to pay the difference. The good news is that if you change your flight to a cheaper fare, then you'll be refunded the difference in either reimbursement to your credit card or with Southwest flight credit.
This credit is as good as money if you fly frequently, but it may not be desirable for those who don't fly very often, and it's certainly not desirable if Southwest doesn't serve your local airport. But, if you don't mind getting refunded in Southwest credit, then using Southwest can find you the cheapest flights to Hawaii.
You must also factor in the savings that Southwest offers with its free two-checked-bags policy. Other major American Airlines charge at least $25 per checked bag, so it may be worth it to book a slightly more expensive Southwest flight for the checked bag savings to reduce the overall flight costs.
---
Inter-island Flights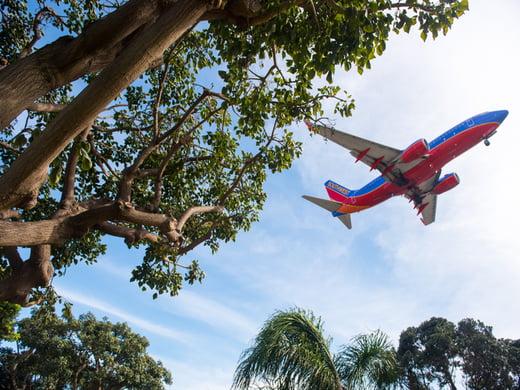 We always recommend that you spend at least one week on one island before even thinking about island hopping, but, if you have more than seven days to spend in Hawaii, you might consider seeing two or more islands.
Inter-island flights work much like flights on the mainland. You want to book as early as possible to get the best prices. But for years, the market has been dominated by only two airlines -- Hawaiian and Mokulele -- with Hawaiian taking more than 90% of the market share. This duopoly has created some artificially inflated flight prices in the past, but Southwest is set to change all of that.
Southwest plans on running inter-island flights, and the airline only operates one type of aircraft fleet-wide: the full-sized Boeing 737. Hawaiian and Mokulele have been operating much smaller, less comfortable planes between islands for years.
This will open up a lot more seats for island hopping which will dramatically reduce the price. And, again, you won't pay checked bag, change or cancel fees with the low-cost carrier, so you'll have much more flexibility for your inter-island vacation when booking through Southwest. Just remember that you'll have to pay fare difference if you change to a more expensive flight on Southwest, but there will be no extra fee for the change. Most American carriers charge anywhere from $75 to $150 for the privilege of changing your flight, and you'll also be on the hook for any fare difference.
---
Rental Car - $60 per day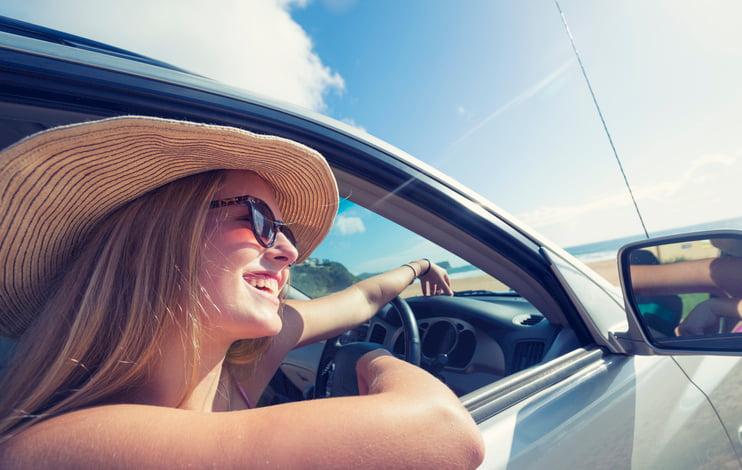 All the major rental car companies operate in each Hawaiian airport, and picking up a rental car is easy so long as you're over 25, younger than 75, have government ID and a major credit card with plenty of available credit. You'll need available credit because rental car companies will place a hold on your card for the amount of your rental plus an extra amount. This extra hold ranges anywhere from 20% of the rental charge to $350. And this money will not be available for you to use during your Hawaiian vacation.
Some rental car companies will allow you to use a debit card to rent a vehicle, but you'll need a few extra documents. First, you'll need to show the representative that you have a departing flight booked that coincides with your rental car return. Secondly, you'll have to produce two forms of photo identification. And you should expect the hold amount to be larger when using a debit card.
We recommend that you get insurance for your Hawaiian rental car. Some of the roads are a bit rough on the islands, and you might need to park or drive on rather rough surfaces. Many credit cards offer very good insurance, so you should call your credit card company to inquire about coverage. Some cards, like the Chase Sapphire Card, offer primary insurance for any damage to the vehicle so long as you turn down all of the rental car company's optional insurance packages. If your credit card offers inadequate insurance, then it's best to pay a little extra for the rental car company's insurance.
You can expect to pay about $60 per day for a rental car with insurance for your Hawaiian vacation. But a rental car can save you money during your trip. Most of Hawaii's amazing activities are free so long as you can get to that beach, trailhead or waterfall. Without a car, you'll be relying on tours, Uber or taxis. And those rideshare charges really add up.
---
How to Save Money on a Rental Car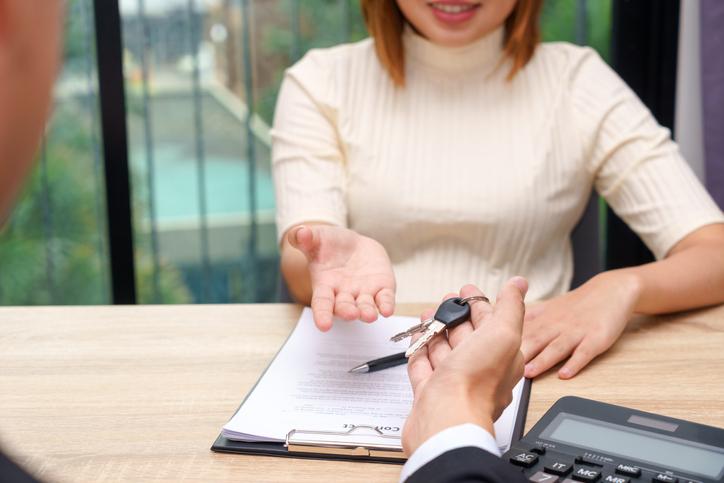 If you really want to save money, and you don't care about how you look in that rental car, then you can rent from a local car company. Many local companies offer "island beaters." These cars or trucks are old, and they have been beat-up by the islands. But these beaters come at a steep discount, and you don't really need to worry about insurance for a dinged-up vehicle.
You'll just have to factor in transportation costs. These local companies do not operate at the airports, so you'll need to get a shuttle, Uber or taxi to their office. Add this extra cost when considering an island beater.
You can also choose to forgo a rental car for a scooter for as low as $20 per day. You do not need a motorcycle driver's license to rent a 50cc scooter in Hawaii, and these low-powered bikes get incredible gas mileage to save you money at the pump. Unfortunately, 50cc engines are not very big. The bikes won't go much over 30 mph.
You can still get just about anywhere on the islands, but it may take you more time, and you'll have to drive off to the right side as traffic passes you on high-speed roads. But you can park anywhere, you get 360-degree views of the drive and it's really fun to ride a scooter. You'll just have to get yourself to the scooter office from the airport, and that's an extra charge in an Uber or Taxi.
---
Accommodation - $18 to $1,000 per night
There is a wide range of accommodations on the islands. You can choose to pitch your own tent at a campsite for $18 per night, stay at a homeshare, choose a mid-range hotel for $100 to $200 per night or rock a luxury resort for up to $1,000 per night. Generally, the further away from the beach, the cheaper the nightly rate no matter the accommodation.
---
How to Save Money on Accommodation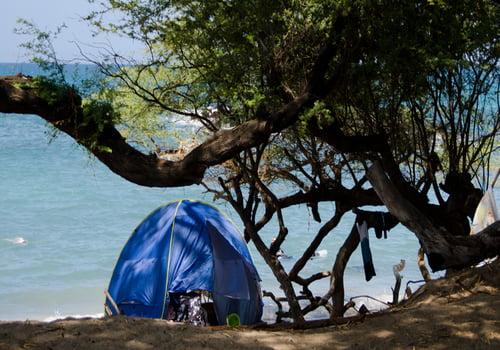 The easiest way to save money on accommodation in Hawaii is to camp. Just note that there is no free camping on the islands. Each island has its own regulatory division for camping, and you'll have to purchase a camping permit. These permits range in price from $18 per site to $21 per adult, depending on the island. You'll also need to bring or rent camping gear, which can add up.
If you don't want to rough it, but you still want to save money, then you have two options. You can look for a homeshare where prices can vary wildly, or you can choose a budget hotel. If you're traveling with other adults, then you should definitely look at a homeshare to split the costs and save money. But, if you're traveling alone, as a couple or as a family, then your best bet may be a budget or mid-range hotel.
We recommend that vacationers book a hotel with air conditioning as Hawaii's humidity can be a shock. This amenity is usually included on the mainland. But in Hawaii, electricity is rather expensive, so air conditioning isn't a standard amenity. It's more of a luxury. So, to save money, simply book the cheapest hotel with the air conditioning on the island, and it doesn't matter where it is because you can always drive yourself to the island's main attractions. It's essentially a box where you keep your stuff while you adventure.
And you can even indulge in resort amenities while staying at a budget hotel. Most of Hawaii's best resorts offer day passes that grant you access to pools, hot tubs, saunas, and gyms. And many resorts offer free day passes with the purchase of a spa treatment. So you can still live like royalty even when traveling on a budget in Hawaii.
---
Hawaii Hotel's Dubious Resort Fees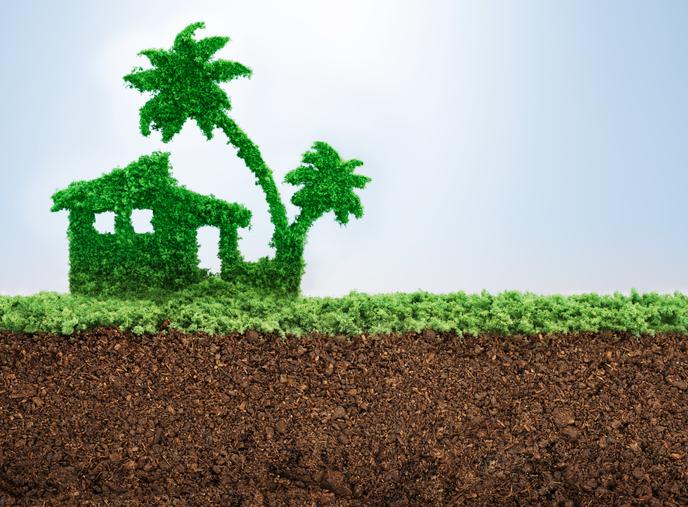 Read the fine print when booking a hotel, so you're not caught off-guard. Many of Hawaii's hotels have adopted the dubious Vegas-style "resort fee." At these hotels, the price you paid online is simply for the room. You'll have to pay another fee at check-in in order to use the hotel's amenities like Wi-Fi and the telephone. It's not optional, and it's ethically questionable as many tourists are surprised by the fee when they arrive. The standard resort fee is $25 per day, but not all hotels charge this surprise fee.
---
Eating and Drinking - $10 to $50 per meal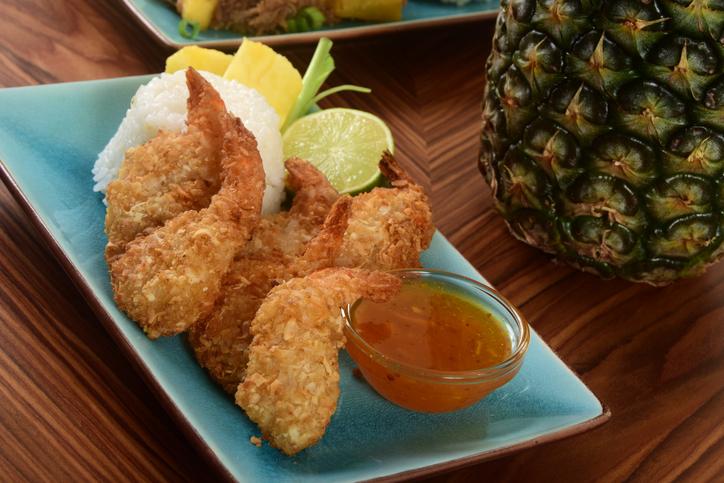 Walk into a chain grocer on the Hawaiian islands, and you may be gobsmacked by the prices. A gallon of milk can run you $9 while a box of Cheerios can cost up to $7. But these ridiculous prices tend to only pertain to the usual mainland American processed foods because they must be barged over the Pacific. The cost of transportation is passed on to you.
Don't worry because you can still save a lot of money on food if you know where to go. Some islands have Costco, so, if you're a member, you can load up on bulk items at the outset of your vacation to save some coin. And nearly all islands have Walmart where you'll find amenable prices. And these big box stores should be your first stop after you pick up your rental car for things like water, snacks and energy bars.
If you have a kitchen and a fridge at your accommodation, then you may want to pick up some ingredients to make a few meals. You'll have to do a bit of math, however, because some of your staple ingredients may be a bit expensive, so you might be better off eating out. But you can always save money on breakfast. Ingredients like eggs, toast, and cheese are affordable and make for a tasty, quick meal.
But the biggest food savings happen at local stores and at farmer's markets. The food you're used to on the mainland is expensive because of the shipping costs, but food grown on the island is rather cheap. You'll find an abundance of fresh fruits and vegetables at your local farmer's market, and any store selling locally prepared foods will have the best prices. You can usually find a schedule of farmer's markets online. Just make sure to get there early because the best producers usually sell out quickly.
If you're looking to eat out, you can expect to pay higher prices than you'll find on the mainland. If you're coming from an expensive city like Los Angeles, New York or San Francisco, then the prices won't be too much of a shock. But, if you're coming in from any other part of the mainland, then $15-$20 for breakfast, $15-$25 for lunch and $30-$50 for dinner may sound steep.
Drinks are on par with the mainland's expensive cities. You can expect to pay between $5 and $10 for a beer or wine, and at least $10 for a cocktail. You may want to think about buying a few six-packs at Walmart at the outset of your trip if you want to save on booze during your Hawaiian vacation.
---
Parking, National Park Fees and Fuel - $45 per day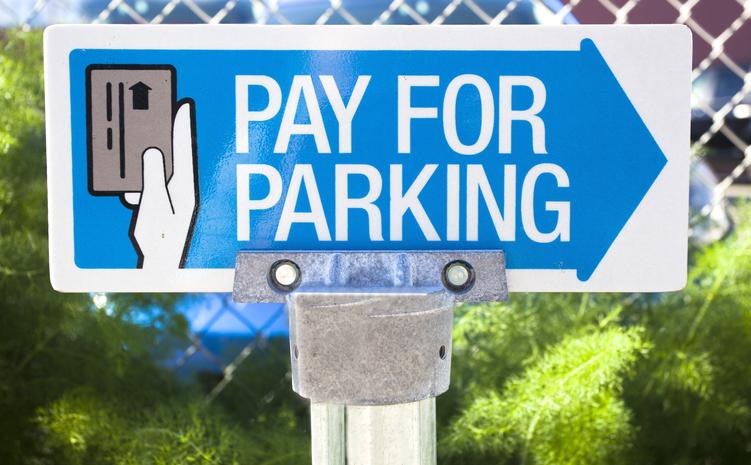 These are costs that many fail to estimate. Some hotels on the islands charge for parking, and many of Hawaii's best beaches charge a few bucks to park, as well. You'll also have to pay an entrance fee if you plan on visiting any National Park, including Volcanoes and Haleakala Crater. But the biggest cost of them all is fuel. It has to be barged in from the mainland, and that transportation cost is passed on to you to make for some of the most expensive fuel in the United States.
You can cut down on fuel costs by planning your day trips efficiently. For example, if you visit the west side of Kauai, make sure to see Waimea Canyon, Kalalau Lookout, and Polihale Beach all in the same day to avoid another drive out west. And if you're torn between one activity or another, then choose the closest one.
But these fees are unavoidable. After all, is said and done, you can expect to pay about $45 day for fees and fuel.
---
Activities - $0 to $1,000 per person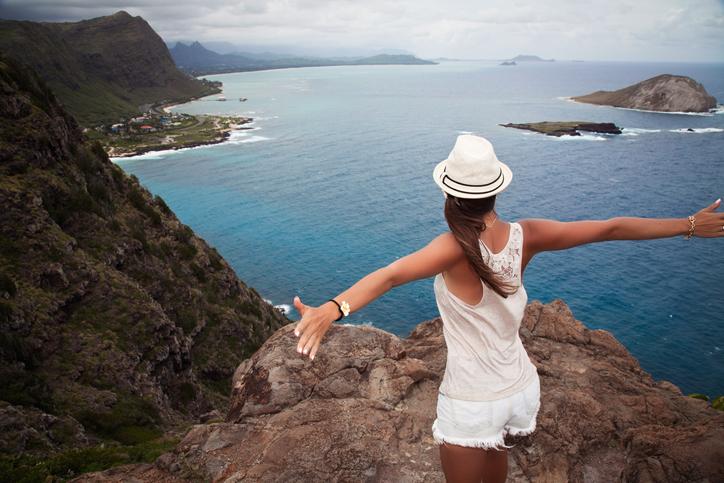 We recommend a sort of cycle to your Hawaiian vacation. This three-day cycle keeps you active, allows you some relaxation and can be repeated twice during a week-long Hawaiian vacation. Here's what it looks like:
Day 1 "Active" -- Challenge your favorite hike.
Day 2 "Semi-active" -- Join a guided tour to see a part of the island otherwise inaccessible.
Day 3 "Rest" -- Lounge on your favorite beach, get a spa treatment or enjoy your hotel's pool.
Using this cycle, you'll join two guided tours per week. Most tours cost anywhere from $50 to $150 per person. But some tours, like helicopter rides or skydiving, can run you a few hundred dollars.
Of course, tours are absolutely optional. You can simply lounge on the beach all week to spend $0 on activities during your Hawaiian vacation, but tours are highly recommended. An experienced guide can take you to otherwise inaccessible parts of the island for a truly unforgettable experience, and there's simply no other way to access places likeMolokini Crater on Maui.
And feel free to sprinkle luaus and nightlife on top of this cycle. A good luau will cost $100, or more, and nightlife is rather expensive on the islands, so you may want to "pre-game" in your hotel with store-bought drinks before heading out for the night.
Most of these costs are unavoidable but don't confuse value for the price. Do your research, find the highest rated tours and book with confidence. Just expect to spend about $100 per tour day.
---
Optional -- Shopping, Spa Treatments, and Supplies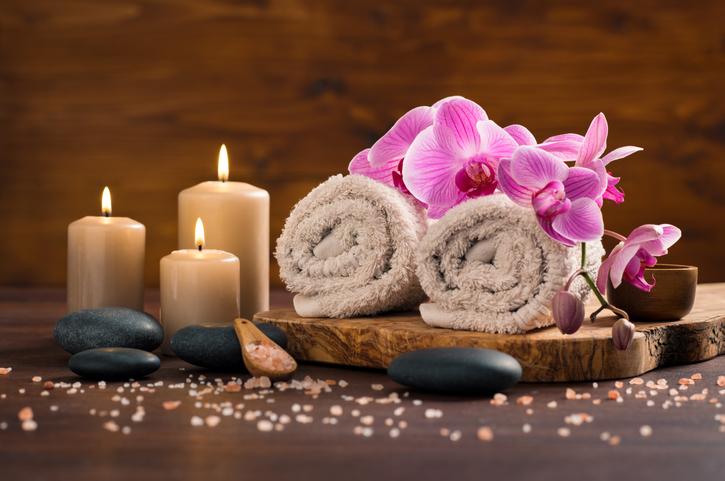 You'll want to tuck away about $100 per person for souvenir shopping. You'll fall in love with island life, and you'll definitely want to invest in a few things that remind you of Aloha when you're back home. Of course, if you really like shopping, you may want to add to that budget a bit.
Spa treatments in Hawaii are highly recommended. You can enjoy an incredibly relaxing lomi lomi massage on the beach, receive tropical fruit skin therapies or enjoy a Japanese soaking tub while tranquil music plays in a world-class resort. Spa treatments will run you about $120, but they are totally worth it, especially if the purchase gets you to get a free day pass to the resort.
And you're likely to need something when you're in Hawaii. You might run out of sunscreen, need a hat or you may want to purchase some bug spray during your stay. Something will inevitably pop up but just prepare for high prices. Most supplies are shipped in from the mainland, and that transportation cost is rolled into the price. And there's simply no avoiding the steep prices unless you want to buy in bulk at Costco.