The Hawaiian landscape offers perhaps the most varied terrain of anywhere else in the United States. Hawaii is full of cliffs, forests, volcanic shapes, beaches, and craters. A helicopter tour offers the best way to really see it all. The views from above are breathtaking and allow you a different kind of access then you can gain from any other type of visit. Touring from above is also an excellent way to orient yourself to the layout of the island. For this reason, you should consider scheduling one for the first or second day of your trip.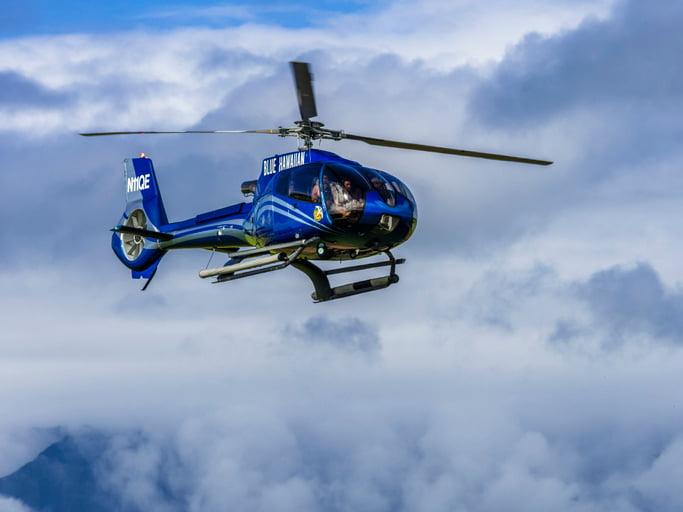 In addition to getting a layout of the land, you can expect to get a lesson from your guide about the various history, geology, culture, flora, and fauna of the area(s) seen from the air. The pilots are not only skilled at flying helicopters; they can offer a wealth of information about what you're seeing below.
When planning a helicopter tour, consider your group size. Most helicopters used for touring can accommodate six passengers. This arrangement includes two passengers in the front and four in the back. In this case, two people will be relegated to the middle seats in the back and with a somewhat limited view out of the windows. Although they are less common, there are some helicopter tours that take only four passengers. In that case, all four passengers have a direct window view. If your group size is four or fewer, consider booking one of these so everyone in your party has the same great viewing experience.
On the day of your tour, you'll probably be expected to arrive 30-45 minutes before your liftoff time. This time will be used for your safety briefing and orientation to the gear - life jacket, seatbelt, headphones, and microphone-you'll need. Once settled in, you'll be up in the air and enjoying an aerial vista like no other. Depending on the specifics of the tour you book, you can expect to be up there anywhere from 30 minutes to an hour. You'll be amazed at how much you can see and learn at that time.