In Hawaii, food is a celebration of life, family, loved ones and friends. You'll often see workers enjoying a box lunch by the beach, and you'll drive by large families gathered around a buffet-style spread at the end of a long workday. But food works a bit differently out in the most isolated chain of islands in the world.
The food that you're used to on the mainland can be quite expensive out in Hawaii. Pop into a chain grocery store and you'll be shocked by the prices for staples like milk and cereal. Mainland food has to be shipped to Hawaii, and you pay for the shipping. It's baked right into the sticker price at the chain grocer.
Fortunately, Hawaii is lush, verdant and ever-growing. Longans, rambutans, lemons, limes, mango, guava, avocado, star fruit, coffee, noni, and coconut all grow wild. And farmed foods flourish in the tropical heat. These foods, grown right on the islands themselves, are affordable, healthy and abundant.
Add it all up. The mainland's processed foods are expensive while local produce is fresh, tasty and cheap. You have a recipe for deliciously fresh and healthy local Hawaiian dishes. As a mainlander, you can taste the difference in every bite. And you can likely indulge in these island foods while losing weight because they are not full of processed sugars, refined grains, and trans fats.
Hawaii's menu is also a bit different. Islanders have been using local ingredients to craft otherworldly delicacies. And these are the famous Hawaiian foods you must try during your Hawaiian vacation.
---
Poke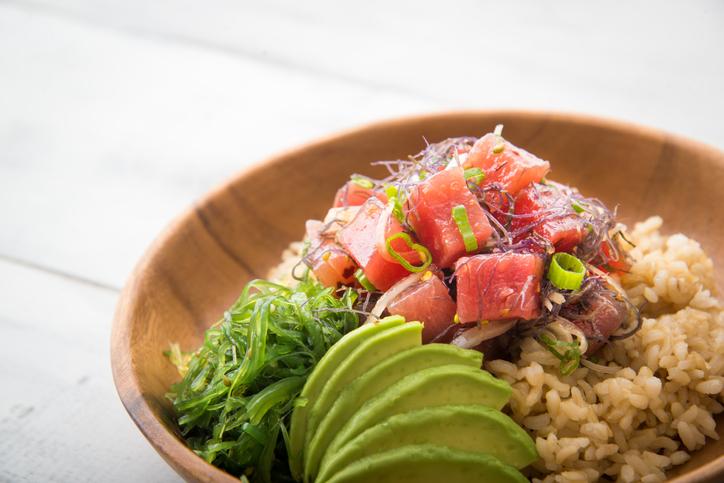 Poke may seem a bit off-putting. Definitely not what you may think of when finding things to eat in Hawaii. It's simply raw seafood that has been cubed and tossed with sauces, herbs or mayo. Poke is usually cubed tuna, but it can be any seafood you can imagine. During your Hawaiian vacation, you may find salmon, shrimp or ono poke.
The bite-sized chunks of fish have great mouthfeel. In fact, cubed tuna has a bit of a bite. It can feel like chicken when you chew, so texture shouldn't be a worry for any meat eaters out there.
Islanders use freshly caught Hawaiian fish to craft poke dishes, and the marinades are absolutely delicious. You can find poke drenched in spicy rubs, swimming in flavored mayo or covered in citrus and salt.
The portability of the Hawaiian dish also makes it great for cookouts. You can pick up a box of poke, hand out long wooden toothpicks and have a feast with your friends at the beach. The only thing you can't do with poke is to keep leftovers. The raw fish won't keep overnight, so eat up!
---
Kalua Pig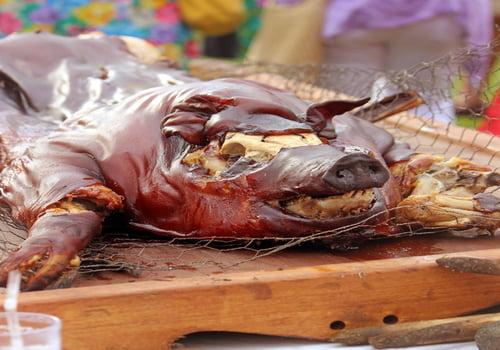 Hawaiian luausfeature one of Hawaii's most sought after foods -- Kalua Pig. It is cooked traditionally. The whole hog is wrapped in massive banana leaves to lock in the moisture before the pig is buried on top of hot coals a couple of feet in the ground. This underground oven is called an imu.
The pig cooks underground for hours before it is unearthed. The result is a slice of incredibly tender pork that falls off the bone much like traditional barbecue in the deep south. And unlike poke, this moist meat stays good in the fridge for a while. It's incredible as a leftover sandwich the next day.
You have your choice of meat off the Kalua pig at a luau. You can choose from the pork belly, ribs or ham hock. Or you can just point at the part of the pig you'd like to consume and a luau worker will heap it onto your plate. You can't go wrong.
---
Fresh Fruit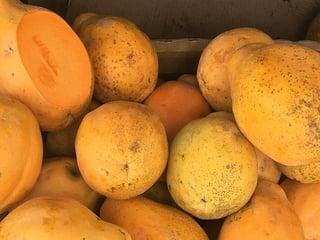 This one might seem a bit underwhelming, but take our word for it -- Hawaiian fruit is fresher, sweeter and more delicious than the fruit on the mainland. The best way to experience fresh fruit in Hawaii is at a farmer's market. Each island runs a number of farmer's markets throughout the week where you can pick up fresh produce for cheap.
We recommend trying some of the hard-to-find fruits. Longans are an Asian fruit that resembles a round grape. This fruit has a shell on it, but the white translucent flesh underneath is refreshingly sweet. Just watch out for the pit.
Star fruit grows abundant on the islands. This odd-shaped fruit tastes like a melon but a little sweeter, and it makes the best fresh juice you've ever tried. Rambutan is another white translucent fruit that can be found inside a whimsical red covering. Even Hawaiian avocado is larger and sweeter than the avocado found on the mainland.
---
Poi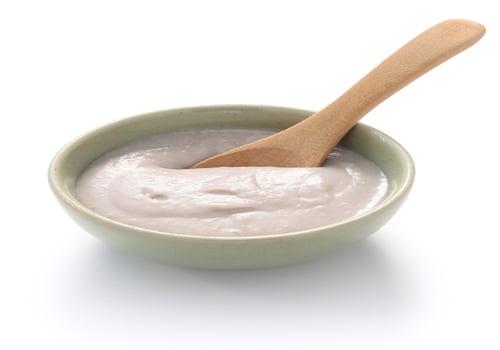 Another luau staple, this soupy purple pudding is simply ground up taro and water. You can still find fields of this traditional root vegetable all over the islands as an ode to the past as Ancient Hawaiians relied heavily on this starch for carbohydrates centuries ago.
The root, which is much like a potato or yam, is mashed down into a thick purple paste. Water is added to make poi. Most mainlanders won't find any flavor in this dish, but those with a refined palate will find the pudding slightly sour. Add a little bit of Kalua pig to take the poi up a notch.
---
Fish Tacos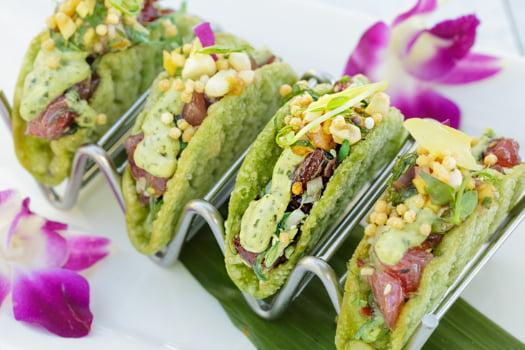 Hawaii is a quirky cultural fusion, so you'll have no problem finding some delicious Mexican food during your vacation. And one of Hawaii's signature dishes -- fish tacos -- is not to be missed. It's a simple dish, so it has to be executed perfectly to stand out. And local chefs use fresh Hawaiian fish and produce to craft these tasty tacos.
You can have your tacos in a variety of styles -- fried fish, grilled fish, flour or corn tortilla, fresh lime, and toppings -- but, no matter how you dress your fish tacos, you'll be able to taste the freshness. And you won't find any processed ingredients in this healthy treat.
---
Spam Musubi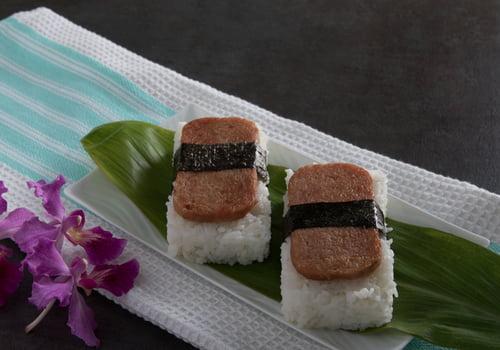 Yes, Hawaii has a love affair with Spam. The canned meat was invented by the U.S. military, and the G.I.'s brought it with them to the islands in the early 20th century. But Spam gets a bad rap on the mainland, so don't knock the spiced ham until you try it.
Chefs use the Spam can as a mold to craft the Musubi. The Spam is cut into thick slices and then fried, and there's nothing more delicious than fried spam. Each slice is packed back into the can with rice to make what looks like a giant piece of sushi. It's then all wrapped in nori to make a handheld treat.
A sauce, which is usually made up of soy sauce and sugar, is usually added to the rice to offset the saltiness of the Spam. But chefs can get rather playful with their Musubi. Some add eggs and ketchup while others dress the sandwich like a traditional piece of sushi. But, no matter how you cut it, Musubi is not to be missed during your Hawaiian vacation.
---
Saimin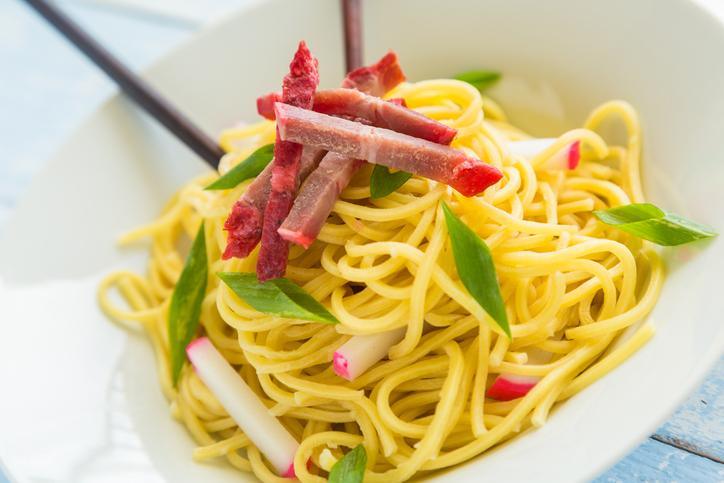 Ramen lovers will love Saimin. The noodles are much like ramen noodles, but they are made with more egg and ash. This gives the noodle more bite, flavor and mouthfeel. And this popular Hawaiian noodle dish is a fusion of Japanese, Portuguese and Chinese cooking.
Traditional Hawaiian Saimin is a breakfast food, but you can get a bowl of this filling staple for lunch or dinner. The noodles will have a bit of a crunch to them, and they are usually served in a light broth with green onion and pork. It's a comforting food that will fill your belly with warmth, and you can only find this dish in Hawaii.
---
Huli Huli Chicken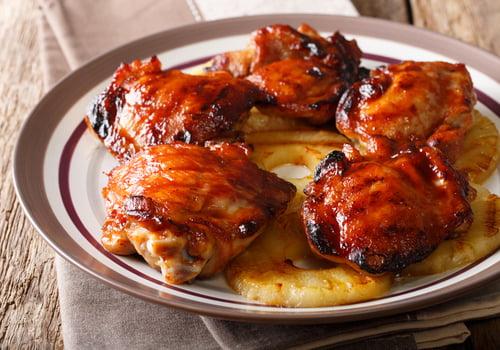 Huli Huli chicken may be the most tender meat you ever put in your mouth. Whole chickens are slow-roasted over hot coals which makes for a smokey rotisserie chicken that falls off the bone. And the skin is seasoned with citrus, usually pineapple, as well as a slightly salty and spicy rub.
The chicken is usually served with some sort of "secret sauce" which resembles soy sauce. The black sauce involves a bit of vinegar which pairs well with the tender meat. And don't forget to pick up some delicious Hawaiian sides with Huli Huli chicken like pineapple coleslaw, glass noodles or a California roll.
---
Plate or Box Lunch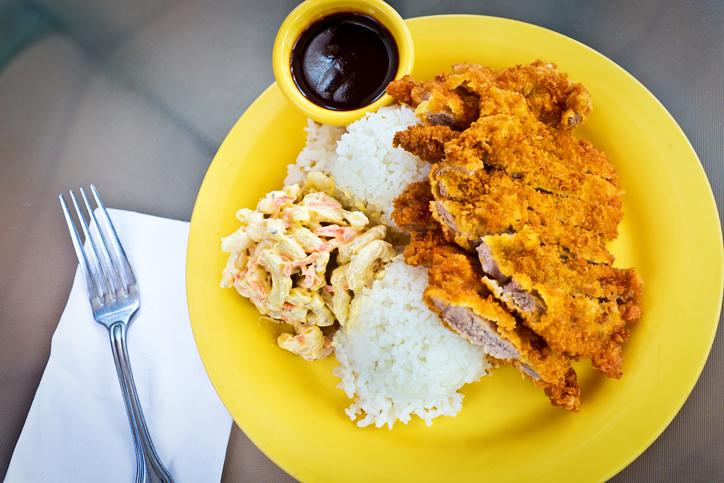 The plate lunch comes from the American Deep South. It's sort of like a meat-and-three's, but the international influences at play on the islands make the plate lunch quintessentially Hawaiian.
The standard plate lunch is the main meat, two scoops of rice and a scoop of macaroni salad to give you plenty of protein and carbs. These economic meals were originally sold to plantation workers. Now the standard plate lunch is a staple on the Hawaiian islands.
You have your choice of proteins. You can order up chicken katsu, loco moco, Lau lau or shrimp. You may even be able to get creative with your sides. And when the plate lunch is boxed up for the road, it becomes a box lunch.
---
Lau Lau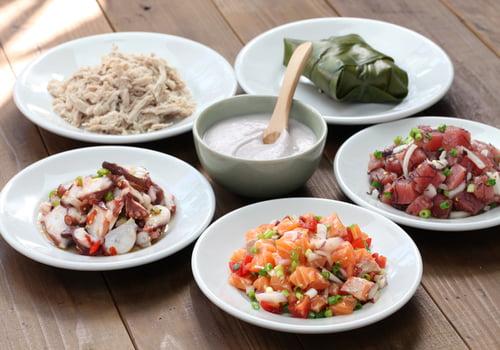 This is an ancient Hawaiian dish that is packed with flavor. Traditional Lau lau is cubed pork, usually the fatty pork belly, that is wrapped in taro leaves and steamed. Sometimes a piece of dried butterfish is tossed in with the pork to add flavor as the oily fish melts during the steaming process. And a good heaping of salt seasons the tender meat.
The taro leaf ball is wrapped in giant tea leaves before steaming. The end product is a rather gray-green looking ball that is unwrapped from the inedible tea leaves, but it is fork-tender and the taro leaves taste a bit like cooked spinach. It's a meal unto itself.
---
Loco Moco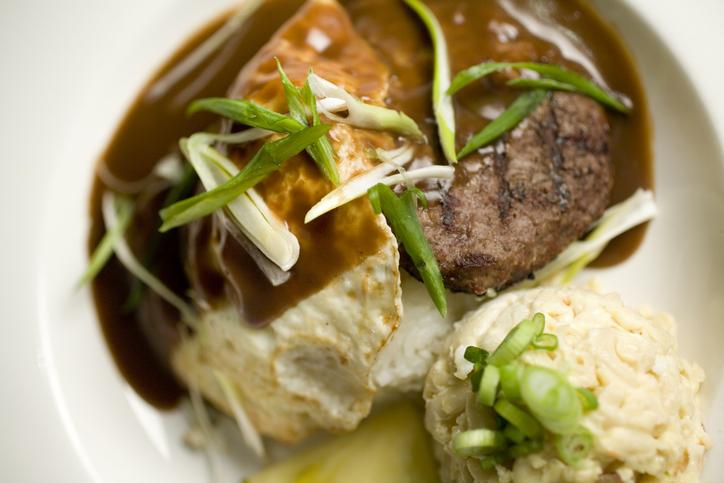 It's pretty clear by now -- Hawaii's food is a fusion of Asian, American and Ancient Hawaiian cultures. This quirky fusion of cultures is on full display with Loco Moco. You can eat this dish for breakfast, lunch or dinner, and it's always appetizing after a strenuous swim or hike.
A perfectly fried hamburger patty is thrown onto a heaping pile of rice and then covered in gravy. A fried egg is then popped onto the top, and you have a mound of deliciousness. Cutting into the yolk of the egg makes the whole dish even more decadent.
---
Manapua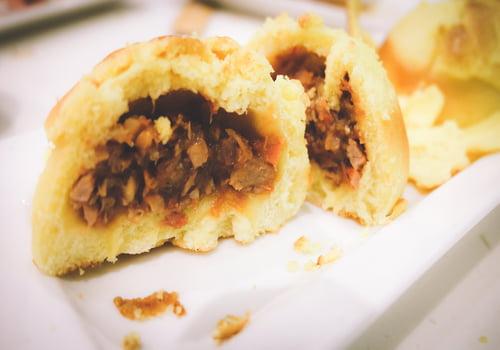 You might mistake manapua for Chinese boa, and you wouldn't be wrong. Chinese cooking has heavily influenced Hawaiian cuisine. Manapua is a mouthwatering steamed bun filled with flavored pork, and much of the manapua available in Hawaii comes from take-out shops.
You're likely to be able to order up some dim sum alongside your manapua, and don't be afraid to do so. The affordable baked, fried and steamed dumplings are all filled with hearty flavored meats -- usually, pork, shrimp or chicken -- and they can all be eaten with the hands. Feel free to order up some manapua, head down to the beach and have a handheld a picnic at sunset.
---
Malasada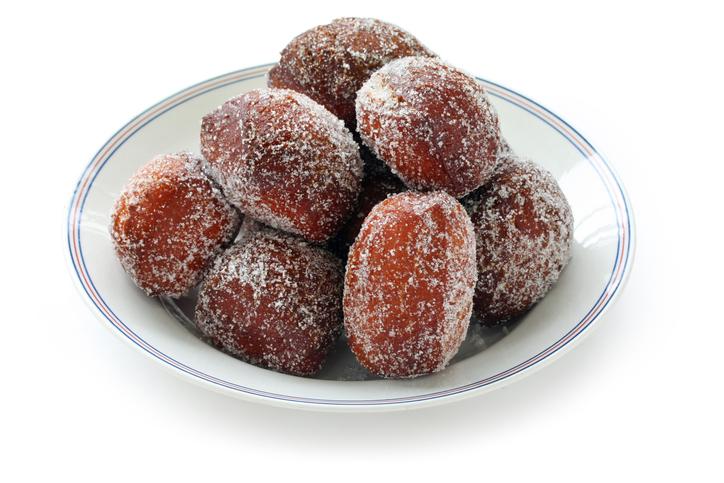 Did you know there were cowboys roaming the islands long before gunslingers roamed the Wild West? Hawaiians have been raising cattle for centuries, and that brought an influx of Portuguese cowboys. And these European immigrants brought the malasada with them.
These sugary confections are abundant on the Big Island, and they resemble a donut from the mainland. A ball of yeasty dough is fried to make a delicate pastry that is then covered with granulated sugar. Sometimes, the interior of the malasada is stuffed with fruit, cream or chocolate, but the traditional malasada is just a perfectly fried ball of dough.
---
Lomi Lomi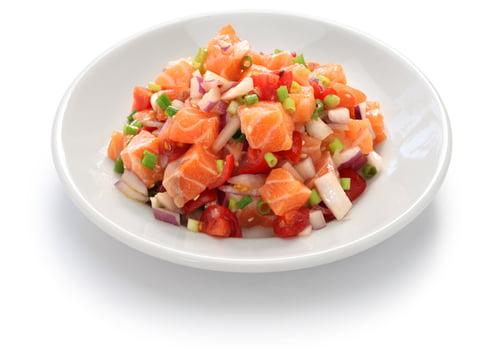 Lomilomi means massage in Hawaiian. In fact, you can sign up for a Lomilomi massage at your nearest beach-side spa. So, that begs the question -- why is there a dish called lomilomi?
Salmon is diced up into cubes along with tomatoes. A salad is then created by massaging the two ingredients together. Usually, the lomilomi salmon salad also has a few other ingredients including sweet onion. And the whole thing is dressed with citrus, salt, and pepper. It's a refreshing and healthy side dish that is best served cold.
---
Haupia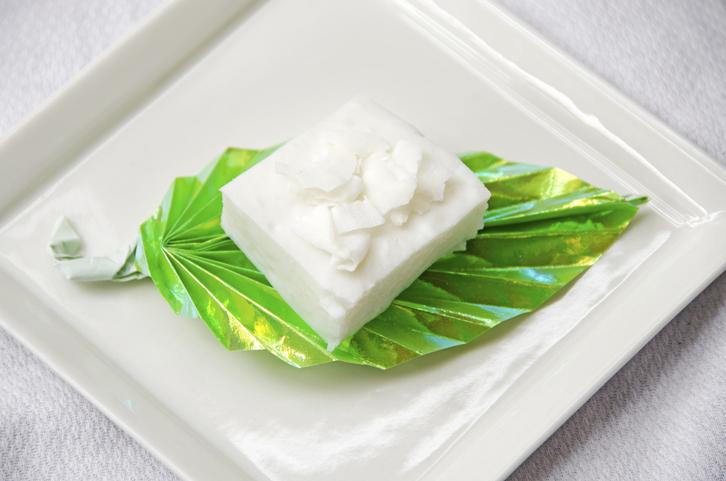 Coconuts grow wild and abundant on the Hawaiian islands, so it's no wonder that coconut is a popular flavor in Hawaiian cuisine. And Haupia is one of the most inventive ways to enjoy the fleshy treat.
Coconuts are not fruit. Neither are they a vegetable. They are actually considered nuts. It's right in the name! That's why the nut's coconut water, milk, and flesh is so high in calories. Nuts are full of healthy fats.
Haupia takes advantage of the healthy fat found inside a coconut by turning it into a jello-like pudding. The haupia is usually cut into squares or rectangles, and you can scoop up spoonfuls at a time. It's a great way to end a traditional Hawaiian meal.
---
Mochi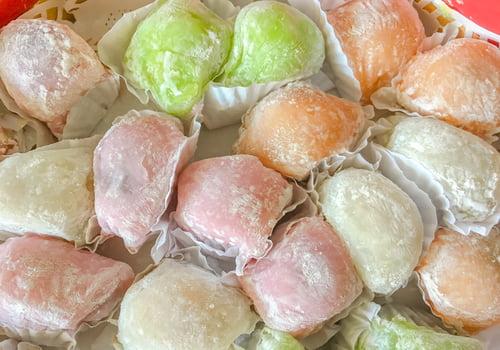 Mochi is a Japanese dessert that is gaining popularity all over the world. In fact, with a little bit sleuthing, you can probably find the ice cream dessert near you on the mainland. But the heavy Japanese influence on the islands makes these treats abundant in Hawaii.
Mochi is essentially ice cream. The ice cream is formed into balls and covered in a sweet dough. The dough gives the whole treat an amazing texture as it is chewy and malleable. And the ice cream that it covers can some in any flavor you can imagine, including red bean.
---
Shave Ice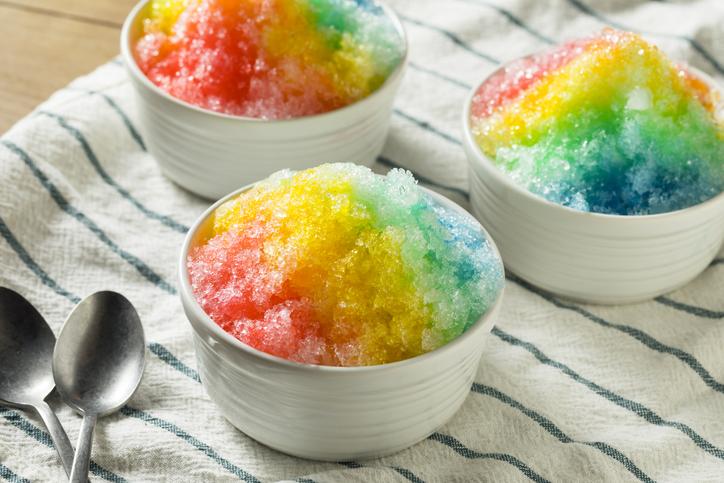 This Hawaiian hot weather treat is essentially just sugary flavoring delivered to your taste buds via a vehicle. That vehicle is ice. It's a lot like that ice pops that you keep in your fridge during a mainland summer, except better. Way better.
The difference lies in the texture. Ice is literally shaved to make for a flaky, delicate snow cone. This gives the dessert an airy texture, almost like cotton candy made out of ice. The ice is then drenched in syrup, and the syrup can come in a variety of different flavors.
The best Hawaiian shave ice is made from locally sourced and fresh ingredients. The syrup won't have any artificial coloring or preservatives to make for a healthy-ish treat. That means the best Hawaiian shave ice flavors come from the islands themselves, like passion fruit (lilikoi), coconut, guava, pineapple, mango, and star fruit. And you can even mix and match syrups to come up with your own unique flavor profile. And if it's offered, try adding a scoop of ice cream to your shave ice for a delectable treat.