Hawaii is the most isolated chain of islands in the world. It's a six-hour flight from Los Angeles, the nearest mainland airport, which is the same flight time from Los Angeles to Boston. Simply getting to Hawaii is the biggest financial hurdle you'll have to jump for your tropical getaway.
Then there are the hotels. Accommodations on the islands range from camping to $10,000 luxury suites and everything in between. But you don't travel to this tropical paradise to sit inside a room. The only two things you really need are air conditioning and an accessible location.
You also have to budget transportation. Each island's airport is situated near an industrial area, so you'll need transportation to really enjoy your vacation. Your best bet is a rental car that can give you access to the entirety of your island, or, if you're a bit more adventurous, you can always rent a scooter (2 scooters will end up costing you more than one car rental).
That just leaves food and adventure costs. Food can be expensive on the Hawaiian islands as much of it is barged in from the mainland. And you simply can't fly all the way out to Hawaii without taking a few tours to places like the Na Pali Coast or the Molokini Crater. You'll have to make a bit of a budget for excursions.
Let's break it down, piece by piece:
Airfare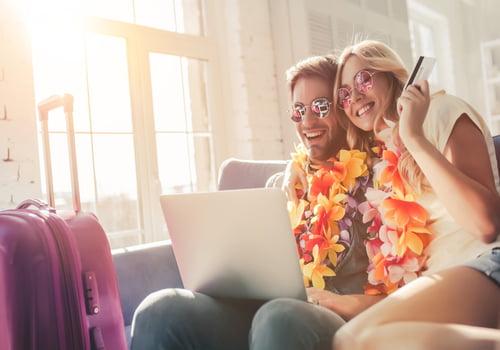 Hawaii has seasons, but you'd have to be an experienced islander to really tell them apart. The seasons on the islands don't really matter when it comes to flight costs, however, because the most expensive flights to the islands are during the winter holidays. A round-trip flight from New York City to Honolulu during Christmas break could set you back $1,600, but that same flight could drop to $600 by late January.
To snag the cheapest flight, book your flights 50-70 days before departure. You'll get the best prices for flights in late January through the month of February. The busiest and most expensive months are July and December. Generally, you can count on spending $500 to $900 for a flight from the East Coast while a round-trip flight from the West Coast will set you back $300 to $400. Occasionally we've seen deals as low as $200 round trip, get on our mailing list and we will email when we come across deals like this.
Accommodations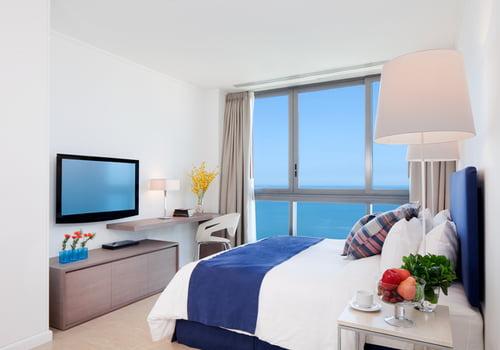 The average two-person room on the Hawaiian Islands costs $176 per night, but, you have to remember, that's the average price. That includes the price of camping, the cost of a $10,000 luxury suite and everything in between. Unless you need to be pampered in a five-star resort, you shouldn't aim too high with your accommodations.
Hawaii is about white sand, impossibly blue water, towering mountains, and misty waterfalls. It's not about sitting around inside a room. Most people find it difficult to adjust to Hawaii's humidity, so air conditioning is a must. Other than that, all you'll need is free parking and a decent location.
You might want to simply book the cheapest room with air conditioning and you'll likely find a place for less than $150 per night. As an added bonus, look for the cheapest air-conditioned room that serves a complimentary breakfast. Hawaiian fruit, which is abundant, is sweeter and more delicious than mainland produce.
Rental Car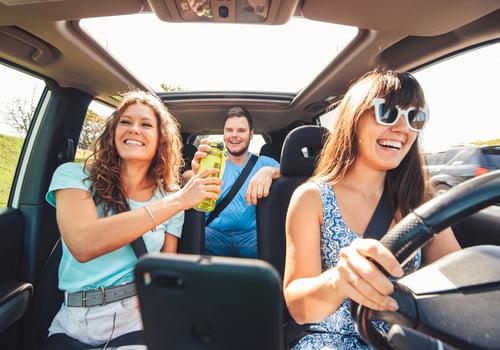 Kauai is the smallest touristed island in Hawaii, and it takes about two and a half hours to drive the entirety of the Kuhio Highway. It is highly recommended to rent a car in order to see everything the islands have to offer. In a weird way, renting a car will save you money. You'll be able to drive to the island's best beaches, waterfalls, and hikes which are free, save for the rare parking fee. Otherwise, you'll be paying out the ear for tours and excursions each day.
All the major rental car companies operate on the islands. You can even rent an "islander beater" from a local company to save a bit of money, or, if you really enjoy the outdoors, you can rent a scooter.
The cost of your average "big company" rental car with insurance is $60 per day. Just remember that gas on the islands is much more expensive than the mainland, and all you really need is a small car for your island's tight coastal roads. An economy car will save you money at the rental counter and at the gas pump.
Renting a scooter is easy, but you're not going to find a scooter company at the airport. You'll need your accommodation to give you an airport transfer, or you'll need to grab a taxi to get to your room first. You'll want to drop off your bags then head over to the scooter rental company. Many hotels rent scooters from their front desks, and scooter companies often drop off and pick up bikes at hotels.
Scooters are rated on the size of their engines. In Hawaii, anything 50 cc's or less is considered a bicycle and is called a moped. It won't have a license plate, and you don't need a motorcycle license to rent. However, moped's have small engines that are only capable of about 30 miles per hour, but most islands enforce very low-speed limits. You may just be able to get to all of your points of interest on a moped that gets 80 to 100 miles per gallon and costs $25 per day to rent. Of course, you can rent a much more powerful bike if you have a motorcycle license.
Food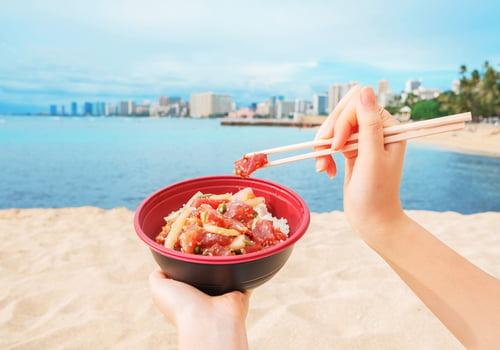 Reserving a hotel that serves a complimentary breakfast is a great way to save on food. You can also go to farmer's markets to buy direct from locals which saves a ton of cash over the chain grocery stores. But you can expect the food to cost a lot more in Hawaii than what you're used to on the mainland. That's because those Cheerios are barged across the Pacific.
It's a good idea to budget $50 to $90 per person for a day's worth of food. You can reserve accommodation with a kitchen so that you can cook your own food but it might not save you money. You need to buy groceries that are grown locally or you'll be paying the barged-in price at the chain grocer for the foods that you're accustomed to. But it's a vacation. Who wants to cook?
Adventure Money
Much of the entertainment on the Hawaiian Islands is free. It doesn't cost anything to walk down to that beach, drive up to that trailhead or to swim in that waterfall. But you'll have to pay for tours to get to certain destinations like the Na Pali Coast and the Molokini Crater. You'll also want to experience at least one luau before you leave.
We often recommend at least a week-long vacation that looks like this: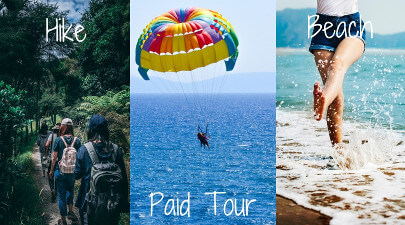 Day 1 - Go for a hike to get the blood flowing.
Day 2 - Pay for a tour to be semi-active.
Day 3 - Rest and recuperation on your favorite beach.
Repeat.
As you can see, the schedule gets you active, downshifts in activity level with a tour and then you get to rest before repeating the cycle. That means you'll need to budget two tours into a week-long vacation. The cost of tours, which include snorkel, fishing and helicopter trips, can range from $20 to $500 depending on the activity.
Luaus are a great way to experience Hawaiian culture and food. Each luau usually gives you an evening of tribal dance as well as a spread of Hawaiian food. The star of the show is the Kahlua Pig which is cooked inside a giant banana leaf in the ground. The average cost of a luau is just north of $100 all the way up to $200 per person.
Best Budget After Airfare And Hotel
For a week-long Hawaiian vacation, budget $50 to $90 daily per person for food plus another $300 to $700 weekly per person for adventures, luaus and a bit of nightlife. Check out our full budget details for help in calculating your budget.