You'll spot some of Hawaii's most breathtaking sights underwater. This haven of protected marine life offers a multitude of snorkeling locations. Snorkeling provides the best way to get up close and personal with Hawaii's coral reefs, exotic fish, whales, and green sea turtles. The islands offer warm tropical waters and ideal weather conditions year-round.
Where To Snorkel
To fully experience the versatility of the islands underwater life, you'll need to snorkel a few locations. Some spots offer sights others don't because marine animals, like humans, have certain amenities they look for in a home.
Lots of spots. If you want a variety of high-quality spots nearby so you can find an uncrowded beach for your adventure, hit the Big Island and Maui.
Unmatched coral reefs. Dive off of The Big Island for the best reef views. You'll spot some breathtaking views a mere 15 feet underwater.
Green Sea Turtles. Sometimes, you just want to swim through warm waters surrounded by green sea turtles. That's when you need to snorkel Maui.
Night Snorkeling
Those with some snorkeling experience shouldn't miss the Night Manta Snorkel on The Big Island. Tour operators run this one from the frontage of the Sheraton Kona Resort & Spa at Keauhou Bay. They deploy waterproof spotlights on the floor of the ocean which attracts plankton. Schools of plankton attract giant Pacific manta rays. They weigh in at about 3,000 pounds with wingspans measuring about 20 feet. These gymnastic creatures graze on plankton while doing backflips.
Humpback whales and monk seals.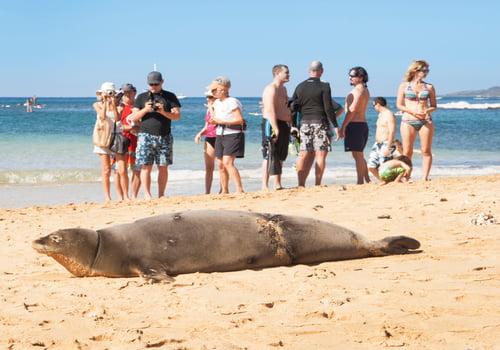 Hit Poipu Beach Park on Kauai to experience the whales and seals. Kids love the shallow lagoon and he seals sunning on the beach. Snorkelers of all levels love the whales, blue parrotfish, sea cucumbers, and the state fish of Hawaii, the humuhumunukunukuapua'a. (Try to say that fast three times in a row.)
When to Snorkel
The state doesn't restrict the sport during any time of year, but winter through spring proves the most popular months. Experienced snorkelers swear by summer though, saying the warmth and clear, calm waters make it worth it.
Learning to Snorkel
If you don't already dive, learn to snorkel while on vacation in Hawaii. Many tour operators offer certified dive instructors who teach classes. Some of these also rent equipment. These tours use calm waters and book small groups. They are suitable for children and adults.
First-timers and experienced divers find something new on Hawaii's coral reefs. Snorkeling Hawaii lets you experience it's underwater life up close. Your trip to Hawaii remains incomplete until you snorkel its exotic reefs. Book your trip to the islands today.