The Hawaiian green sea turtle, otherwise known as Honu, is absolutely fascinating. These friendly sea creatures can be found in the warm waters of Hawaii, but they began their lives far off to the west. Green sea turtles migrate across the entire Pacific Ocean from their breeding grounds in Asia to greet you in Hawaii.
---
From A Far-off Land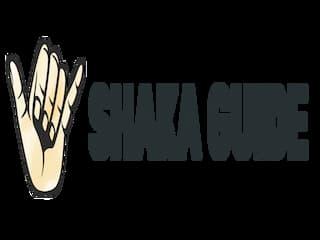 Turtles lay hundreds of eggs along the beach. After hatching, a mob of juveniles emerges from the sand to storm the beach, and they make a run for the water while predatory birds peck from overhead. These tiny little creatures could fit in the palm of your hand, so the danger isn't over after they reach the sea.
There are plenty of predators that await past the surf. Sharks, large fish, and even crabs have been known to eat young green sea turtles. It is estimated that only 1% of all green sea turtles reach sexual maturity, but, if they survive into adulthood, they can live for up to 80 years. That means the cute little turtle you bump into while snorkeling has beaten the odds. And, if you see the turtle munching on seagrass, algae, or seaweed, they are probably a fully grown adult. It could be older than you.
Young Hawaiian sea turtles are actually carnivores. They feast on small fish, crabs, and other mini sea creatures. They become omnivores as they grow larger before becoming full-blown herbivores in adulthood.
---
How Do Turtles Sleep?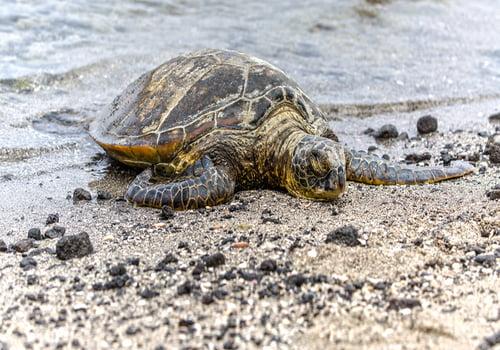 Even the way the turtle sleeps is fascinating. If you're lucky enough to see a turtle surface, you'll notice a quick and forceful inhale and exhale. These mammals spend almost their entire lives in the water, but they must breathe air to survive. Incredibly, that quick in-and-out replaces all the air in their lungs.
The oxygen helps them to dive, eat, and to escape predators, but it also helps them sleep. They can sleep for hours submerged in the water, and they often hide under rocks or coral ledges to keep away from predators. The activity level dictates just how long the air in their lungs lasts, so an active turtle can stay underwater for much less time than a sleeping one.
But exhausted turtles often come to shore in order to sleep and to warm up in the hot sand. That's where you're most likely to run into a sea turtle in Hawaii.
---
How To See A Sea Turtle In Hawaii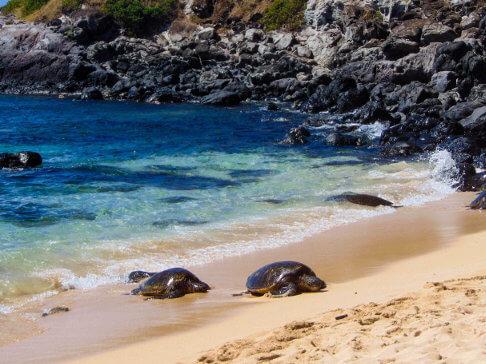 You can take advantage of a turtle's eating and sleeping habits to catch a glimpse of these cute little sea creatures. You're most likely to walk into one sleeping on the beach, or you can go snorkeling near a proven turtle feeding ground. Either way, it'll be difficult to spend an entire week on a single island without seeing a green sea turtle.
You can improve your chances by going down to the sea turtles' favorite beaches. The spots listed below will give you the best chance at snapping that sea turtle social media pic.
---
Sea Turtle Safety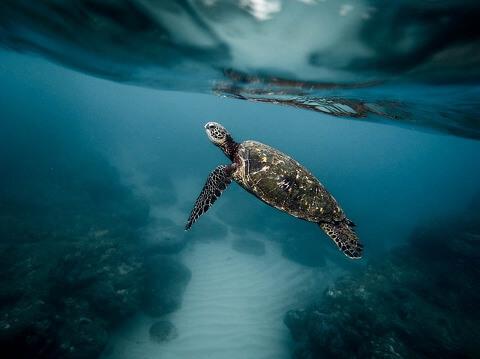 First, a little bit of safety. There is nothing to fear from a green sea turtle as the adults are herbivores looking to chomp on algae, seagrass, and seaweed. But you should take precautions for the sea turtle's safety.
Do not touch a sea turtle. The oils in your fingers can degrade the turtle's protective shell to the point where they'll be vulnerable to predators. The oils and bacteria on your skin can also cause an infection or a parasite on the turtle's skin or shell.
If you're snorkeling with a turtle, know that they will surface frequently. Stay alert. Otherwise, you're in for a collision. And don't try to snap a selfie with the turtle as it surfaces for its big breath. You could inadvertently touch the turtle, or, worse yet, you could splash water into this breathing mouth. And startled sea turtles have been known to drown.
---
State Law
It is against the law to touch or disturb a sea turtle, and local authorities enforce this law with great pride. In fact, you'll probably run into police tape that has been erected around sleeping turtles to keep a safe perimeter for the gentle giants. And you should alert the lifeguard if you're the first person to see a sea turtle on the beach. The lifeguard will thank you before putting up the protective perimeter in order to allow the turtle to rest undisturbed.
Hawaiian locals view the sea turtles as a part of their Ohana which means family or home. Act with Aloha, respect the turtles and help protect the Hawaiian Ohana by obeying this state law.
---
Hawaii's Famous Turtle Spotting Beaches
You can spot turtles on every island in Hawaii. Here are some suggestions are broken down by the island.
---
Kauai: Poipu Beach Park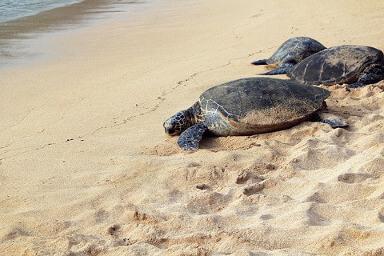 The electric blue waters of Poipu Beach Park attract tourists and wedding parties from around the world. The idyllic white sand reaches out into the water to create a rocky sandbar that separates two swimming pools. The smaller pool, on the east side of the sandbar, features protected waters, a rocky bottom, and plenty of marine greens to feast on.
You're likely to catch a glimpse of feeding turtles in the smaller pool at Poipu Beach Park. And the turtles often wander onto the shore to take a warming nap. That's when the authorities move in to put up a police tape perimeter for the sleeping turtle.
This is an incredibly popular beach with plenty of lifeguards, so no sea turtle goes unnoticed. That also means there's heavy enforcement for Hawaii's no-touch law so make sure to keep a safe distance while taking your pictures.
---
Oahu: Laniakea Beach, or "Turtle Beach"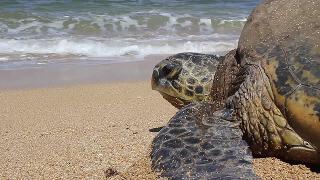 Oahu makes it easy to find turtles. You just head on down to Turtle Beach. It's located on the northwest shore, so you'll have to jump into your rental in order to scope turtles if you're staying in Honolulu.
Turtles are so abundant on this beach that you're likely to run into volunteers working for Malama Na Honu. Honu is the Hawaiian word for turtle, and these volunteers spend their time on the beach looking after the friendly creatures. Feel free to ask any questions you might have as the volunteers are keen to answer.
This beach is a great way to introduce yourself to the species. The volunteers will help you take pictures, and they can even instruct how to behave around the slumbering giants. And make sure to bring your snorkel gear to Turtle Beach as you'll likely be able to swim with the sea turtles just off the shore.
---
Maui: Maluaka Beach or Ho'okipa Beach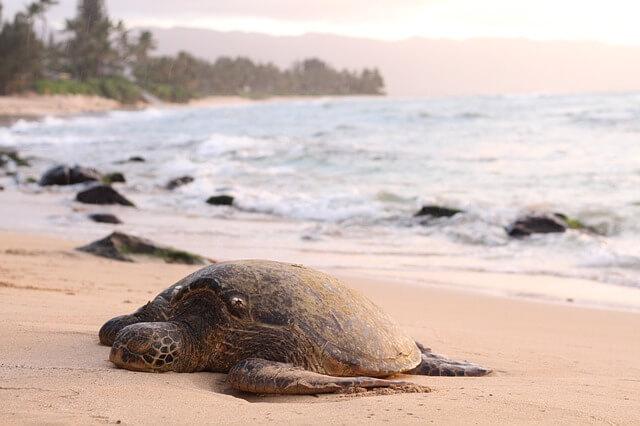 You can kill two birds with one stone on Maui's . It's the site of the best snorkeling on Maui and it's a reliable sea turtle scoping spot. It's so reliable that the locals refer to this beach as "Turtle Town."
You'll need to grab a pair of water shoes before you brave the trek to the kid-friendly beach. Or you can simply grab a pair of tennis shoes that you don't mind getting wet and sandy. The walk to the beach will take you over some sharp volcanic rocks.
You'll find the trailhead for the short walk at the end of Makena Road just south of Wailea on the southwest side of the island. Once on the beach, walk down to the south end to a small cove. This is where you'll have to walk over the volcanic rocks.
The cove is protected from the open ocean, and that's why the sea turtles love it. They can feast on the sea greens in the calm waters. Sit on the beach for a second before you go snorkeling as you're likely to see the turtles pop up for air. Now it's up to you to snorkel over to the creatures without touching them. Remember, the surface frequently!
If you'd prefer to see one on shore, one of the best places is Ho'okipa Beach on the North Shore. It is rare not to see turtles sunning themselves on the East side of the beach. In many cases they will be roped off, which allows you to view them without interfering with their sleep.
---
Hawaii: Kiholo Bay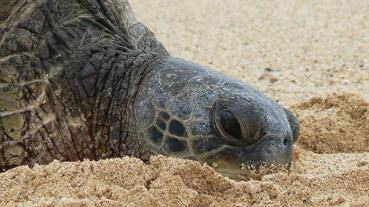 There are two prime spots for turtle scoping on The Big Island. You'll find the first in the northwest corner of the island on a secluded beach at Kiholo Bay. Just make sure you bring plenty of water and sunscreen as you'll have to brave a long trek through an open volcanic field.
You'll find the trailhead in Kohala just north of Waikoloa Resort. You're likely to have some seclusion down on this beach as the walking path deters many tourists, but that means the treatment of the turtles is completely up to you. Please act with Aloha.
The small bay, which is usually full of turtles, is great for a snorkel when the water is calm. But there are no lifeguards. Make sure to check the surf report, and, if the waters are forecasted to be rough, try to catch a glimpse of the turtles from the shore.
---
Hawaii: Punalu'u Beach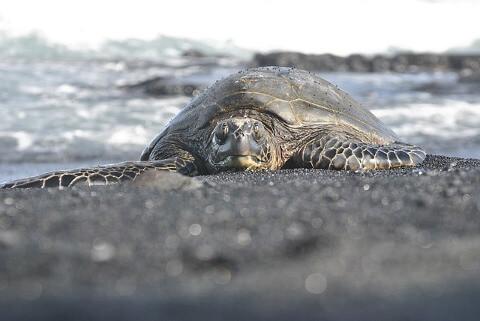 The second great turtle spotting beach is on the south side of The Big Island. Get your camera ready because the scenery is stunning. Just don't expect to swim with the turtles.
Punalu'u is famous for three things. One, the turtles. Two, the stunning jet-black sand. Three, a violent ocean.
There is no protective reef at Punalu'u so the beach is exposed to the open ocean. Exchange your snorkel gear in the car for some sturdy sandals, water shoes or tennis shoes because black sand beaches are rough, coarse and sharp.
You should be able to take a picture with a turtle resting in the sand. It makes for a stunning contrast. The green of the turtle shimmers against the black sand, and it really makes for a unique social media-worthy snapshot.
---
Summary
In addition to these spots, there are many other places where you are likely to see turtles. Both from in the water and from the beach, you are likely to see turtles on many different beaches of Hawaii.