On the northwest side of Oahu, you'll find a magical place called Turtle Beach, otherwise known as Laniakea Beach. This beach is perhaps the most reliable place in all of Hawaii to spot a green sea turtle. The turtles like to clumsily climb up onto the beach for a warming nap, and they are constantly spotted in the calm waters feasting on mossy rocks.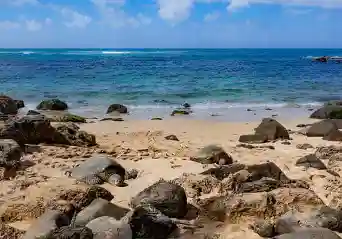 The turtle viewing is so reliable on Turtle Beach that a group of volunteers keeps watch over the critters. These volunteers are friendly, and they are eager to answer any questions you might have about the lovable sea creatures. They can even help you snap a safe selfie. After all, it's illegal to touch sea turtles in Hawaii. The oils from your skin can degrade a turtle's shell, and it might not seem like much, but these cute little critters can live to 80 years old and the degradation may continue for quite some time. Don't put a turtle at risk by touching one of these friendly and majestic creatures.
Finding the beach isn't easy. It's small, hidden and does not have a parking lot, but you're sure to find a bunch of cars parked on the side of the Kam Highway near Pohaku Loa Way. Simply drive up the Kam Highway from Haleiwa to look for the collection of cars. From the parked cars, it's a simple walk down to the small beach.
You're going to want to pack that camera as well as some water shoes when heading down to Laniakea Beach. Of course, you'll be able to snap those once-in-a-lifetime photos, but you'll also need those shoes for the rocky water. 
The swimming at Turtle Beach isn't the best because of the abundance of volcanic rocks, but it's the rocks that attract the turtle. Adult sea turtles are herbivores that like to munch on the algae, moss and other sea greens that attach themselves to the rocks. While you may want to wade into the water to peer at the turtles, swimming is not advised at turtle beach. It's rocky, exposed to the open ocean and there are no lifeguards.
The turtles often come to shore when the water is calm. That means it is best to visit during the summer when the water is at its calmest, but you can also check the surf reports to catch a calm day during the more violent winter months. And the best time to catch a slumbering turtle is at high noon -- between 11:00 a.m. and 1:00 p.m. -- when the turtles like to warm up in the heat of the day.