Hawaii is a deeply spiritual place where worries come to melt away in tropical landscapes. It's easy to get lost in the beauty of a waterfall, swimming next to a sea turtle or watching a warm sunset. Island time means that you're never in a hurry and free from rushed anxiety. And the Aloha spirit means locals are ready with a smile, a story, and a helping hand.
Aloha is famous. With nearly 10 million visitors per year, the Hawaiian term has spread all over the world. But there is another spiritual Hawaiian word that pervades life on each and every island. You may not even know about it. It's a powerful concept that brings people together to live in harmony, and everyone can connect with the idea worldwide.
---
The word is "Ohana."
You may have heard the word in passing right when you landed. A person may have placed a lei around your neck at the airport to tell you that you are now a part of the Ohana. You are now a part of the family.
---
The Hawaiian Family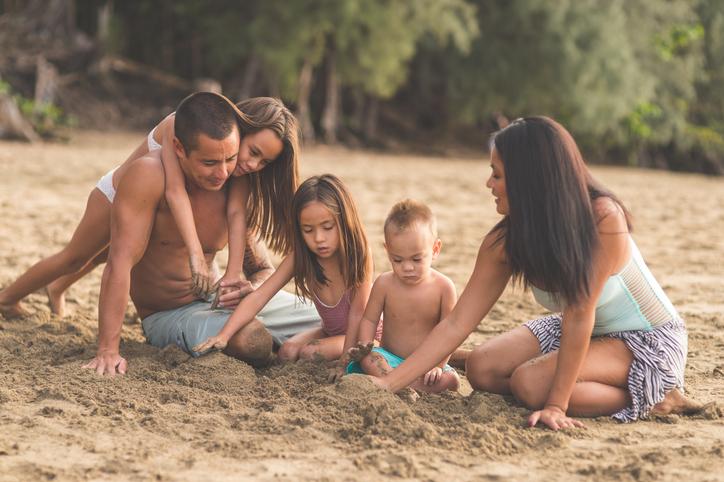 The family structure works a bit differently out on the Hawaiian Islands. On the mainland, you might have a mother, father, and children living under the same roof. The children then grow up, go off to college and get a job to move out of the house. The parents then downsize their house for retirement while the children raise families of their own in a separate household. The cycle then repeats.
This is not how it works in Hawaii. Many generations of a single-family live under one roof. It's not uncommon for grandparents, aunts, uncles, parents, and children to live together. The children may go off to school, but it's expected that they'll come back to the house after graduation. The children even get married and to have children of their own while living in the family house, and Hawaiian youth tend to get married early as they are eager to contribute to the growing Ohana.
This is a social custom in Hawaii, but part of it is economically driven. It can be expensive to live on the islands. Locals pay a premium for electricity, gas, and food, so living together is a financial strategy to mitigate the burden of costs. Hawaiian real estate is also at a premium. Families tend to root down on one good piece of land.
---
Aunty and Uncle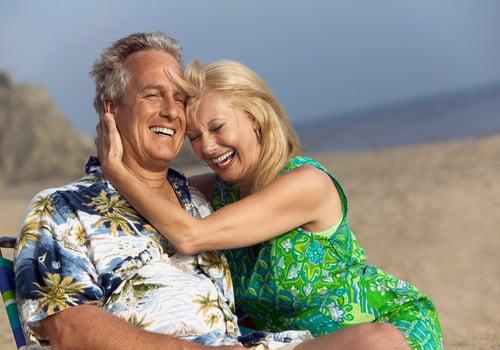 You may have noticed that locals speak a slightly different version of English called Hawaiian Pidgin. If you listen really closely, you can hear some familiar words like "Bruddah," or brother. Those same Pidgin-speaking locals will speak to you in English, and they'll often use the terms "Aunty" and "Uncle."
Locals use the words, Aunty and Uncle, to refer to just about everyone. They don't need to actually be an aunt or an uncle which goes back to the idea of Ohana. Child-rearing is a group responsibility with such large families living under one roof. Cousins, older siblings, and even unrelated friends can be an Aunty or an Uncle within the family.
The terms Aunty and Uncle can even be used for complete strangers on the islands. This is an extension of Ohana as it takes an entire island to raise a child. Essentially, everyone on the island is a part of your Ohana or family, so you should treat one another with respect.
---
Daily Cookouts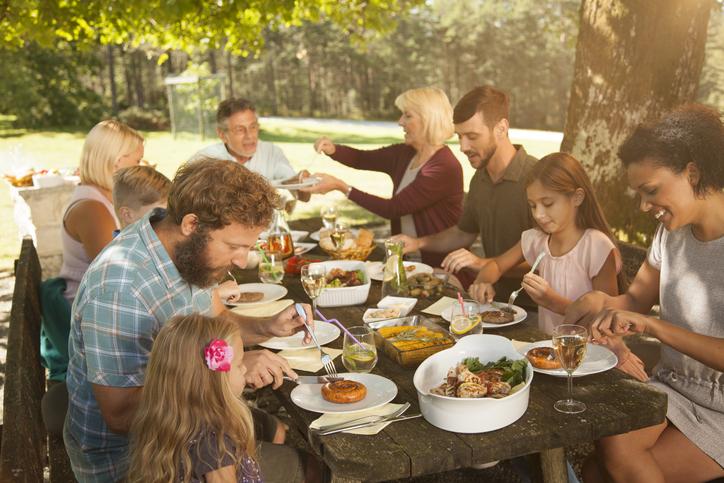 You might notice large groups of people standing around an open garage. The garage is full of tables that are covered in food as the Ohana sits around the yard chowing down. It's a common sight on the Hawaiian islands, but it doesn't necessarily mean that there's a special event.
This is simply a part of the celebration of Ohana. Large families may have near-nightly cookouts to feed the entire clan, and, if you make friends with a local, you might be invited to enjoy a luau-like spread at someone's house.
---
Modern Ohana
The Ancient Hawaiians quickly understood that the people of Hawaii had to live in harmony with nature in order to survive. With limited resources, it was important to instill a code of conduct that would promote unity. Aloha and Ohana are not just ancient spiritual ideas. They are instructions for survival.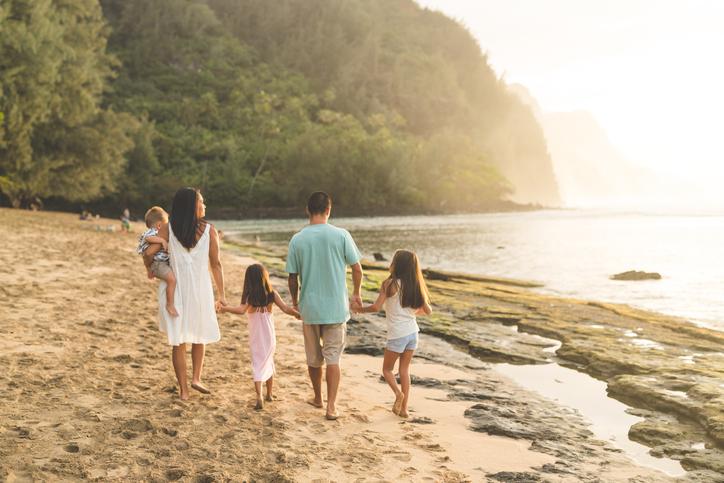 And you don't have to be family to be accepted into someone's Ohana. The word is imbued with loyalty, support, compassion, and love. It is a great honor to be a part of an Ohana, and it means that you'll never be forgotten or left behind.
But Ohana extends much further than family. It also means home. After all, a family needs a home. To be a part of an Ohana means to protect that home. That's why it is essential to treat these beautiful tropical islands with respect. Here are some suggestions:
• Don't pollute
• Fish for food, not sport
• Respect wildlife, including cute sea turtles, by keeping your distance
• Drive at or below the speed limit because you're on island time
• Don't trample vegetation by going off the hiking trail
• Don't pick more fruit than you can eat
Hawaii is a tropical playground with white sand beaches, impossible waterfalls, and towering mountains. Take care of your temporary Ohana to show Aloha to the locals. Your kind and positive actions will stay on the islands forever; multiplying through eternity. And your respectful treatment will be recognized, and you might just find yourself being invited into an Ohana of your own.