Camping on Kauai? Well, you've picked the right island. Kauai is for the nature lover, the outdoor adventurer and for those who want to reconnect with mother earth. It's a quiet isle where hikers fall asleep early only to wake at sunrise to challenge the island herself. And you get front row seats to the island's indomitable natural wonders when you beach camp in Kauai.
is known as The Garden Isle. The small island's central and dormant volcano -- Mount Waialeale -- is the rainiest place on earth, and all that rainwater carves its way back to the ocean in the form of Hawaii's only navigable rivers. Add tropical heat to all that moisture, and you have a recipe for lush, green and verdant life.
You'll be able to pick wild avocado, star fruit, guava, longans, rambutan, lemons, limes, and mango during your visit to The Garden Isle. You can even hike into the rainforest looking for the awapuhi plant. The red bulb atop this ginger fern secretes a fragrant white soap when squeezed, and you can place the stem of the bulb into a glass of water and it will last you a week. It's what Paul Mitchell built an industry on.
But you'll have to do a little extra planning when you beach camp in Kauai. That's because campsites don't advertise themselves as well as hotels, homestays or resorts. Do a little bit of research, and you'll be rewarded with an unforgettable Kauai vacation. And you'll save quite a bit of money, too.
---
Camping Gives You More Time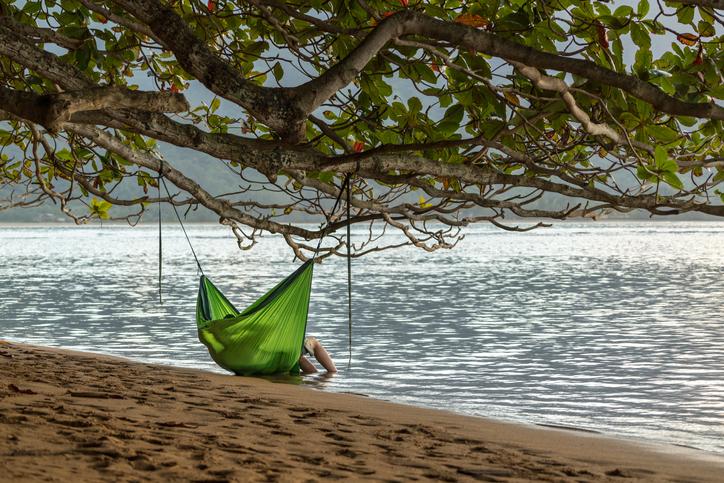 Time is Hawaii's most valuable commodity. We always recommend being able to stay on one island for at least a week during your Hawaiian vacation, and we recommend that you enjoy the following repeatable cycle:
Day 1 -- Get active with a hike.
Day 2 -- Stay semi-active with a guided tour.
Day 3 -- Rest and recover at a beach, pool or in a spa.
You'll want to add a bit of nightlife and culture on top of this cycle, but the basic structure should remain intact -- active to semi-active to rest -- to get the most out of yourHawaiian vacation. But, as you can see, this cycle can only be repeated once during a week-long stay. That means you'll have to pick two hikes, two tours, and two beaches. Here's the bad news -- there's a lot more to see on Kauai than just two hikes, tours, and beaches.
Camping is the most affordable accommodation in Hawaii. You'll only have to pay a few bucks for camping fees and permits, and these low prices should save you hundreds or even thousands of dollars during your Kauai vacation.
These savings can be put towards extending your stay, and that extra time is valuable. It will allow you to explore Waimea Canyon, the Na Pali Coas, Polihale Beach, Alakai Swamp, the Blue Hole, the Weeping Wall, Kalalau Valley, Queen's Bath, Hanalei Bay, Hanakapiai Falls, the Waimea River and so much more.
---
Camping Gives You Convenient Locations, And That Saves Time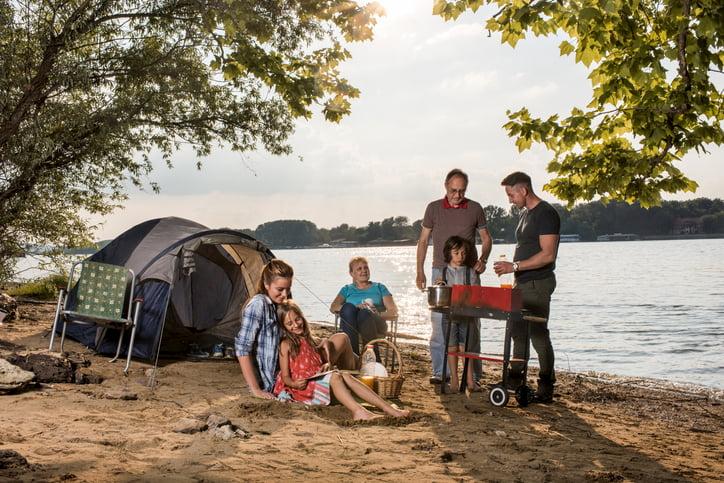 You'll save time traveling around the island when you camp. You'll be able to beach camp on Kauai in a variety of different locations which will allow you to pop around the island during your stay.
So, if you're planning on hiking the Kalalau Trailearly in the morning, you can simply pop your tent at Haena Beach Parkjust down the road. You'll beat all the other tourists to the small, cramped parking lot at the trailhead early in the morning, and you don't have to worry about navigating morning traffic across the north shore's notorious one-lane bridges.
If you stay in a hotel, you're tethered to one location. You'll spend hours simply driving to and from Kauai's many natural wonders. And these natural wonders are spread pretty evenly about the island. There's really not a central location on Kauai, so popping around the island in your tent will give you a leg up on the rest of the world.
---
Kauai's Beach Camping Spots Have Great Amenities
Don't think you'll be forgoing creature comforts when you beach camp on Kauai. Each of the island's campsites offers up clean bathrooms and outdoor showers. And don't worry. The high temperatures and humidity of the island will make outdoor showering comfortable even if there's no hot water.
---
A Word Or Two Of Caution
But that brings us to one word of caution when beach camping on Kauai. Each side of the island -- north, east, south, and west -- has its own climate. Beware of the climate before you pick your campsite because you might be in for an uncomfortable night of sleep.
The north and east sides of the island are rather humid. It's so humid that many visitors have a difficult time adjusting to the wet heat, and that heat won't let you sleep in very long. You may be waking up in a pool of sweat just after sunrise. But the south and west sides of the island are reliably dry, but they are also very hot. You can get away with sleeping late on one of the dry sides of the island so long as you pitch your tent in some shade.
You'll also have to be aware of the bugs. The humid sides of the island -- north and east -- have quite a few mosquitoes, so you're going to want to pack that bug spray. You can avoid most of the airborne bugs by camping on the dry sides of the island -- south and west. But there is one bug, in particular, you should be concerned with, and this bug lives on all sides of the island.
The giant centipede somehow made its way to the island of Kauai, and it is thriving. There is a myriad of centipede and millipede species on the island, but you should avoid anything that even resembles a centipede during your stay. The giant centipede has a stinging bite, and locals will tell you that there is nothing that will ease the excruciating pain. They'll just say to get drunk for a few days until the swelling subsides. And, of course, you're at a higher risk of an interaction with one of these nasty critters when you camp on Kauai.
But you shouldn't worry too much. Some locals have lived on the island for quite some time and have never even seen a centipede. Yet some first-time tourists are bitten just days after landing in Lihue. All you have to do is keep your eyes peeled, and you won't have any problems with the skittish bug. After all, the giant centipede wants nothing to do with you.
---
Camping Permits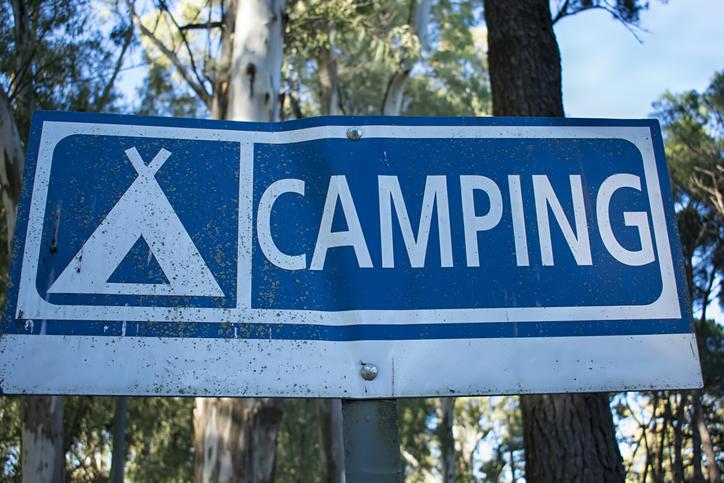 There are eight beach campsites run by the government of Kauai, and they are evenly scattered around the island. You'll have to apply for a permit to camp at any of these sites, and the permits are rather affordable at only $3 per person, per night. But the island's government is old fashioned. You'll have to use snail mail in order to get your permits.
There is one exception -- Lydgate Beach Parkin Kapaa Town on the east coast of Kauai. This family-friendly beach has amazing amenities, and you'll have to pay a premium for a camping permit. One campsite that spans 10 feet by 10 feet will run you $25 per night, but you can have up to five people on the site. And if you want to bring 20 camper or more, you'll be paying $150 per night.
Visit Kauai's government campsite permit for the official mail-in application.
---
Campsite Locations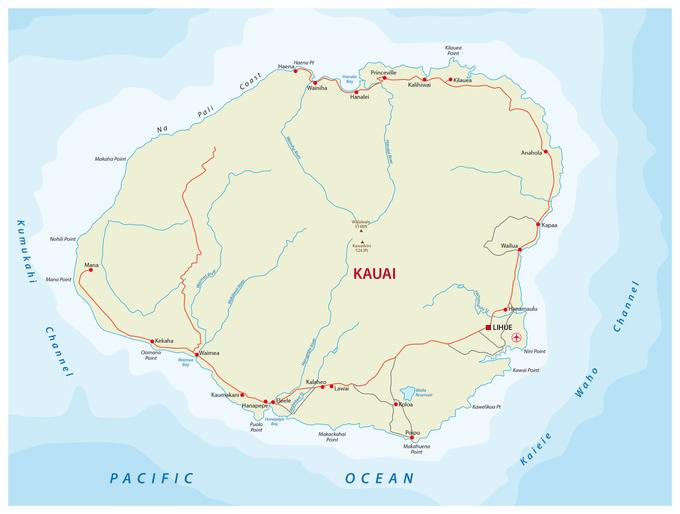 Look at a map of Kauai, and you'll notice that there's one highway. This is known as the Kuhio Highway. Kauai's one road nearly completes a full circle around the island, but it is cut off in the northeast. That's the Na Pali Coast getting in the way. So the road looks more like backward C.
---
Haena Beach Park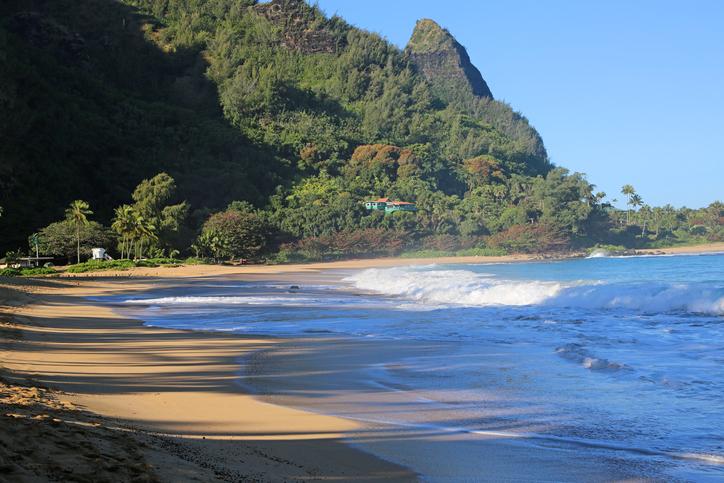 At the northern end of the backward C, you have Haena Beach Park. This lovely location is near the end of the road, Ke'e Beach and the Kalalau Valley Trail (which is also the trailhead to Hanakapiai Falls). Tents are pitched on a well-manicured lawn, and there's plenty of shade. There are trees about the campground, and it's also in the shadow of a nearby mountain. The mountainside has a beautiful cave to explore, and you're very close to the beach. Unfortunately, the water is too violent for swimming, so you'll have to hump down to Ke'e to go for a dip.
---
Hanalei Beach Park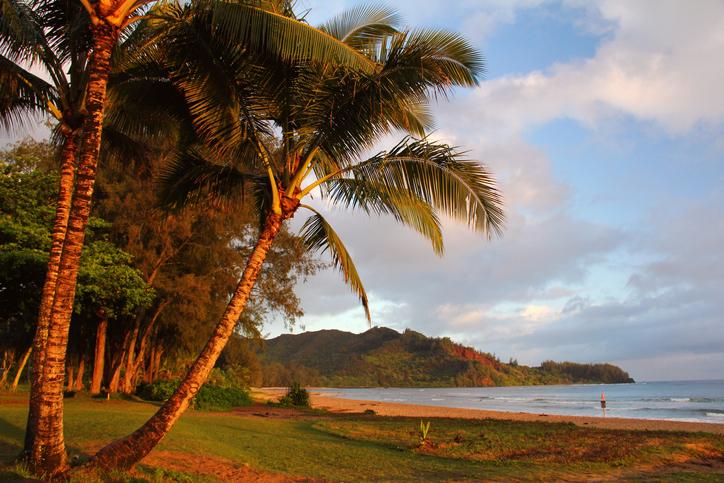 Working clockwise on the backward C, we come to Hanalei Beach Park. Hanalei might be the most beautiful little town in all of Hawaii. It sits among taro fields aside from the Hanalei River in the shadows of towering waterfall-covered mountains. Take a stroll out to the beach, look back towards the mountains and you might make out the silhouette of a sleeping dragon. That's Puff the Magic Dragon. He lives down by the sea in a town called Hanalei.
You'll have all the conveniences of Hanalei Town at your fingertips when you camp at Hanalei Beach Park, and you'll also have a wonderful white sand beach with a protected bay for safe swimming.
---
Anini Beach Park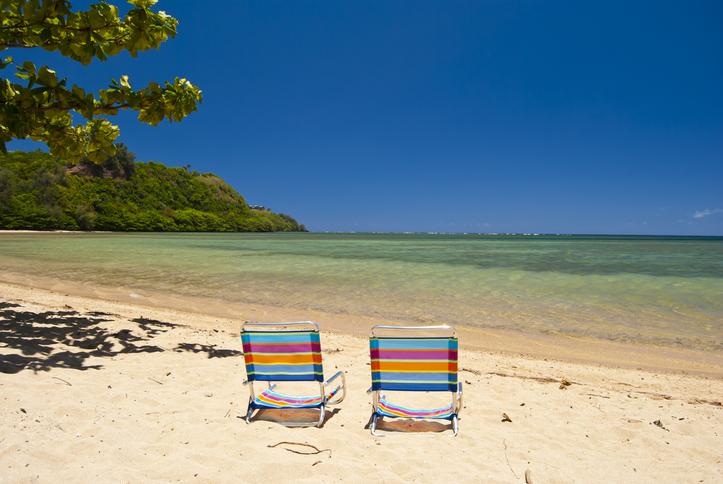 Anini Beach has some of the most reliable safe waters for swimming on Kauai. You'll have to drive north toward Princeville and then take a hard right down a steep hill to get to the beautiful lagoon-like water. Once down at sea level, you can drive away along this long beach, and you'll certainly notice the glass-like water and the beach's protective reef just offshore. You'll also notice the incredibly expensive houses sitting on the cliffs and hills high above you. This is the campsite for those who want to get away from the hustle and bustle of the mainland.
---
Anahola Beach Park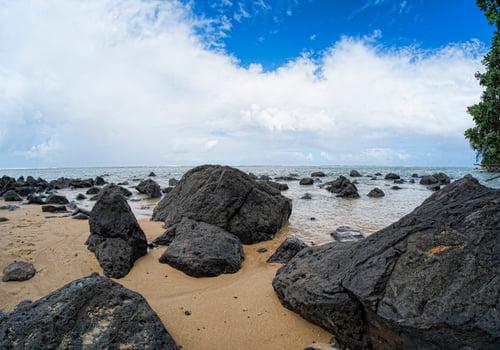 Anahola is a locals beach, and the swimming isn't that great. You'll notice that the water is a rather choppy right when you arrive at the beach. You'll also notice that there is a local fisherman casting lines into the bubbling surf. You can walk up the beach a bit to see a stream pouring into the ocean, but you shouldn't swim in Anahola's waters. This is the beach campsite for those who want to connect with the locals, and you'll likely leave the tourist crowd behind.
---
Hanamaulu Beach Park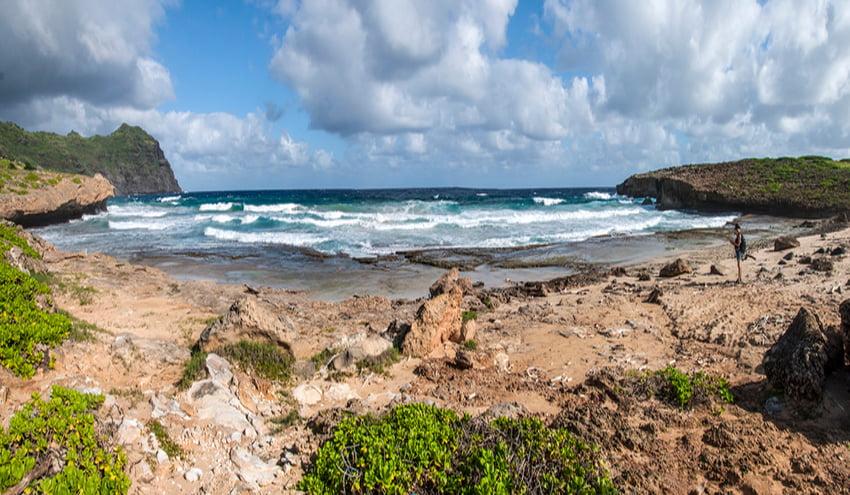 This campsite sits right in the middle of Kauai's "big city" of Lihue. At the northern edge of town, you'll turn down a hidden road that hugs Hanamaulu Stream out to the ocean. You'll find yourself in an oasis inside the city, and you'll have beach views with no manmade structures in sight. The ocean is rather dangerous on the beach, but there is a pleasant stream that is nice for exploring. This is the campsite for those who want to be nearby Kauai's most recognizable amenities in the city of Lihue. It's also as central as you'll get on the island of Kauai, so you can post up down here if you're looking to explore the entire island without moving your tent.
---
Salt Pond Park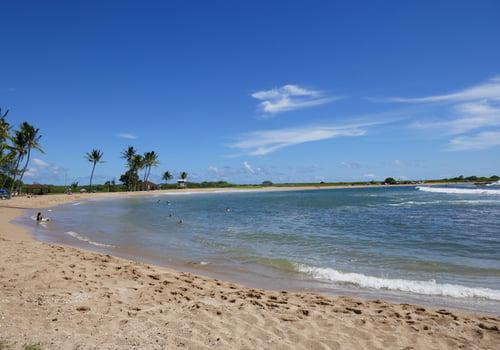 Swinging all the way to the southwest of the island, you'll find Salt Ponds just off the main highway as the island turns hot and dry. You shouldn't be bothered by many bugs over at Salt Ponds, and you'll be pleasantly surprised by the calm, shallow waters. The beach is protected by a colorful coral reef that is perfect for snorkeling. A lot of local families like to bring their kids down to Salt Ponds for its safety, and you'll be close to Waimea Canyon, Polihale Beach, Alakai Swamp, and the Kalalau Lookout over here.
---
Lucy Wright Park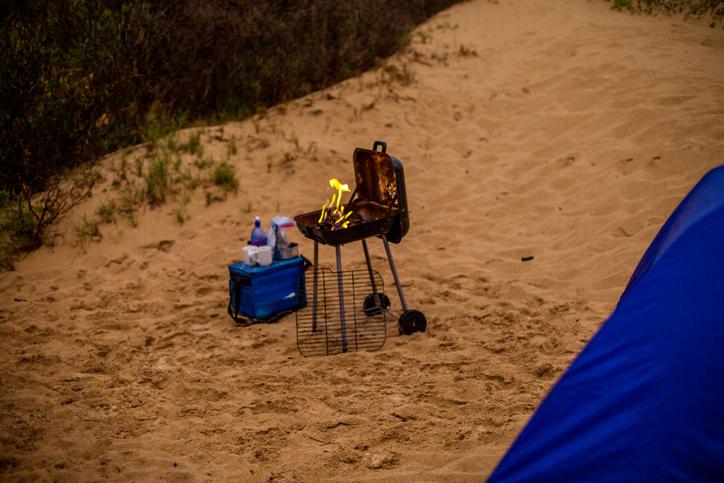 Swinging all the way over to the southern end of the backward C, we find Lucy Wright Park. It's a historical campsite because this is the first place a European stepped foot on the Hawaiian islands. Captain James Cook made landfall here back in 1778. You'll find a monument to the explorer in nearby Waimea Town, but it's curious the beach isn't named after the captain. Instead, it's named after an active member of the Waimea community who passed in 1933.
This is the hot and dry side of the island of Kauai. You shouldn't be bothered by many mosquitoes over here, but, unfortunately, the water at this beach is not safe for swimming. The beach sits at the mouth of the Waimea River which makes the ocean water rather murky, and sharks like to feed in murky waters. It's best just to peer at the freshwater mix with the saltwater from the beach.
But the beach is rather interesting. It is a mix ofwhite, black and green sand. Greensand is extremely rare as it is made up of olivine crystals. It's fascinating to pick up a handful of the sand to watch the green specks fall through your fingers. This is the closest campsite to attractions like Waimea Canyon, Kokee, Kalalau Valley Lookout, Alakai Swamp, and Polihale Beach.