It's hard to believe that Hawaii is a part of the United States because there's simply no place like it on the Mainland. You can feel the difference in the air right when you step off the plane. The humid yet sweet airbrushes over your face as you're greeted with a fragrant lei while ukulele music drifts on the breeze in the open-air airport.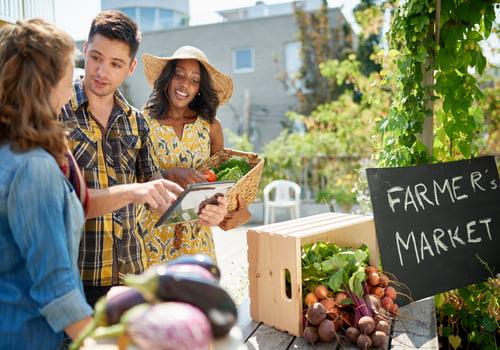 Everyone has a smile on their face as you look around in a tropical daze. The street signs are familiar, everyone speaks English, and the US dollar is accepted for all debts public and private. Yet everything else about this tropical paradise is pleasantly unfamiliar.
The colors look more vibrant, the sunsets are akin to fireworks, and the unbelievably blue ocean beckons unlike the cold waters of the Mainland west coast and the murky waters of the Atlantic. The food is even unfamiliar. You'll see treats like poke, bento boxes and spam musubi on menus across the island.
And the flora of the islands are ever-growing in the tropical heat and humidity to bring forth all sorts of exotic fruits and vegetables. You can feast on the sweetness of star fruit, longans, rambutans, dragonfruit, sweet Hawaiian avocados, and strawberry guava. You'll be able to enjoy fried jackfruit while experiencing the healing powers of the bitter noni fruit. And, of course, you can replenish the fresh taste of hydrating coconut water.
But you might have some trouble finding all of these treats at different restaurants. It may take you a week or more to see all of these treats in their pure form, but there is a Hawaii hack that can get you tasting all the islands have to offer. You can simply visit your local farmer's market.
Sticker Shock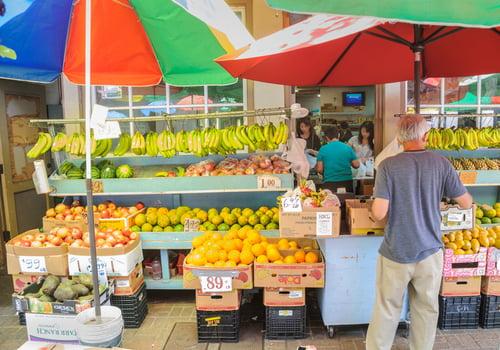 When it comes to food, Hawaii is the tale of two sources -- the chain grocers and the local growers. You can easily find a chain grocer on the islands with all of your familiar sundries like Cheerios, milk, butter and name brand coconut waters. But you might find yourself suffering from sticker shock when you step into one of these stores. Don't be surprised to see a gallon of milk for $9, or more.
The price is so high because the chain grocers rely on their big-name distributors. Unfortunately for you, those distributors just so happen to be located in the mainland United States. That means you pay the normal price of mainland groceries plus the cost of barging those groceries across the Pacific. And there's sure to be a Hawaiian tax thrown on top of that to discourage off-island business.
If you do happen to step into a chain grocer, then you should look at a name brand coconut water. Near the ingredients list, you'll see the origin of the coconut water itself. It'll probably say Thailand, or it might even say Venezuela or some other South American source. It should make you chuckle just a little bit. After all, Vons is spending a ton of money to ship preserved coconut water to tropical islands that are flush with fresh coconuts.
Put that coconut water down, head to your nearest farmer's market and you'll be pleasantly surprised by the prices. Locally grown food is incredibly affordable, and you can get fresh coconut water from an island source while supporting the local community. You don't have to think about your coconut water sitting in a barge for months on end to finally be plopped down in a chain grocery store. Instead, you can literally drink Hawaii at the source.
The Myriad of Choices, but Get There Early and Look For The Crowds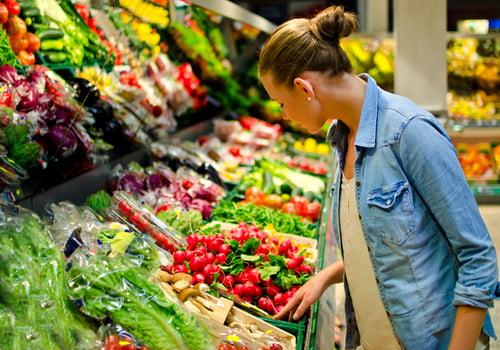 You'll find Hawaii's myriad of treats all in one location at your locals' farmer's market, but those sweet and succulent treats run out quickly. You'll want to find the start time of the farmer's market, and you'll want to be there right when they open up shop. You'll have your pick of the freshest fruits and vegetables.
The most popular growers are easy to spot, too. Simply follow the crowd of locals to the busiest stands to find the best produce. Don't be afraid to ask questions when it's your turn. The best growers are guaranteed to sell out before the end of the day, so they are more than willing to walk you through all of the unfamiliar fruits and vegetables. But, as a quick reference guide, here's how to spot and eat some of the best local produce.
Hawaiian Fruits & Veggies To Look For
Papaya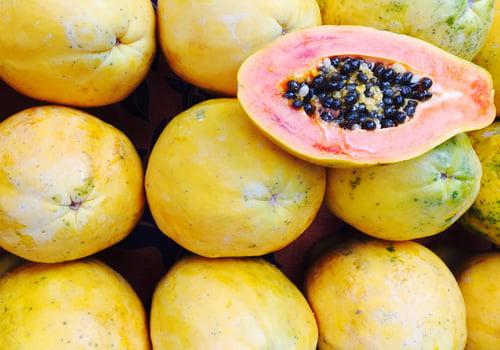 You might have had papaya on the mainland. In fact, you might have been able to get a hold of giant Mexican papaya that looked promising. But mainland papayas are almost certainly a letdown. They tend to be full of bland orange mush and hard black seeds.
That's not the case with Hawaiian papaya. This is perhaps the most popular of all Hawaiian fruits because it is absolutely delicious, creamy and slightly sweet. It's like a healthy adult ice cream, and it makes for an especially delicious breakfast with natural peanut butter. You might even be able to find some peanut butter at the farmer's market.
Starfruit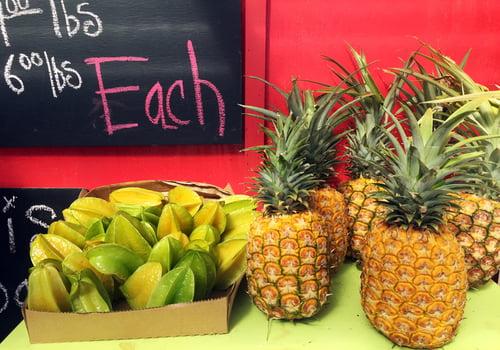 Starfruit is impossible to miss. It's an electric yellow color and in the shape of a football. But if you pick up this handheld fruit to look at it longways, then it resembles a five-point star. Nothing beats the sweet flavor of a crisp, cold, ripe starfruit. It tastes like a citrus fruit had a baby with cantaloupe, and it makes for perhaps the most delicious juice you'll ever have in your life.
Longan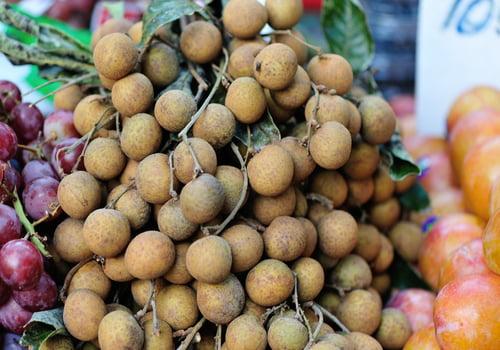 These Asian fruits come in bunches like grapes, and they are also slightly larger than grapes. But, unlike grapes, longans have hard protective skin. You'll have to peel into the rough brown skin to get at the translucent fruit inside. The skin cracks off with a fingernail, and the inside of the longan almost looks like an eye because you can see through the fruit's flesh to a large black pit. Carefully chew the fruit away from the pit, and then dispose of the skin and pit. Repeat for a slightly sweet treat that has hints of cantaloupe.
Rambutan
This fruit might look scary as it has a bright red hairy exterior, but don't let that frighten you. Much like longan, once you peel away the skin, you'll be treated to a soft jelly-like fruit around a pit. This fruit is native to Southeast Asia, but growers on Hawaii produce a variety of these fruits between February and March. The fruit tastes like slightly more tart lychee, and it's a great source of vitamin C and fiber.
Egg Fruit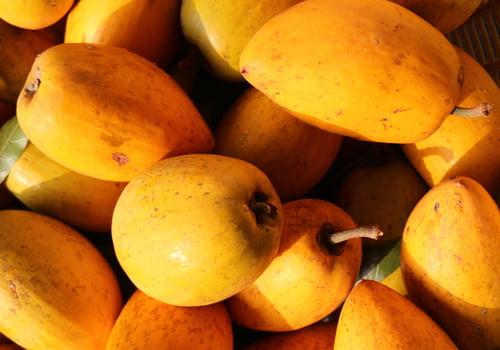 This fruit is bananas. Well, not literally. It tastes more like chestnuts or sweet potatoes than bananas. It's just a crazy fruit. This South American fruit grows abundantly on the islands, and the chalky yellow fruit has a texture that's comparable to the yolk of a hard-boiled egg. It's savory instead of sweet. If you have the courage, then you can try it raw, but you're more likely to find it at a farmer's market mixed into pies, jams, custards, shakes or even eggnog during the holidays.
Breadfruit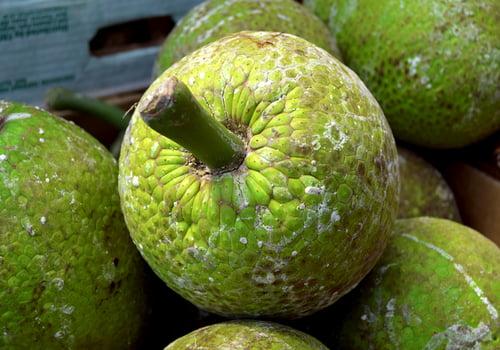 The Hawaiian islands were settled by Polynesians that set out from their motherland in the South Pacific when the population of the island became unsustainable. They braved the Pacific in giant outriggers with a few ingredients for survival. They hauled pigs protein, coconut trees for freshwater and breadfruit. The fruit can be eaten during three stages of its growth for slightly different flavors. The young green breadfruit can be cooked and eaten like a savory vegetable. The more mature breadfruit grows into starch which provides carbohydrates. And in its later stages, it becomes sweet like a true fruit. You just might be able to find all three stages at your local farmer's market.
Star Apple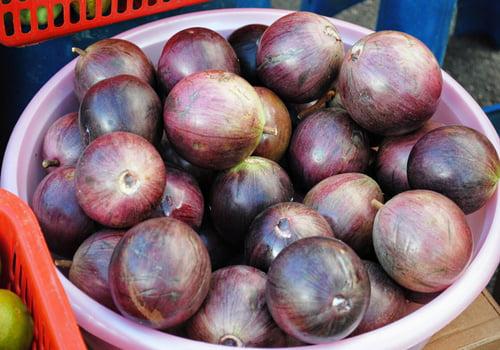 You'll have a difficult time finding this deep purple fruit anywhere outside of Honolulu's Chinatown, and the fruit is only in-season from during the spring or summer. This fruit is worth the effort, however, for its soft persimmon-like texture and taste. Chill the fruit and then split it in half to spoon like kiwi, or you can mix it into a bowl with grapefruit, oranges, mangoes, nutmeg, sherry and condensed milk for an authentically imported West Indies dessert.
Notable Farmers Markets On Each Island
Kauai -- The Kauai Community Market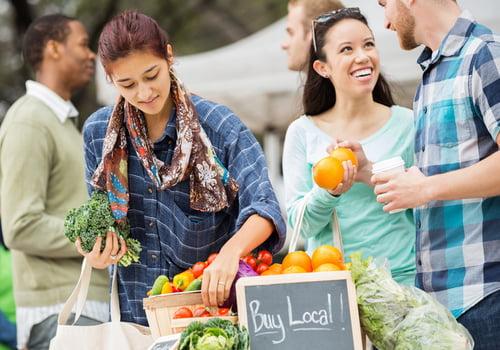 Kauai is the westernmost island that you are allowed to visit in Hawaii. It's a rather small island with no semblance of a city, but it is aptly named the Garden Isle. The island's central dormant volcano, Mount Waialeale, is the rainiest place on earth, and all that rainwater feeds the lush landscapes of the greenest island in the state. If you like exotic fruits and vegetables, then you are on the right island with Kauai.
If you want to sample the riches of the most verdant island in Hawaii, then you should head over to the Kauai Community Market at the Kauai Community College Campus just south of Lihue. The market is open Saturdays from 9:30 am to 1:00 pm, but you'll want to get there early to scoop up the best the market has to offer. Don't miss the creamy pineapple that is super sweet with hardly an acidity.
Oahu -- Kailua Town Farmers Market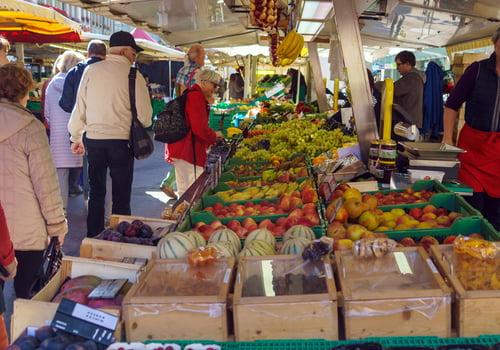 Oahu sits just over the channel to the east of Kauai, but it couldn't be more different than the Garden Isle. Oahu is the Gathering Place due to its recognition as the cultural, culinary and economic heart of the islands. It features the massive city of Honolulu and the packed beach of Waikiki. But Oahu has a rich history of agriculture, and its Michelin-star restaurants procure produce from the island's local growers.
The Farmlovers at Kailua Town farmers market is the best on the island. You'll have to drive out of Honolulu to head to Kailua early on Saturday morning as the market opens up on the eastern coast of the island at 9:30 am. The market goes until 1:00 pm at Kailua Elementary School. And after you've picked your treats for the day, you might want to head to the world-class windward coast beaches for a picnic.
Maui -- Upcountry Farmers Market
Maui was made famous by a Disney movie, and, in that movie, you may have learned that the Hawaiian deity of Maui created the island with his magical fish hook. He cast his hook to the bottom of the ocean, and he pulled the island up from the depths. It was quite a pull. Maui's highest point is nearly 10,000 feet high, so there's plenty of elevations and climate zones to grow a myriad of different treats.
The Upcountry Farmers Market has been voted the best on the island for 2015, 2016, 2017 and 2018. You'll enjoy unique treats like fresh coconuts, locally caught fish and passion fruit butter. This award-winning farmers market is open early at 7:00 am on Saturdays, and it's open rain or shine. Find it at the Kula Mula Town Center in Pukalani.
The Big Island (Hawaii) -- Waimea Town Market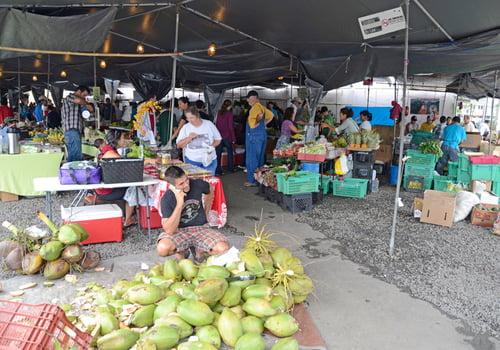 The Big Island is big. It's so big that the long, slow slopes of its twin 13,000-foot peaks feature 10 of the world's 14 different climate zones. In fact, you can sled on fresh snow atop Mauna Kea during the months of January and February, and you can drive down to the west coast for a refreshing dip in the sparkling blue Pacific during the same day. The diversity of climate zones makes The Big Island perfect for crops from all over the world, and the island is famous for its unique Kona coffee.
You'll find the Waimea Town Market at the Parker School on Lindsay Road in Waimea Town. The market is only open from 7:30 am to Noon on Saturdays, so you'll have to be up early. You'll be rewarded with baked goods, coffee, tea, plants, flowers, and artisan wares. It's like a farmers market plus a local goods market which makes it perfect for scooping a souvenir.