Narrowing your itinerary down to 10 things to do and see while on the island of Maui, Hawaii, may seem impossible; however, here are a few highly recommended things to do and see while visiting America's only off-shore state.
Haleakala National Park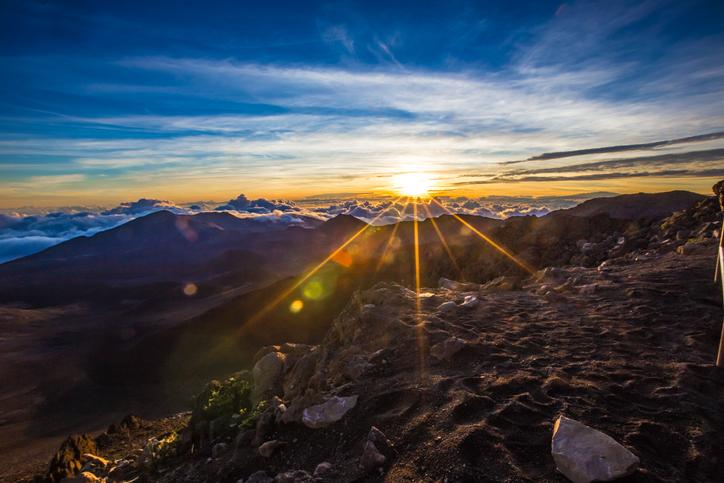 Sunrise is visible from just about anywhere in the USA and on Planet Earth for that matter; but, here one must make a reservation to participate in this breathtaking event. As far back as the 1800s, author Samuel Clemens, aka Mark Twain, described this activity as being one of the most unusual and unforgettable experiences of his life. While the park occupies 24,719 acres of land, the island's summit peak is 10,023 feet above sea level. The area is situated on the rim of a volcano whose preservation is paramount to the world's ecosystem.
Visitors are advised to dress warmly since the temperature between 3 A.M. and 7 A.M. averages 40°. Since there are very few and in some places no commercial establishments along what is known as Haleakala Crater Road, it is wise to have a full fuel tank and to bring breakfast and photography equipment.
Bike The Mountain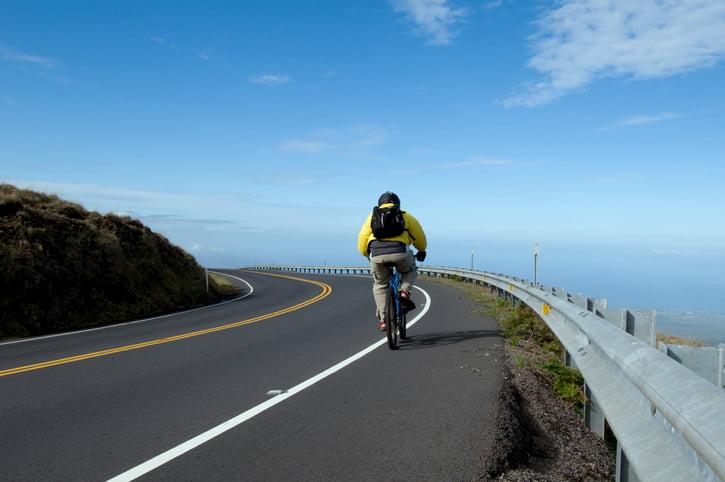 If you elected to reach the ultimate sunrise viewing area via commercial transport, an unbelievable downhill bike tour awaits your participation. Several bike tour companies offer a 23 to 26-mile guided trip from an elevation of 6,500 feet back downhill to ground zero. Payment for the ride, bike, helmet, and other necessary equipment may be made online. Depending upon the stops your guide has planned and other visitors may desire to see, the trek back down the mountain can last until 4 P.M.
Other Bike The Mountain tours are available along one of the world's longest, continuous downhill roadway. In addition to enjoying a fantastic biking experience, you will learn about rare plants and creatures whose only habitat is Maui.
Road To Hana Scenic Drive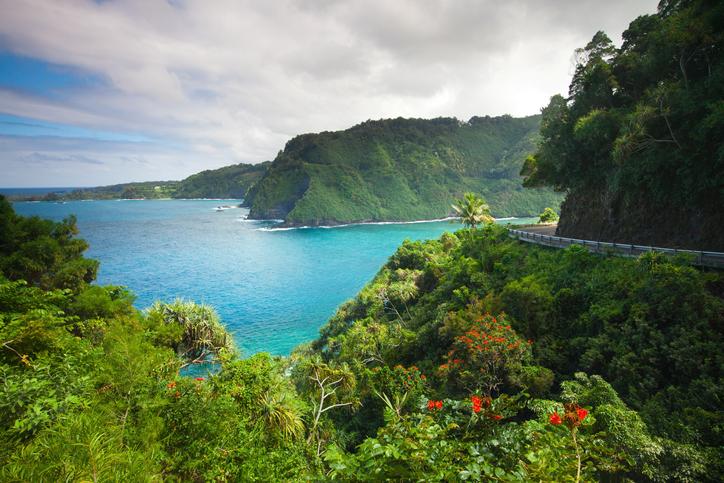 This scenic route is billed by many as 'a highway to Heaven.' One highly-recommended place that is more than just a place to pass through is Paia Town. If you think tiny towns are a thing of the past, think again because this one has only one street that is occupied by coffee shops, eateries, and enough local stores and shops to keep you busy for more than just one day. Among many waterfalls along the route is Twin Falls affording the opportunity to enjoy interesting amenities including sugarcane juice. Be sure not to miss Kahanu Garden, which is included in the National Landmark list.
Although not as well marked nor its roadways as well maintained as other parts of the Hana area, what is locally referenced as the Back Side of Haleakala is worth your time to explore. Though this area features more rugged and less developed terrain, one attraction not to be missed is the Seven Sacred Pools, and the Pipiwai Trail leading to one of the most magnificent waterfalls on the islands.
Whale Watching in Lahaina
Fishermen and water sports enthusiasts should definitely include whale watching on their itinerary. While many companies offer such excursions, visitors are cautioned to select a craft that limits the number of watchers to no more than 40 passengers because this allows everyone to have prime-view seating. The ideal time to schedule this activity is between mid-December to mid-April during whale migration from Alaska to Hawaii in search of warmer water temperatures to mate, birth and raise their young. It is estimated that as many as four to five thousand whales ply the waters during this time period. Most excursion vessels feature special sound equipment affording visitors the opportunity to hear the sounds these majestic creatures emit.
Snorkel at Molokini
This adventure departs from the Lahaina Harbor area. Molokini is known for its crystal clear water which has no waves to compete with the relaxed atmosphere needed for an as up-close and personal-as-possible encounter with sea turtles and other aquatic creatures. No level of snorkeling proficiency is required since tour personnel are qualified instructors in the art of snorkeling and how to use the included snorkeling equipment effectively.
Iao Needle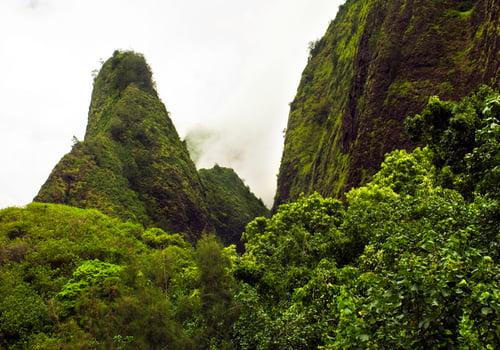 Iao Valley State Park is one of the wettest places on earth. It's fascinating to drive into the valley to see the landscape change from drier parts of the island, and it makes you wonder just what dictates the weather patterns in Hawaii.
The moisture in the valley gives rise to life. It's verdant, lush and tropical; a snapshot of your dream Hawaiian landscape. And inside the park, you'll find one of Maui's most iconic features -- the Iao Needle.
Get your camera ready. You'll find the park easily accessible, and a well-paved pathway will lead you from the parking lot at the visitor's center to the needle lookout point. You'll be gazing upon the main attraction in no time.
The needle looks like it crawled out of the movie "Avatar." It's a massive 1,200-foot spire that is covered in greenery, and the moisture in the valley will likely cloak the spire in the mist to add to the visual drama. It looks like a guard tower looking after the safety of the valley below.
Red Sand Beach at Kaihalulu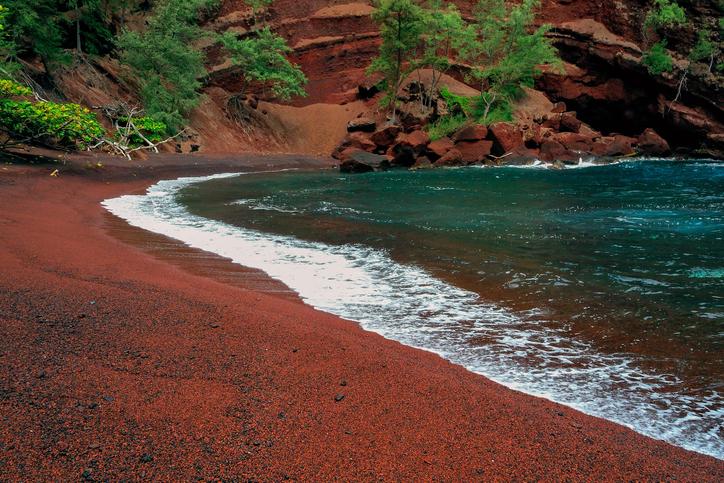 Often referenced as a 'secret beach', this beach features deep red sand that is the result of the movement of particles from a red cinder cone. Legend has it that a gigantic black ironwood tree acts as a fork in the pathway with the left fork leading to an ancient Japanese cemetery.
Two cautions to consider when visiting this area are that due to the rough undercurrent, swimming and snorkeling are definitely not safe to pursue and that the dress code for Red Sand Beach allows for the practice of nudity. It is a very dangerous path to get to the beach, proceed with caution, if at all.
Black Sand Beaches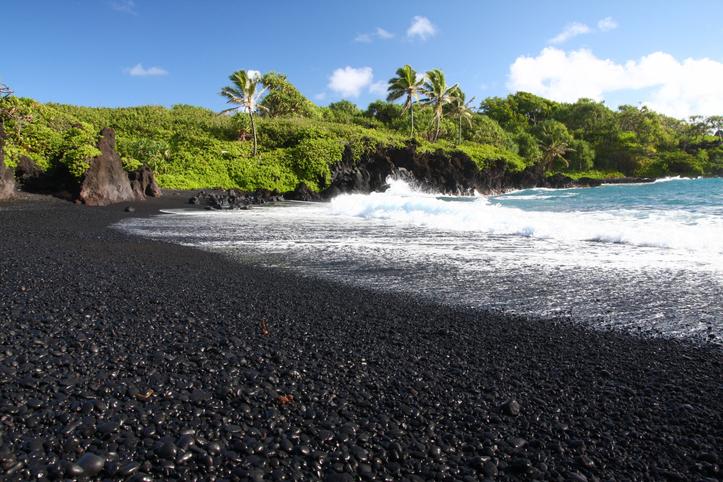 In contrast to more traditional white or amber sand that washes ashore, some Hawaiian beaches are composed of solidified particles of black lava. One of the blackest is the Wainapanapa Black sand beach (Honokalani) as you head to Hana.
Many visitors enjoy hiking along 3-miles of black sandy shoreline from the black sand beach at Honokalani to Hana.
Experience a Luau
Old Lahaina Luau
Attendance at this type of function allows visitors to experience Hawaiian culture from long before Hawaii became a U.S. State. Occurring after sunset, this activity features traditional dancing to the beat of native drums and the tune of other instruments. This particular setting has been heralded as Maui's best luau for 15 years and counting.
Feast at Lele Luau
This activity offers the chance to experience Polynesian/Hawaiian culture via your taste buds. Menu items include Imu-roasted kalua pig prepared in an underground oven to be accompanied by a salad whose ingredients include the edible portions of palm trees and other locally-grown green vegetation.
Maui Ocean Center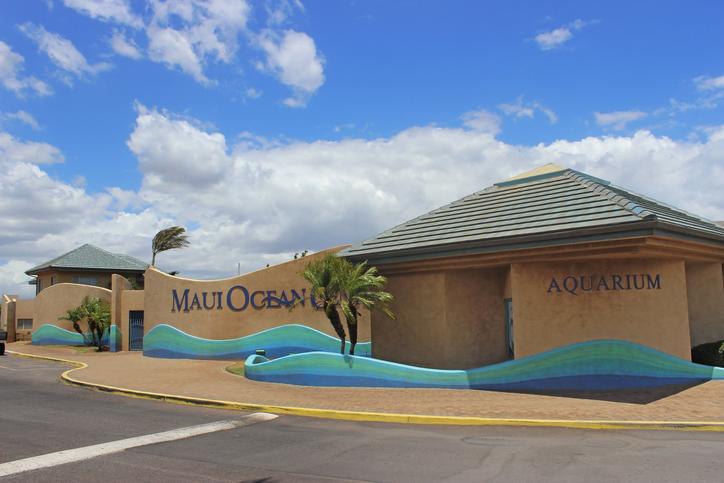 If watching sea creatures in an aquarium setting is a favorite hobby, be sure to visit this attraction. Launched in March of 1998 by Coral World International, this 3-acre facility is home to one of the Western Hemisphere's largest aquariums and its coral reef preservation endeavor.
While any day is a good day to visit Maui Ocean Center, this is an ideal stop should your itinerary encounter a rainy day. Visitors of all ages are captivated by a 750,000-gallon fish tank that is home to around 20 sharks or by a circular tank inhabited by jellyfish. One area offers a pool where visitors have the opportunity to actually touch a starfish. If this is not mind-boggling enough, Maui Ocean Center also boasts a glass-enclosed walkway enabling visitors to view sea creatures including tiger sharks swimming to their right and left as well as above their heads.
Nakalele Blowhole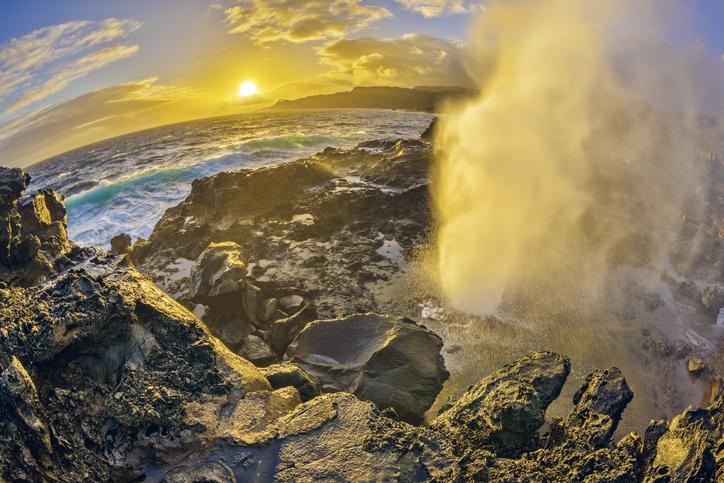 On the western shore, travel North almost to the end of the state maintained road. You'll find a group of cars on the side of the road. Park your car and head off hiking, hike down the hill about 1/4 mile and you'll come to a platform where you'll experience mother nature at her best. Thousands and perhaps millions of years of the ocean crashing against the rock has created a hole through the rock, ending up on the top of the platform. This is where you'll see the power of the water being forced through the hole and shooting out the top. Be warned, however, many people have lost their lives here because they didn't respect mother nature and ventured too close, and were sucked down. Just stay where it's mostly dry and you'll be perfectly safe. Well, unless you don't watch your step and try walking on some of the loose volcanic rock.