This beautiful, crescent-shaped beach is located on Maui's eastern side near Hana Bay. The rare Ka'uiki Head cinder cone is what forms the beach, making the sand a deep red and black color. The contrast from the red colored sand, the green foliage, turquoise blue water, and the black sea wall is stunning!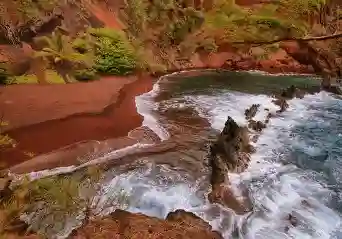 It's very isolated and not easy to get to. The path can be very dangerous as it's steep, narrow, and can be slippery, due to the crumbling cinder and ironwood tree needles. Be extra careful! Children and elderly people may want to reconsider going down the trail.
We don't actually recommend this, as it can be dangerous to get to. One local said that you can either go to Kaihalulu or you can go home, so you have been warned. If you do choose to go, make sure you only go if it's dry, wear good hiking shoes, step extra carefully, and stay with someone at all times. Oh, and it's very possible that you might get there and see some bare bottoms as this is unofficially used as a nude beach.