How to Get From One Island To Another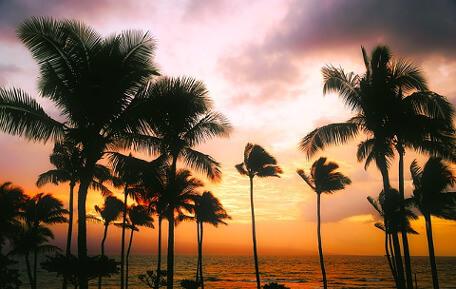 Eight islands make up Hawaii, and they all sit right in the middle of the Pacific Ocean. Crowned by the Ring of Fire, Hawaii's islands have risen from the seafloor with powerful volcanoes. Each of the eight islands has its own unique natural phenomenon and its own personality.
The urge to travel between Hawaiian islands is very common and hits virtually all ofHawaii's 10 million annual visitors. There are once-in-a-lifetime experiences to be had on each of Hawaii's islands and you want to see it all. But you should fight that urge.
As you'll find out, there's only one way to get from island to island, and the price can add up quickly. But, more importantly, you'll need a lot of time just to see the attractions on one island. Hawaii Island hopping will spread your itinerary very thin.
---
Spend At Least A Week Per Island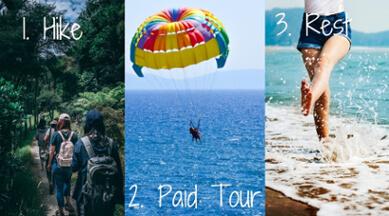 You'll need at least one week to explore your favorite highlights of a single island, and you might need more than a week to see everything there is to see on The Big Island. After all, it's big!
We recommend a repeatable three-day schedule for your Hawaiian vacation. Here it is below:
Day 1 "Active" - to get the blood flowing.
Day 2 "Semi-active" - Take a guided tour to see part of the island that would otherwise be inaccessible.
Day 3 "Rest" - Spend the day at the beach, in the spa or by the pool to recuperate.
Let's say that you land at 10:00 a.m. You'll have to collect your bags and rent a car before driving yourself to the hotel. You'll then have to check-in before you get settled into your room. Well, it's 2:00 p.m. by the time you're ready to go, but don't you want to just relax? After all, you flew for hours to get to this tropical paradise, and you're tired.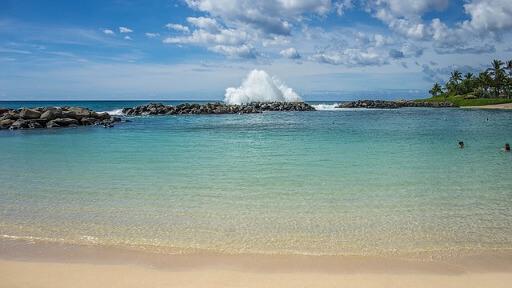 Don't be afraid to get acclimated to your first day in Hawaii. Slip into island time, get used to the humidity and try to adjust your sleep schedule to the new time zone. Get a good night's sleep after poking around the hotel grounds and enjoying a good meal. You can start Day 1 on the repeatable cycle above when you wake up.
That leaves you just six days to go through the cycle twice. You'll have to pick your two favorite hikes, and each island has way more than two alluring hikes. Your crew will be forced to choose just two guided tours, and that leaves just two days for your two favorite beaches. As you can see, there's no way to see everything a single island has to offer in just a week. Of course, you can pack more into the afternoons and evenings, especially a luau or something similar, but you are still limited in how much you can do.
---
When To Hawaii Island Hop?
You can see the highlights of your favorite island in a week, so, if you have more than a week to spend in Hawaii, then it's a good time to island-hop. If you have 10 days then spend a week on one island then three days on your second-favorite island. Best case scenario: You book two weeks solid in Hawaii to split your time between your two favorite islands. If you really want to see three islands then you should try to extend your stay to three weeks, and so on.
How To Travel Between Islands in Hawaii?
There used to be a ferry that traveled from island to island, but that ship has long been retired. Now the only way to travel between islands in Hawaii is by air. You'll have to book a flight on one of the few companies that run inter-island service, and, due to low competition, the flights can be rather expensive. Currently, you should expect to pay about $80 for a one-way flight, plus extra for any checked luggage.
For years, Hawaiian Air and Mokulele Air have been your choices for inter-island flights with Hawaiian holding up to 90% of the market share. That's not a whole lot of competition which means Hawaiian Air can raise prices artificially. But Southwest Airlines has announced they'll be jumping into the inter-island market in 2019 which should force a fare war to the consumer's benefit. Be prepped and ready to finally travel between the island in Hawaii on a budget.
---
What To Expect On Hawaii Island Hopping Flights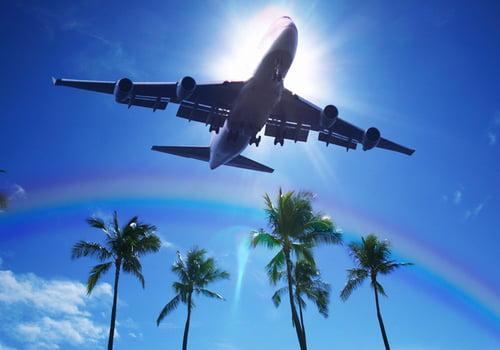 At times Hawaii island hopping is not nearly as luxurious as it may seem. The planes that fly from island to island are rather sparse on the inside. Both Hawaiian Air and Mokulele feature metal seats with a thin layer of cushioning. The fold-down table is rather small, you'll only get a small net basket for your belongings and the seats do not recline. But the thin seats actually provide a good deal of legroom, and it's easy to deal with non-reclining seats on such short flights, as you'll only be in them for about 45 minutes.
But you may find yourself connecting for your inter-island flight. Flight schedules between two airports in Hawaii can be rather sparse, so many flights take you to Honolulu to connect to your destination. So a flight that should take 45 minutes might take you a few hours if you factor in your layover time.
---
Itinerary Disruption
As you can see, it may take you a while to get from one island to another. Plus, you have to factor in the time it takes to pack your stuff, drive to the airport, return your rental car, board the plane, layover (if necessary), pick up your new rental car, drive to your new hotel, and unpack again. That could be a day in and of itself, so only island hop if you have the time and the flights work out in your favor.
---
The Supreme Way To Travel Between the Hawaiian Islands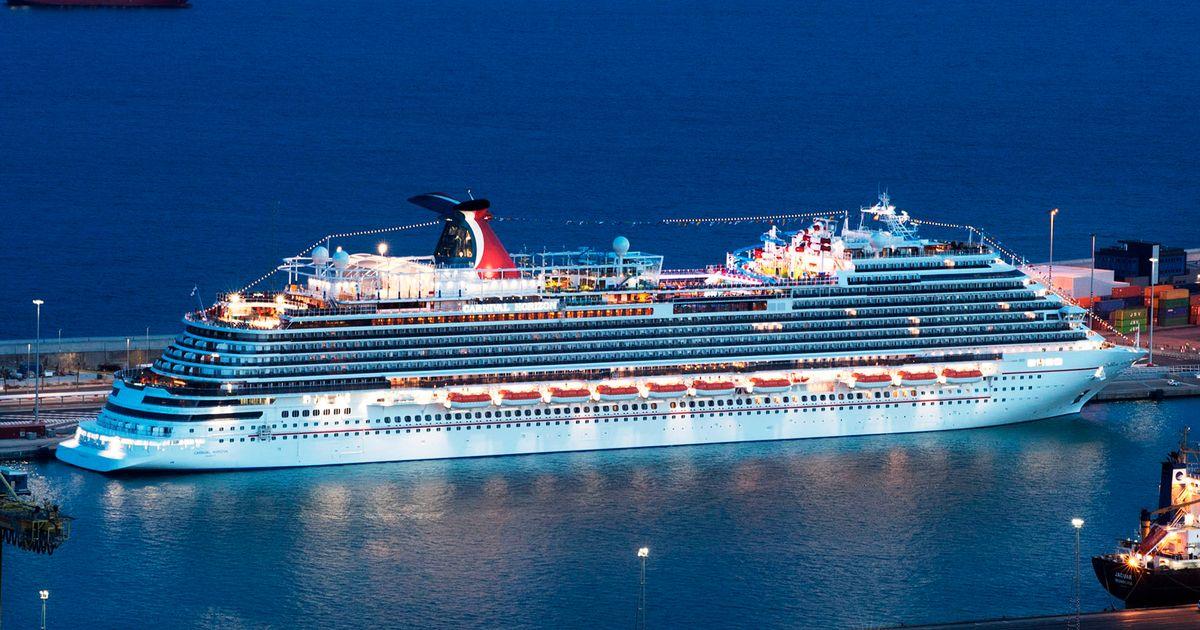 Norwegian Cruise Lines runs a seven-day cruise that hits all four major Hawaiian Islands. The Pride of America sails year-round to port on Kauai, Oahu, Maui, and The Big Island which gives you a taste of each. This is a great way to get a small sampling of traveling between each Hawaiian island in an exploratory fashion. It'll help you choose your favorite island when you return for at least a week-long vacation. To learn more about the Norwegian Pride of America Cruise, click Here
Need Help?
Are you ready to explore all of the islands yourself? You clearly need help but do not know where to turn? Discover how the Hawaiian Planner can do all of the dirty work to get you on your dream vacation. Contact us today to learn more about our affordable services and reliable information.