Hawaii is one of the hottest destinations for vacations, honeymoons, and business trips, but what is there to do, once you get there? Certainly, the beautiful beaches top the list, but there's much more to the big island, other than , , and sunbathing. Here, we've compiled a list of the best attractions for fun and adventure, some of them to be found nowhere else in the world.
Volcanoes National Park Tour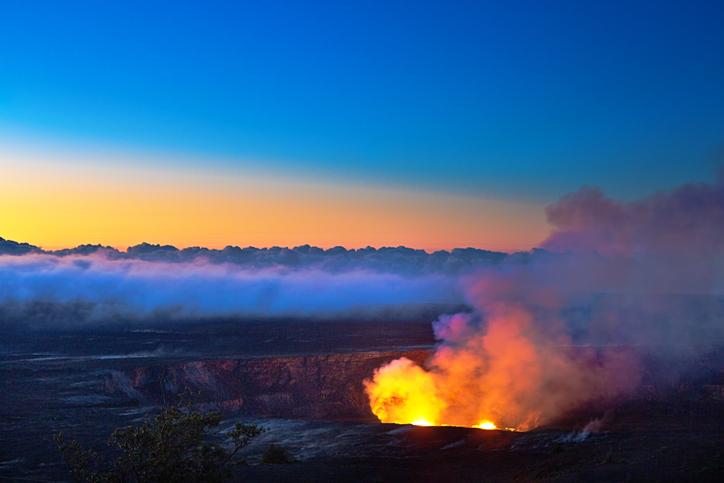 A visit to Hawaii just isn't complete without a tour of this remarkable destination, which showcases two volcanoes, Kilauea and Mauna Loa. It's certainly a humbling experience to stand so close to one of nature's most volatile creations, but 13,000-foot Mauna Loa has been dormant since 1984. Kilauea has much more to share, erupting regularly to maintain its status as one of the world's most active volcanoes. While several Hawaiian tours make frequent visits to the park, a Kilauea volcano bike tour or an island helicopter tour may provide the best vantage points for viewing the volcanoes. The park is also home to the Jaggar Museum, which gives visitors in-depth knowledge about the scientific facts and mythical legends surrounding the volcanoes. Visitors to the museum will be entertained by the story of Madame Pele, goddess of the Hawaiian volcanoes. Taking a more educational focus, museum guests will also learn about how volcanic activity affects earthquakes, geology, and seismology.
Lava chasing
While Madame Pele frequently wreaks havoc on Hawaii through Kilauea's fiery temper tantrums, the flow of lava has become an attraction in itself. Locals, as well as visitors, take up special posts around the island from which they can safely watch the flow of lava. The molten current flows through streets and dumps into the ocean, making boating excursions a big draw. While Kilauea's eruptions can't be predicted on a regular schedule, motorboat tours specifically organized to catch sight of lava flow can be arranged. Sunset, sunrise, and moonlight tours are especially popular.
Mauna Kea Summit & Onizuka Visitor Center Mauna Kea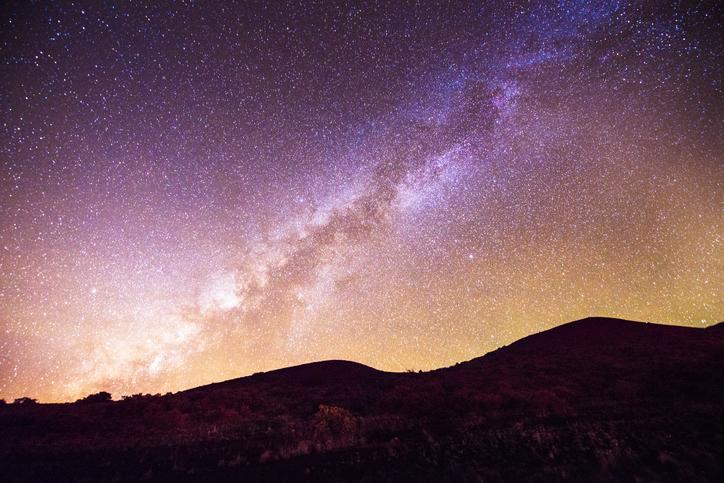 It is home to one of the world's largest observation centers and is open to the public every day from 12:00 p.m. to 10:00 p.m. Located 9,200 feet above sea level, the observatory recommends visitors arrive via 4-wheel-drive vehicles. In addition to its elevated location, much of the road is unpaved, making it a treacherous ascent for less powerful vehicles. The observatory offers a special Stargazing Program on Tuesday, Wednesday, Friday, and Saturday nights. It's wise to arrive early for the events, because, once the parking lot is full, additional visitors will be turned away. The event begins at 6:00 p.m. on the designated evenings and lasts until 10:00 p.m.
Black Sand Beach, Punalu'u Beach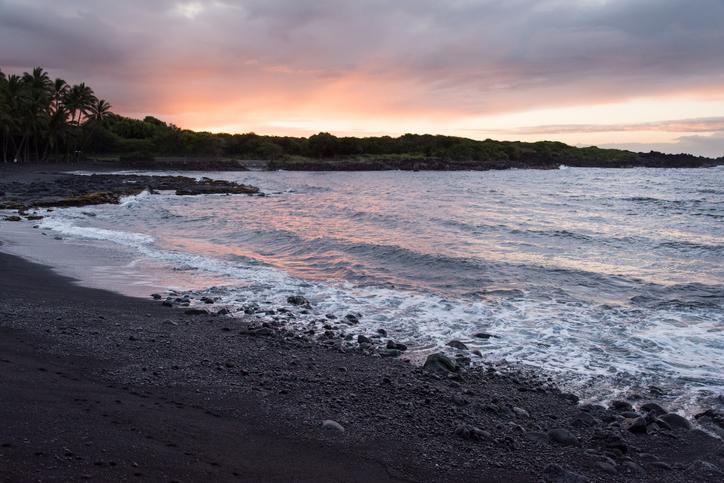 While beach visits may seem typical fare for Hawaiian vacations, even the most adventurous tourists might want to visit Punalu'u. One of Hawaii's most popular black beaches, Punalu'u is often referred to as "Black Sand Beach" by locals. Other than the color of the sand, this beach is remarkable, because people aren't the only ones taking in the sun on this beach. Punalu'u plays host to endangered Hawksbill turtles and green turtles, which frequently bask in the sun alongside human sunbathers. While visitors enjoy the usual summer activities of swimming, snorkeling, and picnics, camping is also allowed with a permit and hiking along the coast is also encouraged. One word of warning: The currents can be strong around Punalu'u and there is no provision for security or lifeguards.
Green Sand Beach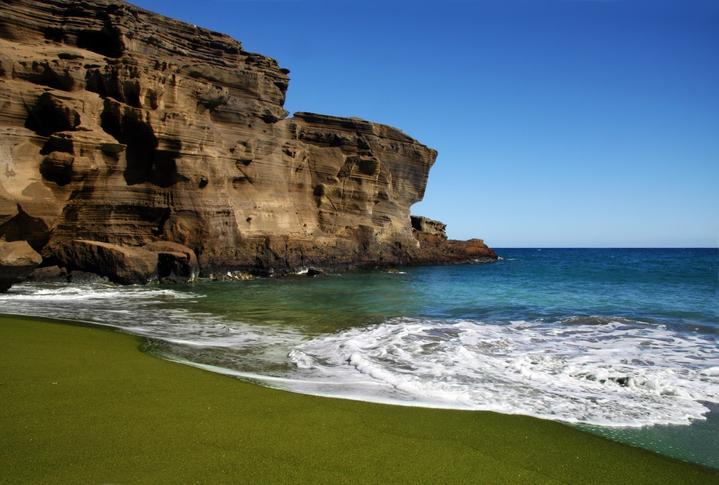 Papakolea Carved from a 49,000-year-old cinder cone, Green Sand Beach gets its name from the green crystals deposited by Mauna Loa volcanoes lava flow. The "sand" on this beach is comprised of those green crystals, mixed together with black lava and white coral sand, so different areas of the beach will have a slightly different color and texture than other areas. Much like Punalu'u, the Green Sand Beach lacks security and lifeguard personnel, as well as facilities for buying food and beverages. It's recommended that visitors bring along a well-stocked cooler for an afternoon at Papakolea.
Waipi'o Valley
Waipi'o Valley once thrived as a community of its own and is even steeped in legend as the home to Hawaiian kings, but today it is far less populated. Only those invested in raising taro, a staple food for the Hawaiian community, maintain a residence in the valley today. Waipi'o Valley is just one mile wide by six miles deep, fronted by a black sand beach and abundant with natural waterfalls. The community at Waipi'o Valley offers hiking and horseback riding tours of the area.
Pu'uhonua O Honaunau National Historical Park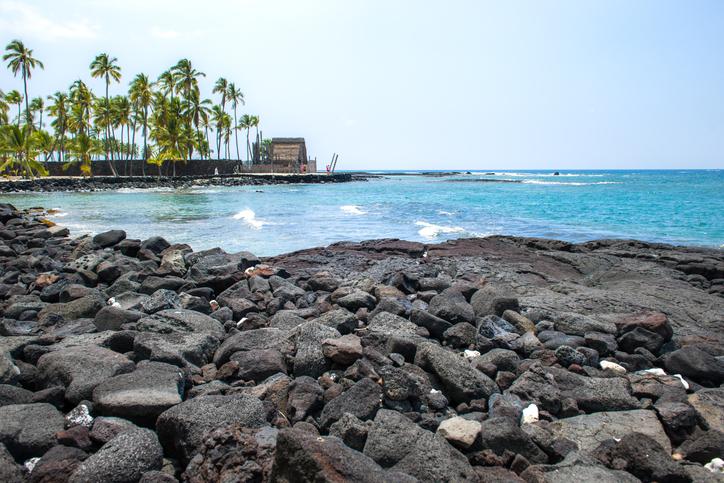 For tourists hoping to indulge deeper into Hawaiian culture, a visit to Pu'uhonua O Honaunau National Historical Park is a necessary stop. Long ago, sacred lawbreakers could receive absolution for their crimes, if they could elude capture long enough to make it to the grounds of Pu'uhonua O Honaunau. Today, much of the sacred grounds have been preserved, allowing visitors to tour the 10-feet high and 17-feet thick Great Wall, the kit (wooden carved images of Hawaiian gods), and the Hale o Keawe Heiau, a sacred temple that houses the bones of 23 chiefs. Pu'uhonua O Honaunau National Historical Park is located on the coast of Honaunau Bay in south Kona, extending 180 acres.
Akaka Falls State Park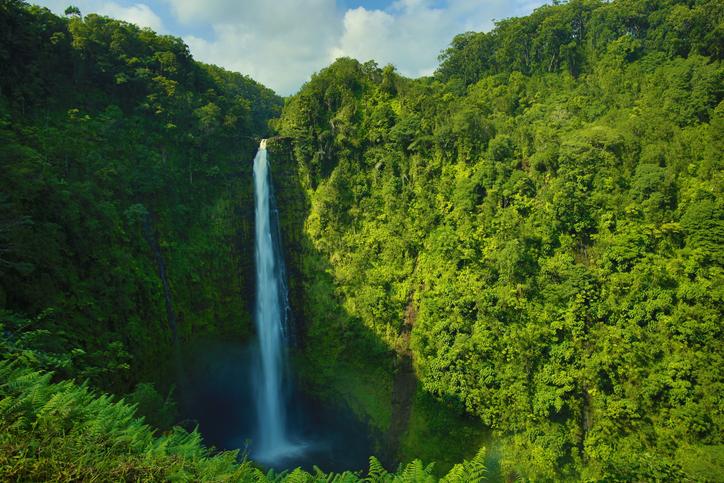 While Akaka Falls State Park is open to walk-in visitors in time to observe sunrises and sunsets, gates don't open to vehicles until 8:30 a.m. The park closed to vehicles at 6:00 p.m. While local residents can get into the park for free, out of state visitors are charged $5 per car and $1 per walking visitor. The main attraction of the park is its self-guided tours through lush vegetation and forests. Many visitors stop to take in the breathtaking views of cascading Kahuna Falls and streams flowing toward the free-falling Akaka Falls. The waterfalls plunge 442 feet into a stream at the bottom of an eroded gorge. Mountain biking is prohibited in the park, as are campfires. The trails consist of steps in some areas, so visitors should be warned that the park isn't handicapped accessible.
Hamakua Macadamia Nut Company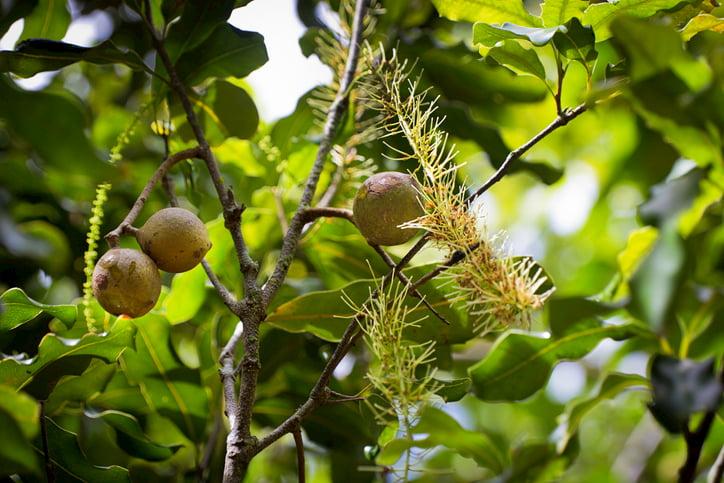 Hamakua Macadamia Nut Company is proud to receive visitors and shares their dedication to quality and a commitment to providing products derived from "100% Hawaiian grown" nuts. The store offers its own brand of chocolates, baked goods, and coffee products. In addition to individual products, the store, located at 61-3251 Maluokalani St. Kawaihae, Hawaii 96743, also offers gift packages and gift baskets. In addition to its commitment to utilizing products from local farmers, Hamakua Macadamia Nut Company is notable for its devotion to using green energy and solar power in its manufacturing processes. By producing steam energy and solar power, Hamakua Macadamia Nut Company has established itself as an eco-friendly role model for other Hawaiian businesses.
Sheraton Kona Resort & Spa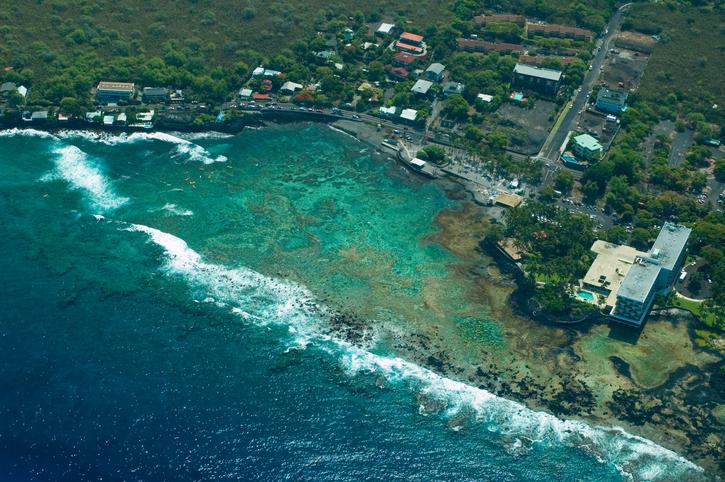 At Keauhou Bay "Haleo" Dinner & Show Even if you're not a guest of the hotel, it's recommended that visitors make reservations to attend the establishment's "Haleo" Dinner & Show event. There's nothing more essential to a satisfying Hawaiian experience than a traditional Luau and few do it better than the Sheraton Kona Resort & Spa. Voted as one of the top five Luau shows in all of Hawaii, Haleo" Dinner & Show is produced by Island Breeze Productions and takes full advantage of the island's tropical evenings to provide an evening immersed in traditional food and four-star entertainment. Haleo, the Voice of Life, takes up the role of storyteller, as he narrates the story of Hawaii's division of land and the creation of the islands. The story spans generations, relating the birth of Kamehameha III and telling of the surfing legends of He'eia Bay, enhanced by performers and dancers. Performers make themselves available prior to the show, talking about Hawaiian heritage and legend with interested guests. While the meal is served before the main attraction, live music enhances the dining experience and helps guests feel more open to the Hawaiian experience.
While most people arrive in Hawaii with an expectation of sand and surf, their island offers so much more to fill your days. Certainly, there are some truly magnificent beaches surrounding the island, offering everything from scuba diving to boat rentals, but inland activities are just as memorable. Shopping excursions, fine dining, and museums for the exploration of Hawaiian culture just beginning to scrape the surface of life on the big island. It's easy to see why Hawaii has become the ideal location for weddings, honeymoons, vacations, and reunions. In addition to the attractions listed here, Hawaii is also home to a number of festivals year-round. Among them, is the Hawaii Food & Wine Festival, Mele Mei: A Celebration of Hawai'i's Music, and the Merrie Monarch Festival. While these are just a few examples, there are festivals to cater to every taste and interest. Regardless of the season, there's something to make each visit to Hawaii's big island a memorable and unique experience.