This thunderous valley sits on the north shore of The Big Island, and it mustn't be missed. Once home to Hawaiian royalty and thousands of villagers, the Waipio Valley is now a nature reserve. Today, you'll only find lush stretches of land, a rumbling stream, waterfalls and taro fields inside this verdant valley.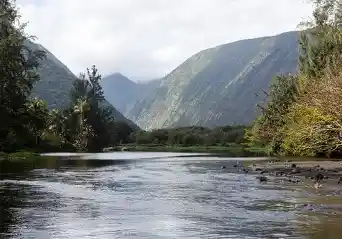 The Waipio Valley is about a mile wide at its mouth, and it carves its way six miles into The Big Island. It's named after the stream that cut the valley -- the Waipio Stream -- and at its inland end, you'll find a half-dozen "fingers" that branch off the main valley. And at the end of each finger, you'll find a different waterfall.
A beautiful black sand beach seemingly pours out of the valley into the ocean, and it's cut in twain by the Waipio Valley's powerful stream. High above this beach, you'll find the Waipio Lookout at the eastern edge of the valley. You can access the lookout via Highway 240, and you don't have to walk very far from your parked car to enjoy the view.
You'll be able to see most of the valley from the lookout, and you'll be able to peer down the coast to see some of the black sand beach's towering cliffs. It'll give you an appreciation for this green stretch of land, and it will instantly make you want to hike down into the natural wonder.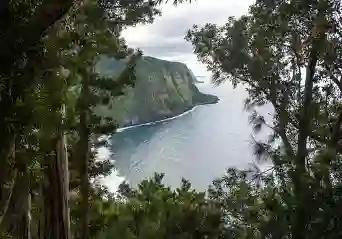 You'll find the trailheads to multiple Waipio Valley hikes across Highway 240 from the lookout. They are well-signposted and there are facilities at the parking lot. The hike down into the valley is not easy, and you should only challenge the hike if you are physically fit to do so. But, if you're up for it, you'll be rewarded with some of the most incredibly scenery that The Big Island has to offer.
You can hike down to the valley's black sand beach, and, along the way, you'll find another stunning viewpoint. You can also choose to take one of Hawaii's most difficult trails to Waimanu Valley. This extremely difficult hike is dangerous and is reserved for only the most experienced hikers. And you'll find many other trails that branch off into the valley's fingers where you can explore towering waterfalls. Just make sure you get to the trailhead early to give yourself plenty of daylight for these challenging hikes.