Hawaii feels like a foreign land, but it's actually America's 50th state. The eight-island archipelago achieved statehood well after World War II in 1959. And it's only natural to want to explore the entire state during your Hawaiian vacation.
The 48 mainland states vary in size from the tiny New England commonwealth of Rhode Island to the massive swath of land known as Texas on the southern border. Hawaii is on the more diminutive end of that scale, ranking as America's eighth smallest state at just 10,554 square miles. And the landmass that is available for you to explore is even smaller than that.
Two of Hawaii's islands -- Niihau and Kaho'olawe -- are off-limits to tourists. Two more -- Lanai and Molokai -- are seldom visited by out-of-staters. That leaves four isles -- Kauai, Oahu, Maui, and Hawaii -- as the four touristed islands. These are the ones you want to explore.
Unfortunately, you can't just rent a campervan in order to drive to all of the state's highlights. The state is made up of eight islands in a northwest-to-southeast streak right in the middle of the Pacific Ocean. It's the most isolated chain of islands in the world, so you'll want to make the most out of your long trip.
But island hopping can be very expensive, difficult and time-consuming. And time is the most precious resource you have on the Hawaiian islands. That's why you should only island hop if you have enough time.
---
One Week Per Island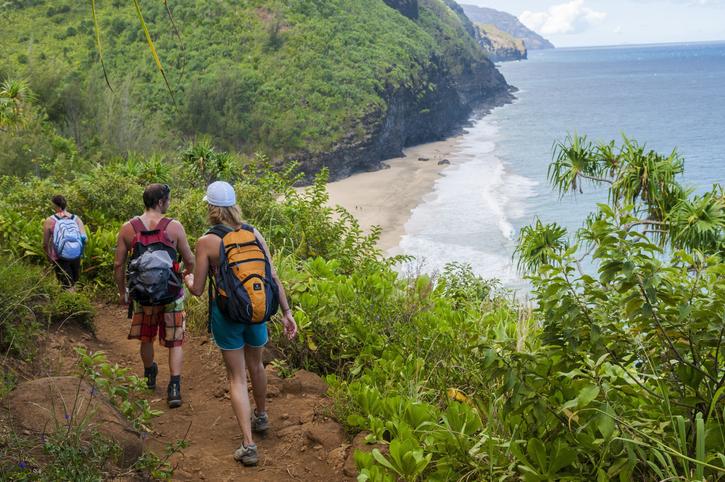 We recommend that you spend at least one week on your favorite island for your Hawaiian vacation. It's only natural to want to see the highlights of every island because they are all so unique, but, as you'll see below, it's difficult to catch the highlights of just one island in a week.
Most Hawaii visitors want their vacation to be a blend of adventure and relaxation. So, with this in mind, we recommend the following three-day repeatable cycle during your visit. This cycle, which transitions from active to semi-active to rest, gives you just the right amount of activity and indulgence.
Day 1 "Active Day" -- Explore your favorite hike.
Day 2 "Semi-active Day" -- Join a guided tour to an otherwise inaccessible part of the island.
Day 3 "Rest" -- Lounge on your favorite beach, get a spa treatment or hang at the pool.
You should use the day you touch down in Hawaii as an acclimation day. Get used to the time zone, the humidity and settle into your room. Also, loosen up in an attempt to get on "island time." You'll also want to sprinkle in a little nightlife and culture on top of this itinerary and feel free to rearrange the days to suit your lifestyle. But, as you can see, you can only repeat this cycle once during a single week.
That means you'll have to pick just two hikes, two tours, and two beaches to visit. Each island has much more to explore, so island hopping with any less than seven days per island will spread your vacation too thin. But you can always extend your stay in order to pop over to the other islands.
If you have 10 days, then spend a week on your favorite island and three days on your second choice. If you have 17 days, then spend two weeks exploring two islands before popping over to a third for just a day or two. If you want to see all four islands, we recommend lengthening your visit to four weeks.
---
Inter-island Flights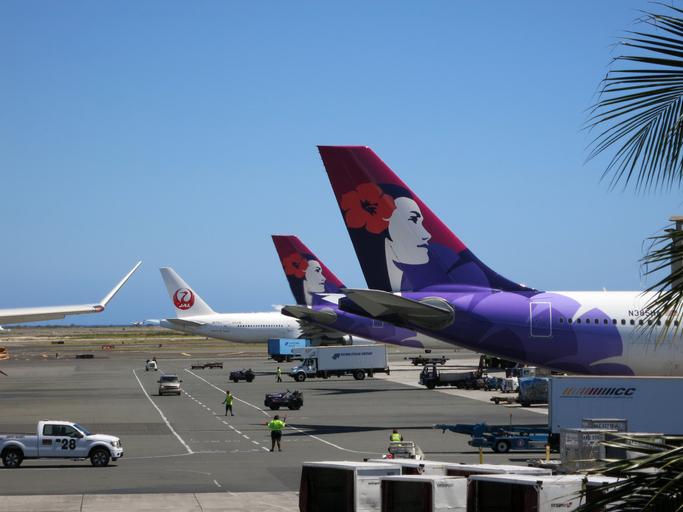 Currently, there are only two airlines offering flights between islands -- Hawaiian Air and Mokulele Airlines. Hawaiian Air consumes up to 90% of the market share, so prices for these inter-island flights are set by the state's flagship airline.
Like flights booked on the mainland, airfare is cheapest when you book far ahead of time. This means you should book your inter-island flights as soon as you book your trip to Hawaii. Otherwise, you may be paying top prices for flights that are all under an hour.
Prices for inter-island flights vary, but you can count on the cheapest flights being about $69. If you book last minute, you could be paying over $200 for a single seat. And these prices don't even tell the whole story.
Like many mainland carriers, both Hawaiian and Mokulele charge for checked bags. And the airlines will make you check large carry-on bags, as well. That's because the inter-island planes are not that large with very little overhead space. That means you'll be paying $25 per bag on top of your airfare for an excruciatingly short flight.
---
The Wild Card -- Southwest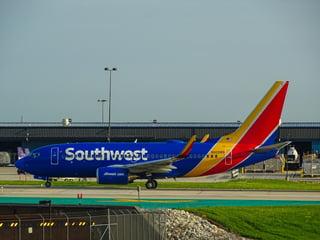 Southwest Airlines has announced new flight routes from California to Hawaii. The airline also plans to offer inter-island flights which should cause a fare war that will benefit you, the consumer.
Southwest, America's favorite domestic airline, has offices and employees in place. You'll even see Southwest's kiosks and desks when you fly into most major Hawaiian airports. The airline is simply waiting for a federal regulatory process to play out. The low-cost carrier will enter the Hawaiian market as soon as they get the OK from authorities.
The airline was hoping for the OK in late 2018. It didn't happen. Now the airline is in a holding pattern with plans for flights starting sometime in 2019.
This is major news on the island hopping front. First of all, Southwest only operates one type of aircraft -- the Boeing 737-300 -- which is much larger than the inter-island planes used by Hawaiian and Mokulele. This will open up a lot of seats between the islands, and prices always go down when supply goes up.
But it is the airline's consumer-friendly policies that will make inter-island travel a lot easier. Southwest charges $0 for two checked bags per traveler. The airline also allows customers to cancel or change flights without a fee.
If you cancel your flight, you'll receive your money back in the form of credit that is good for future Southwest purchases. If you change your flight, you'll simply have to pay the fare difference. You even get a partial refund in the form of Southwest Airlines credit if you change your flight and your new flight is cheaper.
Southwest is a vacation planner's dream. The airline will undoubtedly offer up cheap fares, and purchasing Southwest airfare always comes with flexibility and peace of mind. The airline's policies will make inter-island travel much less stressful.
---
Set Aside Plenty of Time At The Airports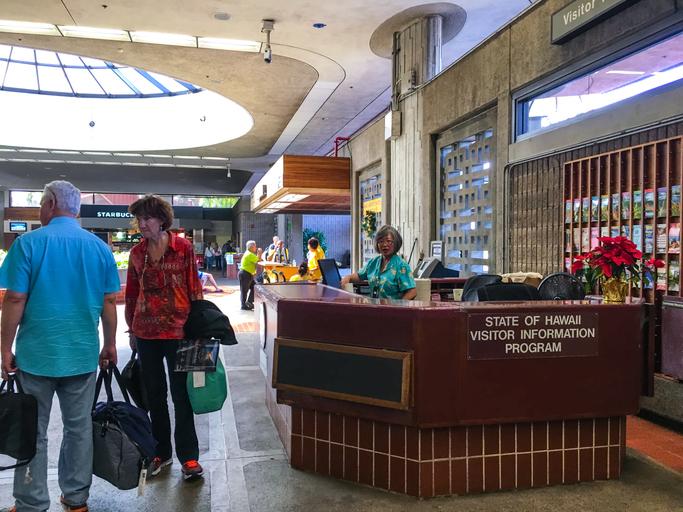 Time is your most valuable currency on the islands. After all, most of Hawaii's best attractions -- hikes, waterfalls, beaches, etc. -- are absolutely free. All you have to spend on this attraction is your time. And, when you save time with the mundane tasks of travel, you get to spend more time in this tropical paradise.
Flying inter-island is no different than flying between two mainland destinations. You'll have to arrive at the airport at least 90 minutes before your flight, check your bags, go through security, wait at the gate, board, fly and then finally deplane at your destination. But your journey isn't over when you step off the plane.
You'll have to wait for your bag. Then you'll have to spend time at the rental car counter, and lines in Hawaii can get rather long. After all, nearly 10 million people visit this tropical paradise every year from countries all over the world.
So, you'll not only have to budget for the costs of inter-island flights and rental cars, but you'll also have to budget for the time it takes to get from one island to the next. A short 45-minute flight in the middle of the day can make for an entire day of travel after you factor in the time it takes to pack, check out and then check back in with a new hotel.
---
The Hassle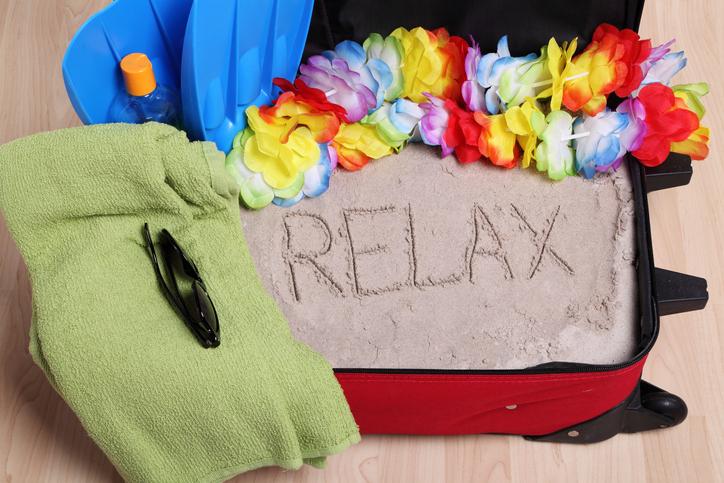 Let's take a look at that simple, repeatable and sustainable cycle from earlier:
Day 1 -- Get active with a hike.
Day 2 -- Join a tour to stay semi-active.
Day 3 -- Relax as much as you can.
Well, it's hard to relax when you have a travel itinerary inside your Hawaiian vacation. You'll have to worry about unpacking your clothes at your first hotel, and you're bound to make some of those clothes sweaty, sandy and dirty. Then you'll have to worry about packing up all those stinky clothes without making your fresh clothes smelly so that you can get to your next hotel.
Then you'll have to load up the rental car, drive it to the airport and drop it off. A new rental car is waiting for you at your next airport, but you'll have to throw down another credit card hold. These hold range from 15% of the rental fee to $350, but that money will not be available to you during your Hawaiian vacation. It can make your budget rather tight which only adds to your vacation's stress.
You'll also have to worry about picking the right flight. You'll have to check out of your hotel around 10:00 or 11:00 a.m., and you'll only be able to check into your new hotel around 3:00 p.m. You could be waiting a while if you arrive at your new hotel too early.
Hawaii is supposed to be a mix of exhilaration and relaxation. Island hopping can be a bit stressful, so only choose to island-hop if you're willing to deal with all the moving parts.
---
One Stress-free Option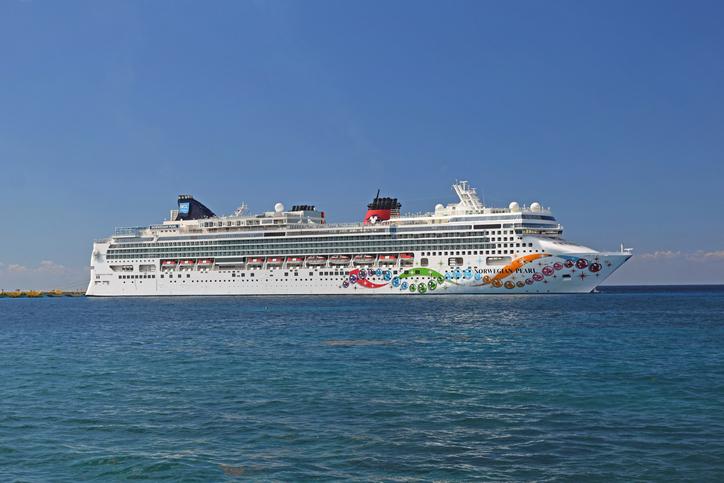 Norwegian Cruises offers up a way to see every single Hawaiian island without all the fuss and hassle. You can board the Pride of America that will port at all four major islands -- Kauai, Oahu, Maui, and the Big Island. The boat even cruises by some serious Hawaiian highlights like the Na Pali Coast.
You'll spend the nights sailing on the ship so that you can wake up each morning in a new port of call. The boat will dock for the day, and you'll have at least eight hours to stretch your legs on each island.
Eight hours is not a whole lot of time. You won't be able to see most of the island, but you will be able to pick a destination or two to explore. This will give you a good feel for each of the islands so that you can choose your favorite for a more traditional Hawaiian vacation in the future.
Besides Uber, there is one major secret to seeing as much of the island as possible during your cruise -- a 50cc scooter.
---
Renting Scooters While On A Cruise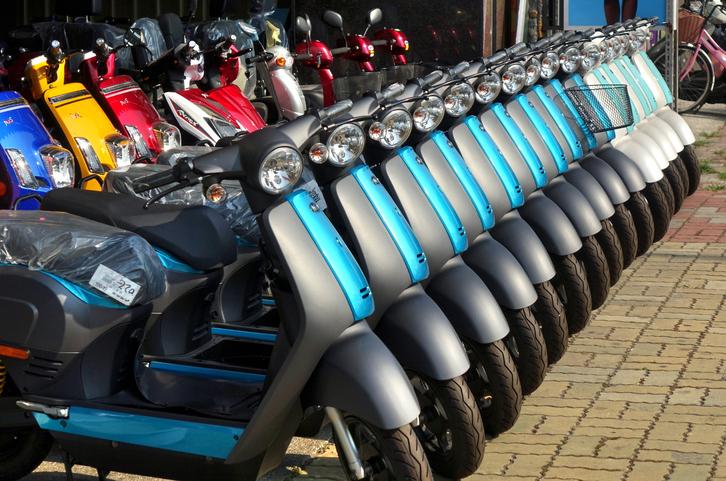 You won't find any car rental offices near the ports of call, but almost all of them have scooter rental offices. And you can rent a low-powered scooter in Hawaii with a traditional car driver's license. You don't need any special training nor do you need a motorcycle license.
That's because scooters with 50cc engines or less are not considered motor vehicles in the state of Hawaii. Rather, these low-power scooters are considered bicycles. You'll notice they don't even have license plates on them.
Renting a scooter at the port can give you a bit of freedom. We recommend that you don't venture out into the island until you have all the controls down. Otherwise, you could hit the gas when you mean to brake. Once you get the hang of it, it's time to scoot off into paradise.
A 50cc scooter will have a difficult time getting up over 30 miles per hour, and acceleration is rather lacking. In fact, you might find it difficult to get up a very steep hill on one of these small-engine bikes. But, with a steady hand and some determination, you can go just about anywhere on the island.
If you find yourself riding on a road with a speed limit above 30, simply drive off to the right side of the road. This will allow cars to pass rather easily, but the wind generated by the passing vehicle may push your bike around. Don't worry. This is normal. You won't be pushed over.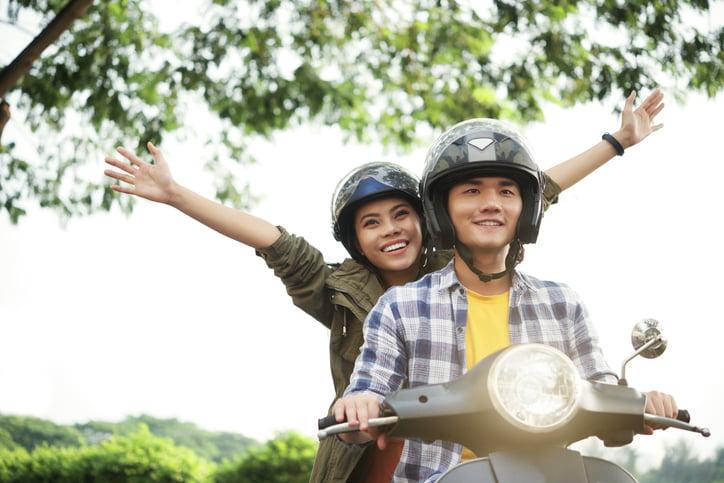 But there are some major bonuses to riding a scooter in Hawaii. You get unobstructed views of paradise from your scooter's seat. But you should fight the urge to stare at the state's beauty. Riders tend to veer towards what they are leering at, so getting lost in a beautiful site may have you scooting off the road. Make sure to pull over if you want to drink in the view.
You can also park your bike just about anywhere. You don't really need to heed those parking signs so long as you park your scooter in a place that won't obstruct anyone's business.
These small scooters also sip gasoline. You'll get 80 to 100 miles per gallon on that hog, so you won't be breaking the bank at the pump. Remember, Hawaii's gas is shipped in from the mainland, and the price of transportation is included in the price per gallon. It can be shocking to some mainlanders.
Inter-island Travel: Mostly A Hassle Unless Done Properly
In the end, getting from one island to next is a major time-consuming hassle that can cost you a pretty penny. You should only try to see more than one island if you have more than a week to spend in Hawaii, and you should still consider the costs and hassle.
But, if done properly, inter-island travel can have you seeing the highlights of two islands or more. But you'll have to thread the needle by booking non-stop flights at the right -- in between checkout and check-in -- while factoring in the time burden of flying.
Or you can cheat by boarding Norwegian's Pride of America, porting at each of the four major Hawaiian islands and renting a scooter at each port. The cruise ship does all the work for you.