Live in the northeast United States? Well, buckle in for a journey that will take you nearly a quarter of the way around the world. It takes 12 hours of flying to reach Hawaii from New York City, and you'll be six time zones away when you land. So, if you like to watch NFL football, be prepared to wake up at 6:00 a.m. on a Sunday morning during your Hawaiian vacation. It seems odd, but bars really do open that early during football season.
Here's the point -- Hawaii is far away. In fact, Hawaii is the most isolated chain of islands in the world. It's a massive investment in time and money to get to this tropical paradise, so you're going to want to plan it right.
The most valuable asset you have on the islands is time, but time costs money. We always recommend staying at least one week on a single island but feel free to stay longer in order to island-hop. And your stay on the Hawaiian islands can be elongated if you save money on flights, hotels and rental cars. That's why it is imperative to find the best deals possible. In the end, money is time. Save money and you'll get more time in Hawaii. Here's how.
---
Hawaii's Crowded Peak Seasons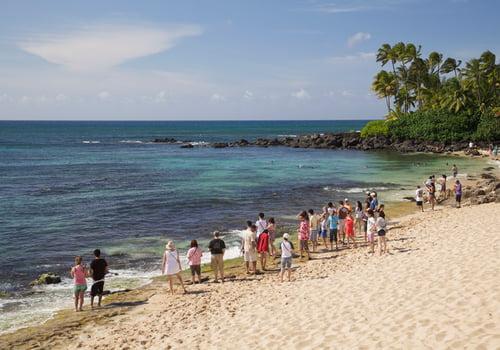 Prices are based on supply and demand, and there's a high demand for trips to Hawaii during school vacations. The beaches are packed in the summers, and they are just as packed during the winter holidays. This is when you'll see the highest prices in Hawaii, so you should avoid summer and winter vacation if you're looking for a deal. The months of June and December are particularly crowded and expensive.
---
Hawaii's Dry And Wet Season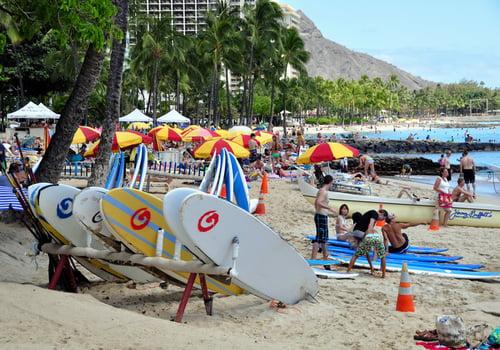 Hawaii is a chain of tropical islands, and tropical areas don't really have a change of seasons. You'd be hard-pressed to tell the difference between July and December on the islands when it comes to air temperature. Summer in Hawaii is usually just a few degrees warmer than winter, but winter is known as the "rainy season."
That phrase -- rainy season -- can scare away some tourists, but you shouldn't be afraid of a little rain because that's all it is. Rainy season days normally start off beautiful before the humidity rises throughout the day. In the afternoon, the humidity tends to break with a quick rain shower that will last just a few minutes. It can actually be quite refreshing. Then the clouds break and it's business as usual.
These quick, near-daily rain showers should not negatively affect your Hawaiian vacation, but they do tend to keep the crowds at bay. That means less demand and better deals during the wintertime.
---
Added Bonus -- Hawaii's Whale Season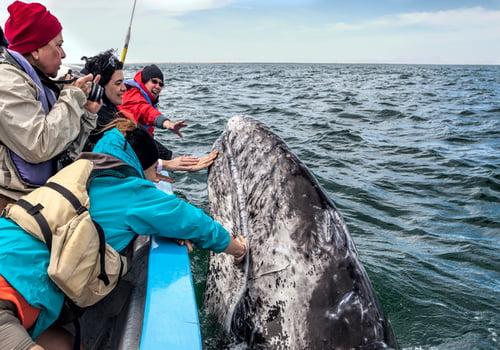 Whale season overlaps the rainy season in Hawaii. Every year, between the months of January and March, humpback whales arrive in Hawaii's warm waters. These majestic creatures swim for six to eight weeks straight over a course of up to 6,000 miles to breed off the shores of Hawaii. And they come from the cold waters of the world down in the southern hemisphere and Alaska.
They can often be seen breaching all around the islands, and you can see the whales jumping out of the water from most beaches. During the breeding season, you can join a whale watching tour that will take you closer to the animals than you ever thought possible. So, travel during the rainy season comes with smaller crowds, lower costs, and whales!
---
Skirting The Crowded Seasons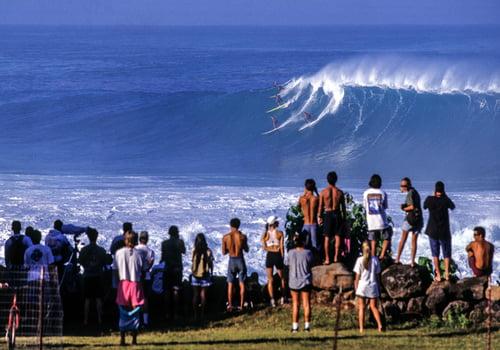 The absolute best prices on flights, rental cars and hotels can be found in late August through early December. Of course, this excludes the Thanksgiving holiday when crowds on the islands swell. And this time of year features great weather, low chances of rain and sparse crowds. After all, the kids have to be back in school on the mainland.
You can also find incredible deals during wintertime. Flights tend to be extremely expensive during the holiday season, but the prices drop dramatically in late January and through February. It might be the rainy season, but you'll be on the islands for the majestic arrival of the humpback whales.
---
If You Have To Book During The Winter Holidays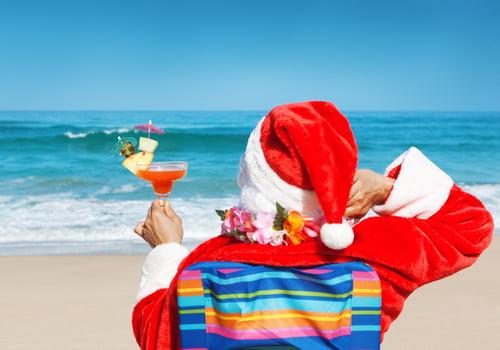 You can still squeeze out a good deal during the winter holidays in Hawaii. Although, you'll have to be flexible with your travel and willing to sacrifice a holiday. The cheapest flights are on Christmas Eve, Christmas Day, New Year's Eve and New Year's Day. This means you can get a pretty good deal on a week in Hawaii if you fly out on Christmas Eve and fly back on New Year's Day. But this means you'll spend the holidays on a plane or in an airport. After all, it takes six hours of flying just to reach Los Angeles.
---
When To Book Your Flight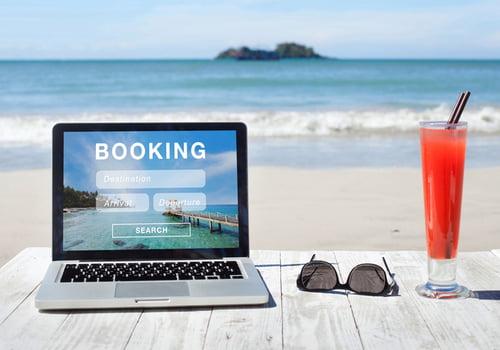 To get the absolute best deals on your flights, block out a month on your schedule at least three months in advance. This is the period of time you're willing to vacation in Hawaii, and you'll have to be flexible with your vacation dates inside this block of time to get the best deals.
Now, the best flight prices can be booked 70 days ahead of the departure date, so start checking flight prices a little more than two months before you blocked off a month. Soon, a matrix of flight prices will come into focus. When you see a good deal, grab it quickly and then request the time off of work.
You can expect to pay anywhere between $500 and $900 for a round-trip flight from the east coast. Flights from the west coast should run you $300 to $600. So, if you find flights on the low end of the spectrum, snap them up quickly.
Remember that you have 24 hours to cancel your flight for free if you book at least a week before your departure date. It is federal law. That means you can book flights while continuing to monitor prices for the next 24 hours. If you find better prices, cancel your original booking to book the new flights. Then continue to monitor for another 24 hours, and so on.
---
How To Save On Hotels
A co-worker asks, "Hey, how was your Hawaiian vacation?"
"Oh, the hotel room was amazing!" replied no one ever.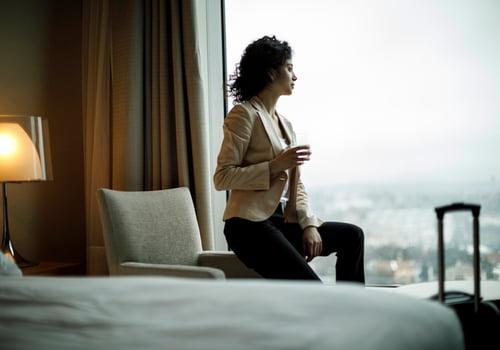 Nobody wants to hear about your hotel room when you return from this tropical paradise. They want to hear all about the waterfalls, the snorkeling, thesurfers, beaches and bikini babes. And this is what you have to keep in mind when booking a hotel room.
The islands are your playground for your Hawaiian vacation. Your hotel room is just where you keep your stuff, shower, and sleep. The only amenity that you really need is air conditioning because many tourists find it difficult to adjust to Hawaii's humidity. Air conditioning will certainly help you sleep at night. And you'll need that sleep to recover from all the outdoor adventuring.
The Hawaiian islands are usually powered by one or two diesel stations. This makes electricity expensive, so air conditioning is a luxury rather than an expected amenity. But hotel descriptions will tell you if your room has air conditioning before you book which will help you find the cheapest room with this all-important climate-controlled amenity.
To see more details on selecting the right hotel room click
---
How To Save Money On Rental Cars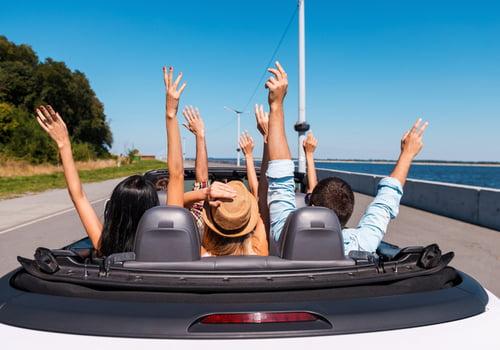 All the major American rental car companies operate in Hawaii's airports. This is the most convenient way to secure transportation for your stay on the islands, but it'll run you an average of about $60 per day. This price includes insurance. But there are ways to save a few bucks at the rental counter.
First, consider renting an economy car from one of the big companies. The roads on the islands have low-speed limits and everyone's on island time. Essentially, you don't need a Ferrari. An economy car just might do. And economy vehicles get up to 40 miles per gallon which will save you money at the pump. Gas tends to be very expensive on the islands as it has to be barged in from the mainland.
Secondly, you can consider renting an "island beater" by a local company. These companies generally do not operate out of airports, so you'll have to figure out how to get to the company's office. But these local companies tend to rent out older cars that have been beaten up by the islands. They may have dents, no air conditioning, and questionable suspension, but they'll get you around. And you don't have to worry too much about insurance because it'll be difficult to damage the car any further.
Lastly, you can turn to a scooter. You can rent a scooter with a 50cc engine without a motorcycle driver's license on the islands. These low-powered scooters only go about 30 miles per hour but they'll get 80 to 100 miles per gallon. That means you'll save huge at the pump when it's time to return the bike.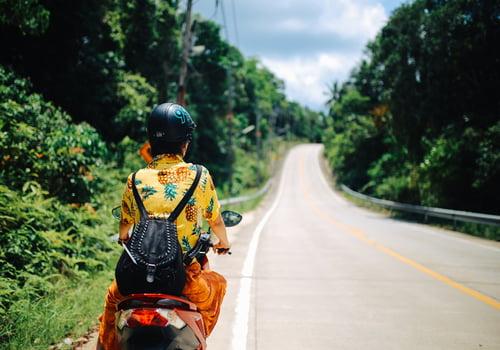 You can get around the island with one of these 50cc scooters if you drive off to the right side of the road to let traffic pass when the speed limit is over 30. And this low-powered transportation can be rented for as low as $25 per day. Of course, you can opt to rent a high-powered scooter or motorcycle if you have a motorcycle license from the mainland.
Just like renting an island beater, this sets up a bit of a logistical problem. You're not likely to be able to rent a scooter at an airport, so you'll have to get yourself to the scooter rental office. Some companies will drop bikes off for you at your hotel, but that means you have to get yourself to the hotel. Just remember to add this extra transportation cost to your overall Hawaiian vacation budget.
---
How To Get More Time On The Islands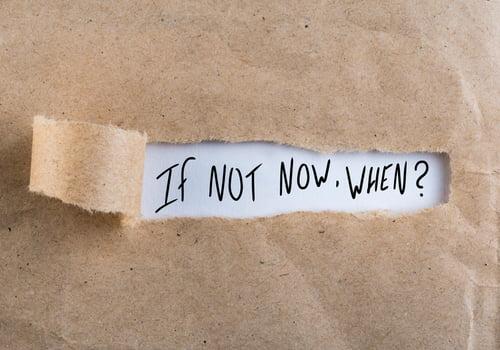 You can extend your stay on the Hawaiian islands by squeezing every last dime out of the cost of flights, hotels, and transportation. This means planning ahead of time, blocking out a month during the affordable seasons, scouring flight prices 70 days before departure, picking the right hotel and renting the proper car. All of this effort will pay off in the form of extra time on the islands, and time is the most valuable resource in Hawaii. It'll allow you to make more unforgettable tropical memories.
If you have one week's vacation, if you leave on Saturday and come back the following Sunday it will be a 9-day vacation with 7 full days on the island. Check out of 9-day itineraries which you can download for free. Click here