If you have never tried zip lining, it is not a drop like a bungee jumping. It is like parasailing over the landscape, but you are gliding over a fixed course. The height and length of each course determine the speed you go zipping down the course. Try shorter courses for your first trips, and keep your eyes on the horizon rather than looking down. The operators will make sure that you are fastened to the zip line.
Zipline companies require guests to sign a waiver and have rules on who is allowed to participate. There are minimum age, weight, and height limitations. Guardians must sign for those guests under 18. There are also maximum weight limits.
To choose a zip line course, explore the length, height, experience level, and the landscape the course traverses. Is the course suitable for everyone in your group? Some courses also have added features that you will want to consider.
You will need to wear closed-toe shoes. Long pants and insect repellent are also recommended. Finally, do not forget your camera.
Now you are ready to explore the list of zip line adventures available in Hawaii organized by islands.
---
Zip Lining in Oahu
---
CLIMB Works Keana Farms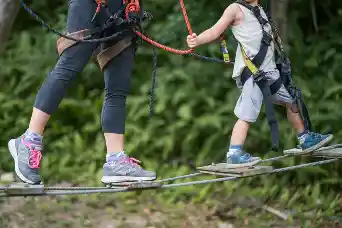 CLIMB Works Keana Farms offers eight courses ranging from 500 feet to a half-mile long. The courses provide a view of the beaches and mountains in the area. You will also be taken on an ATV ride across the farm and will get to taste some of the fresh fruit grown on the farm. Tours last three hours.
---
Kualoa Jurassic Valley Zip Line
Kualoa Ranch was used to film parts of Jurassic Park. So as you zip along with the seven courses varying from 200 feet to a quarter-mile, watch out for the dinosaurs. The ranch also has three miniature hiking trails and two suspension bridges. Tours start every half hour beginning from 9:00 am until 2:30 pm and the last two and one-half hours.
---
Coral Crater Adventure Park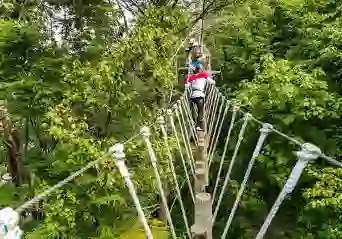 Coral Crater Adventure Park has six courses that are between 300 and 900 feet. Coral Crater is not only open during the day but they also provide guests with the opportunity to zipline at night followed by a campfire and s' mores. The length of tours depends on which one you choose.
---
Bay View Mini-Putt and Zipline
At 400 feet long and 25 miles per hour, Bay View Mini-Putt and Zipline offers a good course at a good price for beginners. It provides a view of Kaneohe Bay and offers families the opportunity to combine ziplining with some rounds of putt-putt golf.
---
Zip Lining on Big Island
---
Umauma Falls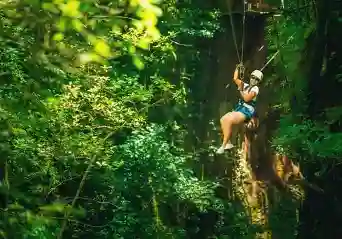 Umauma Falls feature nine courses over the Hāmākua Coast including views of 14 waterfalls, rainforest, and the ocean. The first four courses offer side-by-side lines.
---
Kohala Zipline
Kohala Zipline traverses the Halawa Gulch offering guests the Kohala Canopy Adventure or Kohala Zip & Dip that provides guests with lunch and the opportunity to swim under a waterfall.
---
Skyline Eco-Adventures Akaka Falls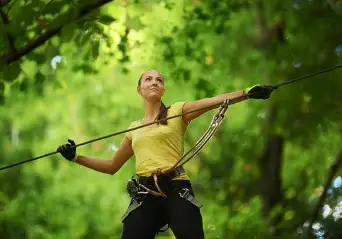 Voted the 2017 #1 Zipline Tour in Hawaii, Skyline Eco-Adventures Akaka Falls offers seven courses over the Honomu coast and two waterfalls including the 250-foot KoleKole waterfall. As you are traversing the course, guides share information on the Hawaiian culture. Tours last two and a half hours.
---
KapohoKine Adventures
KapohoKine Adventures includes views of a volcano from the zip line and a helicopter.
---
Zip Lining on Kauai
---
Koloa Zipline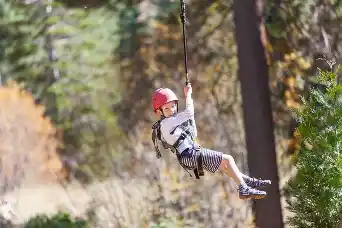 Koloa Zipline features eight lines up to a half-mile long with views of the Pacific Ocean. Tours last three and a half hours.
---
Skyline Kauai
Voted the best Kauai Zipline tour, Skyline Poipu has five and eight-line courses for your family traveling over three valleys with a view of the mountains and the Pacific Ocean.
---
Princeville Ranch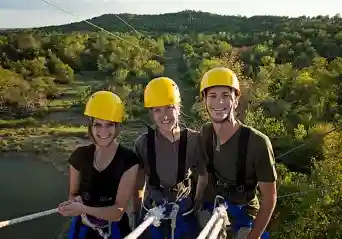 Princeville Ranch offers two courses. A side-by-side course that ends in a picnic and swimming under a waterfall and a course that begins and ends with a side-by-side horseback ride across the ranch.
---
Zip Lining on Maui
---
Skyline Ka'anapali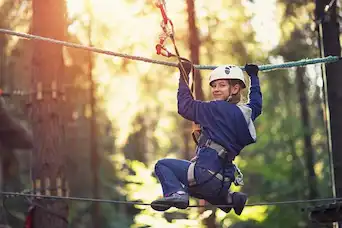 Rated the #1 Thing-to-do in Ka'anapali by Tripadvisor and given Hawaii Magazine's Readers Choice Award for the #1 Zipline Experience in Hawaii in 2017, Skyline Ka'anapali provides views of the Pacific Ocean and surrounding islands. They offer eight 11 line courses.
---
Skyline Haleakala
Skyline Haleakala has a swinging bridge and five courses over deep canyons.
---
Paradise Eco Adventures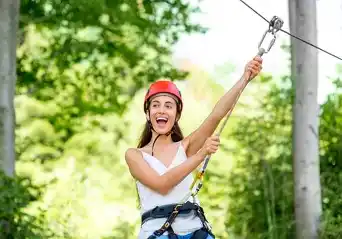 Paradise Eco Adventures is a family-friendly course located on Maui Dragon Fruit Farm, a working organic farm.
---
Flyin Hawaiian Zipline
Flyin Hawaiian Zipline is a two and a half-mile course that includes hiking and dedication to the preservation of the indigenous flowers and trees.
---
Maui Zipline Company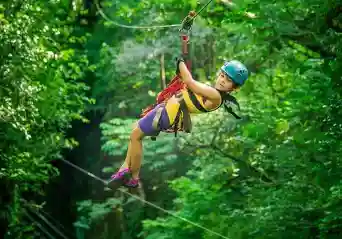 Maui Zipline Company has five side-by-side, family-friendly courses that range from 300 to 900 feet, The courses provide a view of the Haleakala volcano, the West Maui mountains, and a tropical lagoon.
---
Piiholo Ranch Adventures
Piiholo Ranch Adventures has five family-friendly courses with both a four and five-line side-by-side courses that include one line that is over a half-mile long. They also have an all-day zip and waterfall hike course.
Choose from one of the courses near your destination. You are sure to have fun.