The idyllic archipelago of Hawaii is bounded by the crystal blue waters of the Pacific, which play host to vibrantly colorful sea life and unique geologic formations. You can experience these hidden gems firsthand by scuba diving. Fortunately, Hawaii has no shortage of fantastic dive spots from wreck dives to lava tube swim-through caves to pristine reefs. A diver in Hawaii has the chance to spot some of the endemic species, such as the Hawaiian green sea turtle and the endangered Hawaiian monk seal. There is truly something for every type of diver, regardless of skill level.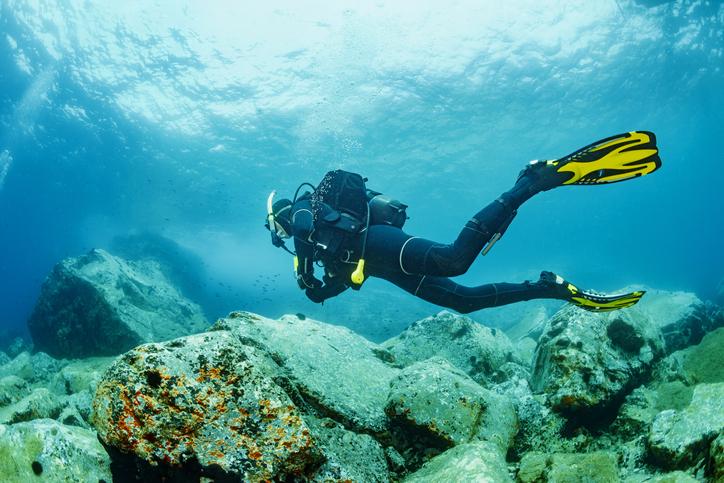 The wrecks of Y0-257, the San Pedro, and the Sea Tiger are all accessible from O'ahu. Shark's Cove, Three Tables, and Waimea Bay along the north shore are also popular dive spots, though only in the calmer summer months. Hanauma Bay, Hawaii's first Marine Life Conservation District, offers shore diving for divers of all skill levels inside of a volcanic cone.
Maui boasts eagle rays, turtles, and Hawaii's state fish- the humahumanukanuka'aupa'a or Lagoon Triggerfish. The ancient, sunken volcano that forms Molokini Crater is one of the most popular dives off of Maui, with four distinct diving areas in depths ranging from 10 to 130 feet. Sunlight filtering through lava rocks of the Cathedrals off of Lana'i evokes the feel of stained glass windows, and can also be reached by boat from Maui.
Drift dives in depths of 60 to 120 feet along Moloka'i sometimes allow divers to see larger pelagics, like hammerhead sharks and Hawaiian monk seals.
There are more than 50 dive spots off the island of Hawai'i, one, in particular, should not be missed. The manta ray night dive off of Kona has divers kneel in darkened water as large mantas swim overhead; making for a thoroughly memorable experience.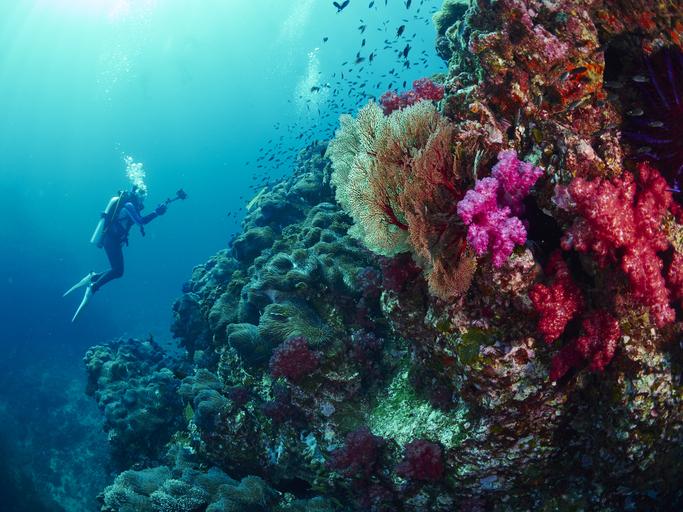 Dive spots along Kaua'i's north shore are only accessible during the summer months, including Tunnels Beach, which takes its name from a series of collapsed lava tubes among the inner and outer reefs. Intermediate to advanced boat dives is accessible nearly year-round from the south shore. Koloa Landing is a shore dive that can also be dived in all seasons, and it is the home to the dragon moray eel. Advanced divers also have the option to visit Ni'ihau- the Forbidden Island- from late Spring to early Autumn.
All in all, Hawaii is a diver's dream. The weather averages between 68 and 83 degrees Fahrenheit throughout the year, with water temperatures averaging in the mid- to high-70s in the Winter and Spring, and in the low-80s in the Summer and Autumn. Visibility usually falls in the range from 35 feet to over 100 feet, which makes it even easier to spot some of Hawaii's photogenic sea life.
With so many options for scuba diving in Hawaii, the hardest part is choosing which one to try first!