Hanauma Bay is another wildly popular attraction on Oahu. Located on the east coast, this living underwater museum used to host a staggering 10,000 visitors per day. But, after years of over-visitation and damage as well as COVID, local authorities now limit the number of daily visitors to just 1000 guests.
Local authorities have named Hanauma Bay a nature preserve in order to protect the delicate underwater ecosystem found in the bay. You'll have to watch an instructional video before you are allowed onto the beach, and you'll need to pay a $25 entrance which goes towards preservation. Reservations are now required and are only sold 2 days in advance, they become available at 7:00 am HST.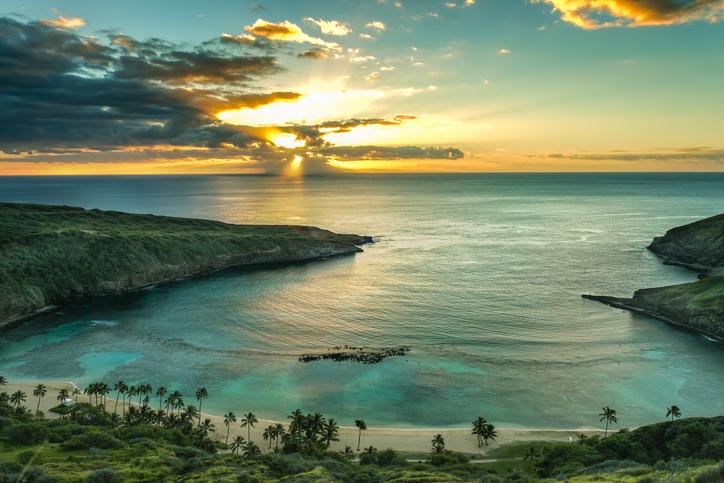 The water here is protected inside the bay which makes for calm swimming and snorkeling conditions year-round. However, a large swell could find its way into the cove, so always check the ocean conditions online before heading to the beach, especially in winter when seas are higher.
You'll be greeted by beautiful white sand in this beautiful little bay, but don't expect seclusion. With up to 1000 visitors per day, you'll likely be sharing the beach with a few people. But all you need to do is swim out a few yards and dip underwater with your snorkel mask to leave everyone behind. You'll enter a different world; a quieter more tranquil world.
These are perhaps the tamest fish in all of Hawaii. You'll see a colorful abundance of marine life, and each creature will seem oblivious to your presence. Swim out a little further and the water gets deeper. It can range from waist-high to 15 feet deep over the reef. And there are plenty of nooks, crannies, and crevasses to explore in this beautiful underwater ecosystem.
Calm waters bring sea turtles, so you might be lucky enough to swim side-by-side with one of these friendly creatures. It is against the law to touch a turtle, and the oils in your skin are destructive to the turtle's shell. Touching a turtle could get you kicked out of the preserve and fined by law enforcement, so take that selfie from a comfortable distance.
There are plenty of amenities at this popular location. You'll find a beautiful little grassy area overlooking the water, toilets and picnic tables. And it's a steep trek down from the parking lot to the beach. If you don't feel comfortable making the climb, you can take a free tram that shuttles visitors from the parking lot to the sand. But, if you brave the steep hike, you'll be treated with a breathtaking view over the ocean ledge below. It's a famous sight, and it will give you just a little bit of solitude at this popular nature preserve before you join the crowd.
Hanauma Bay is closed on Monday and Tuesday, so make sure you plan this day on another day of the week, and get there early!