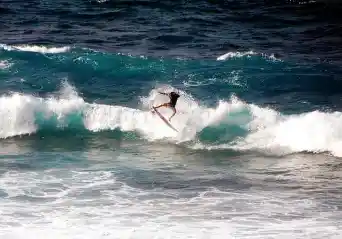 Located on Hana Highway at Mile #9, this gorgeous white sandy beach is famous for great waves along Maui's north central coastline because of the steady trade winds. This is where windsurfing was born. In fact, many professional windsurfing competitions are held here each year.
Surf competitions are also held here, including The Aloha Classic and Red Bull. Board surfing is very popular, but it's not for beginners. If the orange flag is out, it means the surf is big and to be very cautious. The lifeguards can be a big help, offering advice on how to avoid the strong rip tide. Even if you're only a spectator, the windsurfers and surfers are phenomenal to watch. The best place to watch the surfers is the Lookout, along the edge of the cliff. Lifeguards are located in towers at both ends of the park.

Swimming is not as popular here, but near the Pavilions there's a small area with a sandy-bottomed ocean that is good for swimmers. It's not uncommon to see Hawaiian green sea turtles near the reef. Sometimes you may spot one on shore, but at first glance you may think it's a boulder. Stay for the sunsets as they are magnificent. Showers, bathrooms, picnic tables, and port-a-potties are all available, as well as parking.