The Road to Hana is a worldwide attraction. Roughly 10 million tourists come to Hawaii every year, and many of them will jump into a rental car at Kahului International Airport to make the journey to eastern Maui for this unforgettable drive.
You'll whip around the base of the 10,000-foot still-active Haleakala Volcano along Maui's eastern shore on your Hana adventure. Along the 65-mile drive, you'll be treated to natural wonders like misty rainforests, hidden beaches, towering waterfalls, and lush tropical valleys. You'll also encounter man-made attractions like arboretums, food trucks, and souvenir shops.

Toward the end of the road, at mile marker #42, is a popular tourist attraction with throngs of people. They've all stopped to ogle at the Seven Sacred Pools of Ohe'o. This unforgettable valley of cascading waterfalls and crystalline pools draws quite a crowd, but you may find it difficult to enjoy the scenery amongst so many people.

But there's a secret that can allow you to leave the crowds behind for scenery that's even more beautiful. Simply hike 1.8 miles inland from the Seven Sacred Pools along the Pipiwai Trail past a cascading stream to the indomitable Waimoku Falls.

East Maui's Best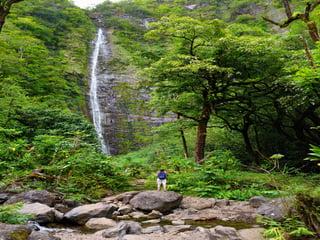 The hike to Waimoku Falls along the Pipiwai Trail is perhaps east Maui's best wilderness hike. The lush rainforest gives way to a giant bamboo field before opening up to a massive cliffside waterfall. And you'll hug a stream full of small cascades and sparkling pools along the way.

Perhaps the best part of the hike is leaving the crowds at the Seven Sacred Pools behind. Most of the tourists along the Road to Hana exhibit what locals call "Fast Food Ecotourism." They simply drive up to an attraction as they would a drive-up window at a burger joint, and they snap photos from the comfort of their own vehicles before heading off to the next drive-through.

You leave more than 90% of tourists behind by simply wandering into the wilderness a mile or more. And since Waimoku Falls is 1.8 miles into the wilderness, you'll enjoy this world-class scenery with only a handful of other intrepid hikers.

Finding the Trail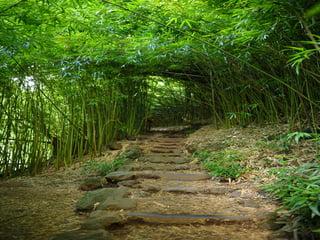 There's no missing the Seven Sacred Pools of Ohe'o. You'll find plenty of rental cars piled up at the attraction's parking lot at mile marker #42 on the Road to Hana, and you may even have to wait for a moment to grab a spot.

After snapping a few pics of the crowded roadside attraction, you'll have to go to the ocean side, or Mauka side, of the bridge over the Seven Sacred Pools to find the trailhead to Waimoku Falls. This trail is marked as the Pipiwai Trail.

The Hike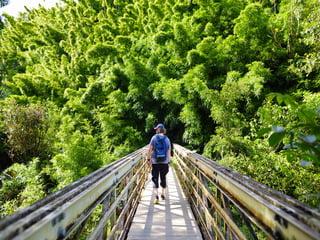 The trail is incredibly well maintained and is carved into a National Park. Thus, the trail gets National Park treatment, so you'll be glad to see boardwalks installed over some of the muddier parts of the trail.

The trail starts off with a bit of elevation gain but will soon level out. And you don't have to trek very far to come to your first attraction -- the Falls at Makahiku. The water cascades down 200 feet while surrounded by a bamboo forest with Tarzan-like vines swinging in the spray. It's idyllic, perfect for a social media pic but there is much better to come.

Soon after the first set of falls, you'll encounter a true Hawaiian treat just after passing through a gate -- a massive banyan tree. Banyan trees have been imported to Hawaii from India, and they can grow impressively large. This one is the size of a small house but will continue to grow for decades. Return to Maui, and you might be surprised at just how large this tree can grow.

You'll then notice a sign placed by Park Rangers to keep you on the right path as the trail splits. But you can choose to take the unmarked trail a short distance to a side attraction -- a beautiful waterfall and pool. You'll be rewarded for the extra effort, and all you need to do is return to the right path after you're done.

You'll then pass over some bridges where you might encounter a few jumpers, but do not follow their leads. Jumping here can be very dangerous. Quickly, you'll enter another world inside a massive bamboo forest where the clacking of the staves will transport you to tranquility.

That's when you'll hear the roar of the 400-foot Waimoku Falls. You'll burst from the quiet solitude of the bamboo forest to a rushing waterfall with a cooling spray. You'll have to do some rock hopping, but you can stand directly underneath the stinging cascade for an epic photo.

A National Park sign will warn you to keep a safe distance, and that might be a good idea. After all, the boulders that surround you here at the end of the trail didn't just appear. They came crashing over the edge of the falls, so take note.

Precautions
The hike is relatively short and mostly takes place under the shade-cover of trees, but you should always wear sunscreen during the day in Hawaii. Apply the sunscreen that is at least 30 SPF in the shade at least 15 minutes before sun exposure and reapply every two hours.

The short hike will take you along a crystal clear stream with alluring pools but do not drink the water. Tropical water is alive and could be full of parasites. Make sure to pack a bottle of drinking water for the hike.

You'll be hiking into the moist tropical rainforest, so you are likely to encounter mosquitoes. Pack some bug spray if you are sensitive to bug bites.