Millions of people have peered at this beach from a distance, but only a few trek down to drink in its beauty. Honomanu Bay sits tucked away on the Road to Hana on Maui's north shore. It is known as an alternative black sand beach but the sand is not as black as you will find further down the road at Waianapanapa Beach. You'll be able to catch a sneak peak of the beach from a handful of small turnouts on the famous highway between mile markers 13 and 14.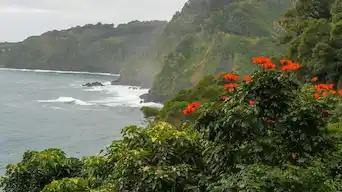 From a distance, you'll be enamoured with the beach cove's beauty. Tucked away inside a misty rainforest, Honomanu Bay is one of those secluded Hawaiian spots you've been dreaming of. Crystal clear waters trickle surf onto a rocky beach that's crowned by verdant hillsides. It's a beautiful place to stop along your drive on the Road to Hana.
You can access the beach with your vehicle, but it's not recommended with a rental car. The dirt access road is rocky, muddy and steep. It'll wreak havoc on your tires and suspension. But you can park your car in between mile markers 13 and 14 to find the access road on foot. It's an easy five-minute walk down to the pristine beach surrounded by lush vegetation.
The condition of the beach itself hinges on the season. You'll find plenty of sand and calmer waters during the summer months when the swell is down. But during the winter months, the swell is up. You'll find plenty of surfers down at Honomanu Bay, and you'll also notice that the sand is mostly eroded away to leave a rocky beach.
Swimming is never recommended in Honomanu Bay due to strong currents and the lack of a lifeguard. Plus, you're a long ways from any help. It's best to walk down to this little slice of tropical paradise to enjoy the views and to stretch your legs as you take the Road to Hana. You won't forget it.