When people say "the volcano," they are usually referring to Hawaii's youngest, most powerful and reliable volcano -- Kilauea. But Kilauea is not the only active volcano in the state. There are five more.
Unfortunately, you won't find any volcanic activity on the islands of Kauai, Oahu, Molokai, and Lanai. The volcanoes that gave birth to these islands have long since gone dormant which means these islands are washing away. Every rainstorm carries more of the islands out into the Pacific, and, one day, they will sink into the ocean like many Hawaiian islands before them.
But volcanic activity still bubbles on Maui and The Big Island. That means these islands are still "alive." In fact, The Big Island grows more than 40 acres per year with a powerful volcanic activity that you should be able to visit.
---
Haleakala National Park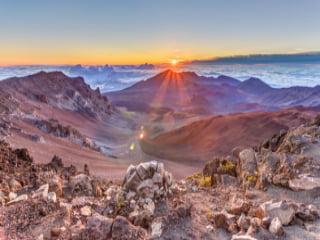 Zoom out on a map of Maui. You'll see that the island is actually two islands that are fused together. The larger eastern island is where you'll find the massive Haleakala Volcano with its crowning national park.
The crater at the top of the mountain is absolutely gorgeous, and it's still technically active as a volcano. But don't worry about an eruption. The last one took place between 1480 and 1600.
Haleakala is not a reliable place to catch a glimpse of molten rock, but it is a stunningly beautiful place nonetheless. The sleepy crater is a moonscape of colorful volcanic rock where oranges, purples, and reds glow at sunset or sunrise. And, during your visit, you walk around inside what is still technically an active volcano which is quite a brag-worthy experience.
As an added bonus, you can join a tour up to the crater. After enjoying the otherworldly landscape, you'll be put on a bike to cruise down the long, slow slopes of the mountain back to town. It's a refreshing, beautiful and exhilarating experience.
---
Volcanoes National Park -- The Peak of Kilauea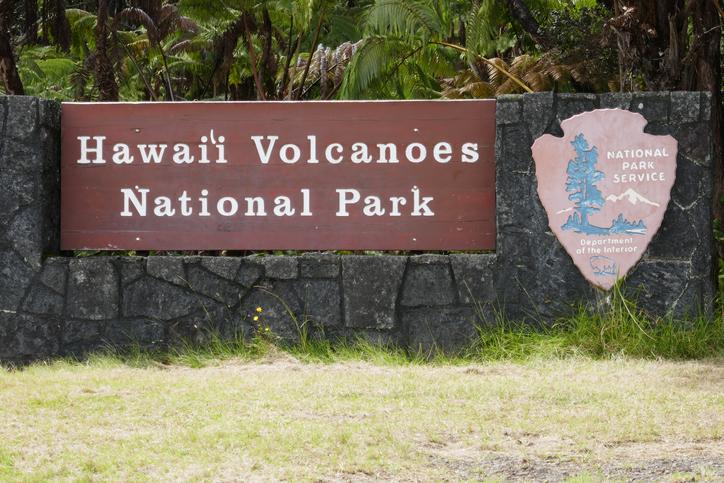 Halema'uma'u and Puʻu ʻŌʻō craters, inside Volcanoes National Park on The Big Island, have been the most reliable place to see lava in Hawaii until May of 2018. An eruption drained the craters and no lava currently flows through Volcanoes National Park, but park officials are not worried.
This is not the first time that the lava has drained from the park. Similar eruptions drained the craters of molten rock back in 1929 only to have the lava return sometime later. And the craters have completely drained a few times since only to have the lava rebound once again.
Halema'uma'u Crater was the prize of Volcanoes National Park with its ever-present lava lake. Park Rangers kept a viewing platform and a visitors center just a few hundred yards from the lake of lava. Visitors could enjoy the lava from a safe distance when volcanic activity allowed, and the visitor's center even held nighttime viewings to accentuate the glow of the molten rock.
Volcanoes National Park has now reopened to the public after the May 2018 eruption, but the landscape has changed a bit. Parts of some trails are still closed, and park officials don't expect the same number of visitors with no flowing lava. But Volcanoes National Park is still a great place to visit during your Hawaiian vacation.
It is situated at the peak of Kilauea Volcano and features many dead volcanic craters. Hiking trails can take you along the rim of the crater, and a few trails descend into long-dead volcanic calderas. Plus, the trails all have awesome names like Devastation Trail.
The park's main visitor center is also a great place to visit for volcano lovers. You'll learn all about the volcanoes in Hawaii, and you can even ask the park rangers where Kilauea is currently active. The volcano might not be flowing within the park, but Kilauea is still active on the island. There may or may not be a new pool of lava or a lava flow that you can visit during your stay on The Big Island.
---
Kilauea's Lower East Rift Zone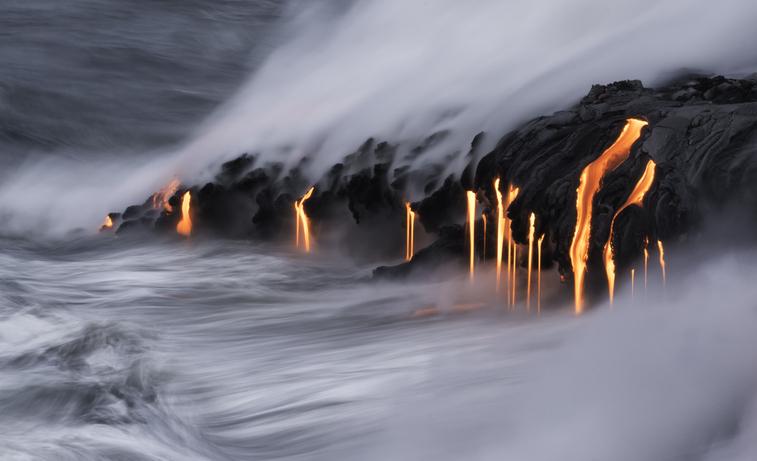 Down on the southeast of the Big Island, you'll likely find Kilauea's current lava flow. The molten rock that pours out of this young and very active volcano likes to flow down to the southeast shore to pour into the Pacific. This is how The Big Island continues to grow.
Forecasting Kilauea's eruptions and lava flows can be difficult, but the flow usually carves through an area called the Lower East Rift Zone. If you're lucky and there's an activity during your visit, you may be able to hike or boat to the active volcano's lava flow.
There is a coastal road that is carved into the Lower East Rift Zone, but you won't be able to drive most of it. It is closed off to vehicle traffic. And you'll be shocked to see so many houses built into the fields of black volcanic rock. Some of these communities have been destroyed when, in the past, Kilauea's flows decided to change direction.
You can drive down the black rock road until traffic is stopped. There, you'll find a parking lot. You'll have to get out of the car to walk the rest of the way, which could be miles, to find the flow of lava. But there's usually a local or two renting off-road bikes for those who want to get to the lava a bit faster.
The walk down to the lava is inhospitable. After all, you'll be hiking on the newly formed Hawaiian island, so the entire area is covered in sharp black volcanic rocks. The road is made up of crushed volcanic rocks, as well, so make sure to wear sturdy shoes. And the tropical sun beaming off of the glassy rock can really heat you up. Pack plenty of water, sunscreen, sunglasses and a hat for your protection. You may even want to think about wearing a long-sleeved shirt.
---
Tour Guides to Kilauea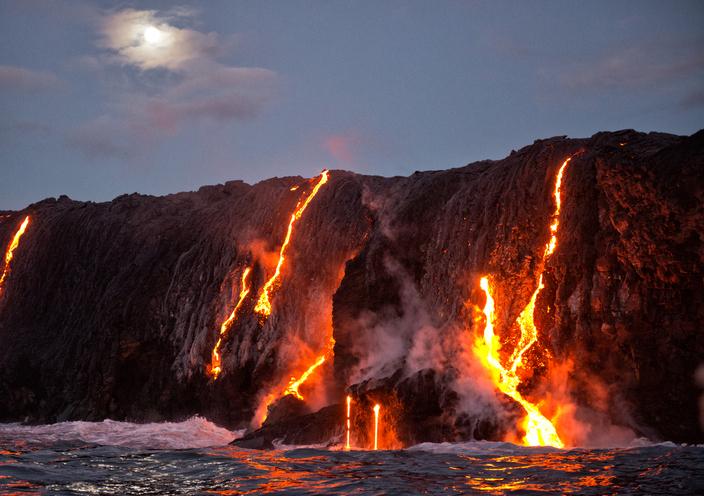 The flow of lava from Kilauea is constantly changing. Sometimes it flows like a river right on top of the volcanic field. Sometimes it hides just underneath the surface making it difficult to see. And sometimes it stops flowing altogether, or changes directions or the volcano erupts to forge new flows.
The point is that the flow of Kilauea is unpredictable. You'll have to ask around and do a bit of research to find the best spot for lava viewing when you arrive on the island. Or you could just join a professional tour where an experienced guide will take you right to the hot spots while keeping you safe.
This maybe you are the best alternative because it saves you a bunch of time and worry. Worry is not something you want on your Hawaiian vacation, and saved time means more time spent enjoying the islands. It's the most precious resource you have during your Hawaiian vacation.
---
Boating to Kilauea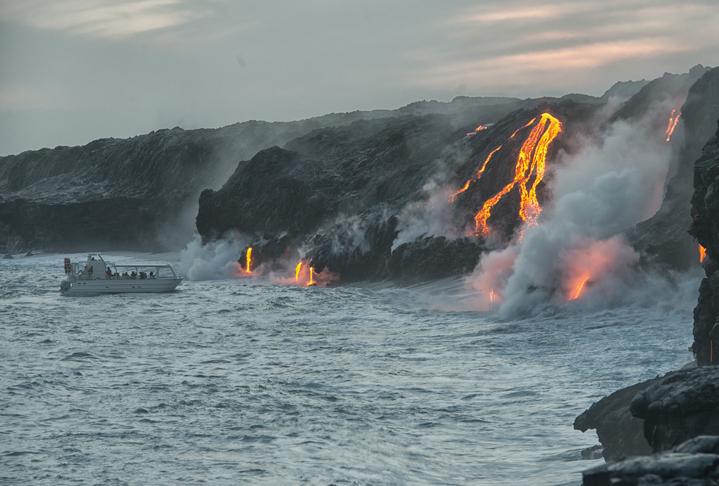 Kilauea is an inland volcano, but lava flows like water. It finds the path of least resistance to carve its way to the ocean. So, if lava is flowing during your visit, it'll likely be pouring into the Pacific. That means you can join a boat tour that takes you right to the pour point.
When lava pours into the Pacific, it creates a towering cloud of steam and glass. This cloud is poisonous, but a professional tour guide will keep you a safe distance from the plume. But a boat tour will also take you as close to the lava as you can get while still being safe. This makes for a great pic worthy of sharing on social media.
---
Four More Active Volcanoes on the Big Island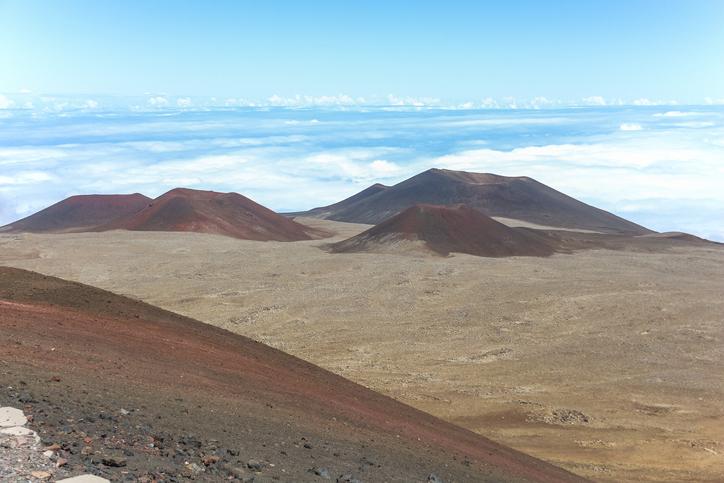 Kilauea is the most reliable volcano in Hawaii, but the Big Island is home to four more active volcanoes. Two of them are hard to miss because they tower more than 13,000 feet above sea level. Yes, Mauna Kea and Mauna Loa are both still active.
Mauna Loa last erupted in 1984 for 22 days straight. It's been quiet ever since. Mauna Kea is a bit more active. It's erupted about every six-year since officials began to keep records.
And you can find The Big Island's third active volcano just northwest of Mauna Loa. Hualalai is now covered in volcanic rock from Mauna Loa's eruptions, but it hasn't been very active lately. Hualalai's last eruption came back in 1801.