Kauai is a unique little island because each side -- North, East, West, and South -- has its own unique climate and characteristics. The east coast, also known as the Coconut Coast, is not as wet and rainy as the north side nor is it as dry and hot as the south and west sides. The heat and humidity build during the day and it's usually cooled off by a short 10-minute rain shower in the afternoon. And you'll find Kapaa Town right in the middle of it all.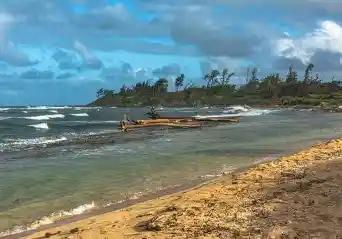 Kapaa Town is half local and half tourists. The resorts dominate the coastal section of town where you'll find a 2.5-mile paved bike path running along the water. It's here, right alongside the bike path, where you'll find Waipouli Beach. In fact, the water is no more than 80 feet from the paved path with a short strip of sand in between.
You can find Waipouli Beach right behind the Waipouli Beach Resort. You'll often find tourists that have just arrived on the island sticking their feet in the sand and looking out over the ocean. This is far from the most beautiful beach on Kauai, so don't be disappointed if this is the first place you test the water.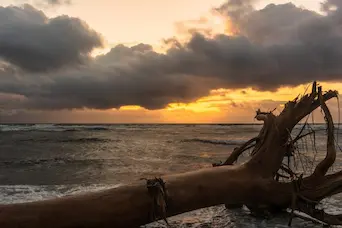 Waipouli Beach does have its uses, however. There are plenty of short trees along the shore which gives the sand some shade, so you can grab a drink from your resort, set up a spot in the sand and watch the windy surf of the Coconut Coast. It's also a great place to spot sea turtles as they love to come to feast on the mossy rocks, but those rocks make for poor swimming. It's advised you use water shoes if you want to take a swim at this beach as much of the bottom is made up of sharp volcanic rock.
lifeguards and the surf on the east side of Kauai can be dangerous. Swimming is only advisable when the tide and surf are low. And it is never advisable to swim after drinking as your limited coordination could make it dangerous. It's better to just sit back, pick a nice shady spot and enjoy the cool breeze.