Not only is the one of Maui's best beaches, but it's rated one of the best in the world. Wailea means "the water of Lea", the goddess of canoe makers. Once you've seen this beach, you'll understand why it's so highly rated and why it's usually crowded. It's located off Wailea Alanui Road at Mile Marker #0.4 on Maui's south side. When you picture beaches in Maui, this is that perfect beach. It's a wide beach with beautiful white, fine-grained sand. The southern end has sand dunes and there are several grassy areas for picnics. This is one of the best beaches for sunbathing, swimming, people watching, and beginner body boarding. Snorkeling is also very good when the waves are calm. Body surfing and boogie boarding are also quite popular.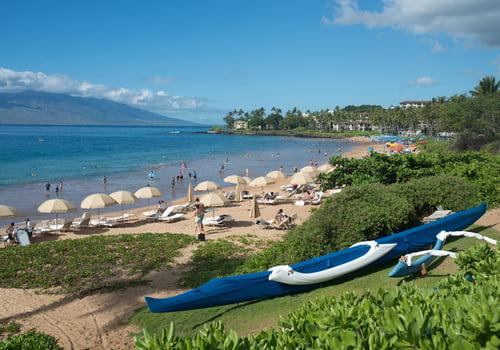 The Four Seasons Resort is on one end of the beach, with the Grand Wailea Resort on the other end. Visitors staying at these resorts are often at the beach early with their beach chairs and cabanas. The beach is the big draw for these resorts. It's lined with palm trees and there is a paved walkway connecting the hotels with the shoreline. There are plenty of shops, restaurants, and rental equipment available for visitors. The views of Kaho'olawe, Lana'i, and Molokini, are spellbinding. It's not unusual to see and hear whales here in the winter time. Wailea is one of the five connecting beaches in the area. The other four are: Polo, Ulua, Mokapu and Keawakapu.

There is a beach access road just past the Grand Wailea Resort that leads to the parking lot. There are restrooms, and showers, but no lifeguards.