The most famous beach in all of Hawaii. This white sand beach is covered with tourists year-round, and they all love watching the surfers in the impossibly blue water. The beach is a point of pride for the island, so its white sand is kept incredibly clean by the locals.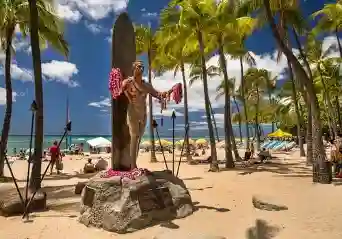 The beach is backdropped by towering resorts which helps explain the massive crowds on the beach, and you can find plenty of restaurants and stores just off the sand. This is the place to see and be seen in Hawaii, and you can even get a dose of local culture during your visit to this iconic spot.
A hula dance, put on by the Waikiki Improvement Association, takes place near the statue of The Duke every Tuesday, Thursday and Saturday. The dance starts with the traditional blowing of the conch shell, lasts about an hour and is completely free to the public. The conch shell blows at 6:30 p.m. most of the year, but it blows a half-hour early at 6:00 p.m. during the months of November, December and January. It's a great way to get a feel for the powerful history and culture of the island. Plus, you don't have to shell out the big bucks for that expensive luau to get an eyeful of Hawaiian dancing.