Drive north along Highway 19 for about 23 miles out of Kona to get to this pristine snorkeling beach. You'll want to turn left onto Puako Drive just after the Waikoloa Resorts, and then you'll drive down Puako Drive looking for utility pole number 69. The beach's location, just in front of utility pole 69, has earned it the nickname "Beach 69."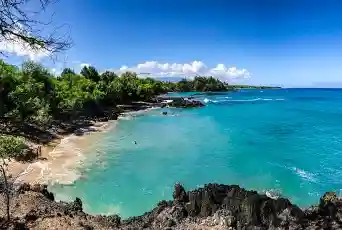 This is a summer-only beach. The thin strip of sand that lines Waialea Bay erodes completely during the winter months when the swell is up. But, if you're lucky enough to be visiting the Big Island during the summer months, make sure to bring your snorkel gear to Beach 69.
The beach fronts Waialea Bay which was named a marine preserve back in the mid-1980's. You'll find abundant marine life along the bay's southern fringing reef. You'll also see plenty of large rocks poking up from the surf inside the bay where you'll find even more reefs and marine life.
It's easy to make a day of it down at Beach 69 because there is plenty of shade. It's the perfect place to bring a picnic. You can always throw your towel down under the many trees that line the bay when the sun is high. Here's a tip -- eat your lunch under the shade of the trees between 11:00 a.m. and 1:00 p.m. when the tropical sun is at its most powerful.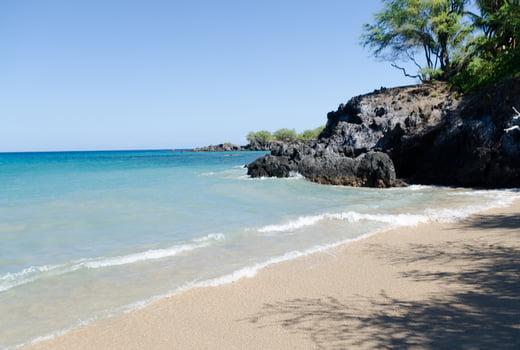 There are no lifeguards at Beach 69, so you'll have to be responsible for your own safety. You can always check the online surf report before heading down to the beach, or you can watch the surf for about 15 minutes before heading into the water. You'll also have access to outdoor showers and bathrooms at this family-friendly beach.
Beach 69 sits right in the middle of a 15-mile coastal loop trail, so you might see some intrepid hikers cooling off in the bay. The Ala Kahakai Trail takes hikers to some of the most beautiful and remote stretches of the Big Island's west coast which only adds to this sugary white sand beach's allure.