Another South Maui Beach gem, this golden sandy beach is the middle beach at Wailea, Several of Maui's best beaches are located in the Wailea area. Ulua Beach is at the end of Hale Ali'i Pl Road/Ulua Beach Road. Did you know that Ulua is one of Hawaii's most popular game fish? This beach has some of the clearest and best waters for beginning and intermediate snorkeling, especially when the water is calm. You'll be able to see amazing coral, tropical fish and, very likely, Hawaiian Green Sea Turtles.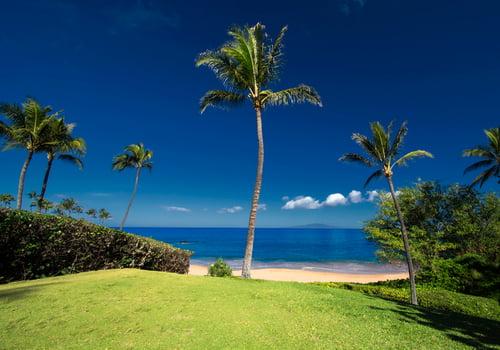 It's a great spot for instructors to bring beginner divers. The outer reef is great! It's also a favorite beach for swimming, boogie boarding, and sunbathing. During WWII, this beach was used as a training ground for the marines. It's likely that you'll see the remains of bunkers on the beach's north side. Just behind the beach is the Wailea Elua Village Condos, luxurious villas with prime ocean front views. You'll love the magnificent vistas of Molokini, Kahoolawe, and Lanai.

If you follow the Wailea Beach Path, you'll pass five beaches, including Ulua Beach. It has its own parking lot next to a s small grassy park by Wailea Ala Nui Drive. This is where you'll find restrooms and showers. There is no lifeguard at this beach.