The Tree Tunnel is one of Kauai's unexpected gems and another incredibly picturesque location. And it's easy to experience. All you need is a rental car, a camera and a sense of adventure.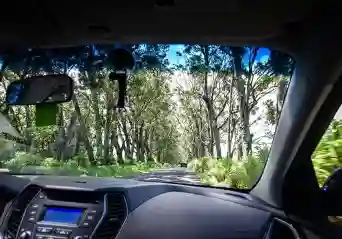 Take Kauai's main road south out of Lihue. Look for the signs to Poipu Beach and Koloa, and follow the signs to turn left onto Maluhia Road. Upon turning, you'll immediately enter the Tree Tunnel.
The road here is lined with towering eucalyptus trees. The trees are so tall and so dense that they block out most of the sunlight. Only the brightest rays of sunshine beam through the canopy to give the whole tunnel a mirror ball effect. The beams of light are especially beautiful on a humid day when they glow in the thick air.
Continue to drive down the road to be completely swallowed by the scene. At a certain point, the tree tunnel will stretch out as far as you can see forwards and backwards. It can seem like the dramatic driveway to some mythical royal castle.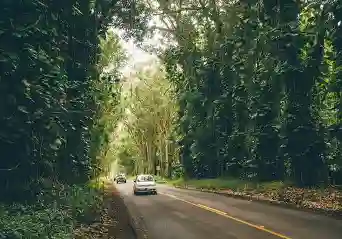 Make sure to pull over to the side of the road if you are going to stop to take a picture. Maluhia Road is the main thoroughfare to the south side of the island, so there will be plenty of traffic. Stopping abruptly can be dangerous, and always look both ways before exiting the car with your camera.
Continue to drive through the trees until you exit the tunnel on the south side. You'll emerge onto bright, open fields with horses and otherwordly trees. It can feel like a scene out of Jurassic Park. And continue to follow the road as it meanders into historic Koloa Town where you can buy an ice cream, sit on a patio and take in the scenery.