Most residents of mainland United States are used to four seasons -- spring, summer, fall, and winter -- and they're so distinct that the air can smell different during each season. Summers tend to be frightfully short, yet winters feel like they drag on forever. And that's why many Americans choose to vacation in Hawaii. They want off this seasonal merry-go-round.
There are seasons in Hawaii, too, and the seasons can be simplified into two: winter and summer. But that's a bit too simplistic and misleading. There's really no "winter" in Hawaii. The months of December, January and February still offer plenty of tropical heat and are only a few degrees cooler than June, July, and August.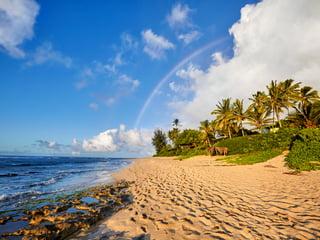 You might have heard the seasons referred to as "Wet" and "Dry," with the winter months being wet and the summer months being dry. But this is misleading, too. A typical day during the "wet" season features beautifully clear mornings with tropical humidity building throughout the day before it breaks with a short afternoon shower that clears quickly. It's actually a relief in such a tropical climate.

It's more accurate to say "Surf's up season" versus "Surf's down." The winter months bring massive waves to Oahu which attracts the world's best surfing competition. Meanwhile, the summer months usually feature glass-calm waters perfect for snorkeling and swimming.

Sunset Beach on Oahu's north shore is one of the best places to see the changing of the seasons. The waves here are so big that some of the world's most prestigious surfing competitions are held here annually. Meanwhile, it's the perfect place for a safe swim and family snorkel during the summer months.

Oahu's North Shore
Honolulu anchors the island on the south end of Oahu. It's where you'll find Hawaii's largest airport, world-class cuisine, towering resorts, Waikiki Beach and Hawaii's best nightlife. But Oahu's north shore is completely different. Here, you'll find laidback country vibes, Hawaii's best shave ice and Sunset Beach.

Winter On Sunset Beach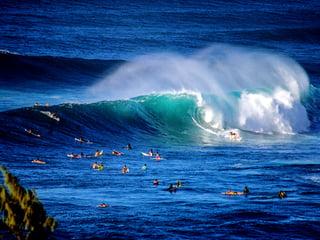 But the quiet of the North Shore is broken every winter when 30-foot waves come to Sunset Beach and the world's best surfer's converge to compete. The competitions take place on Sunset Beach as well as nearby Ehukai Beach and the Banzai Pipeline. These beaches form two miles of sandy shorelines perfect for surfing competitions.

If you time your visit just right, you might be able to watch one of these competitions. But, if you arrive on the island in between events, then you'll still likely be able to watch some of the world's best surfers as they practice on Sunset Beach.
Summer On Sunset Beach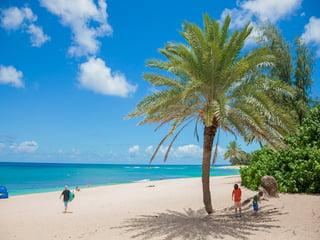 The professional surfers have to deal with Sunset Beach's notorious rip current during the winter, and this Sunset Rip doesn't exactly go away during the calm water summer months. It's still safe for a swim or snorkel, but you'll just have to be aware of the alongshore current. Pop your head up every once in awhile, and you'll notice that you've drifted down the beach inside the Sunset Rip.

So long as you are aware of the alongshore current, then swimming and snorkeling are perfectly safe at Sunset Beach during the summer months. Just make sure to check the online surf reports before driving all the way up to the north shore to visit this world-famous beach. 

Sunset Beach is also a beautiful place to watch the sunset during the summer months. It's nice to have an afternoon on the North Shore exploring Ehukai and Banzai before settling down with a little picnic on Sunset Beach as the sun goes down to the west.

Getting to Sunset Beach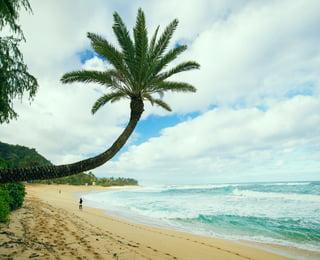 The drive up to the North Shore will take about an hour from Honolulu. Take H-2 North out of the city and continue to drive north as the road turns into HI-99. The road will eventually hit the north shore before it turns into HI-83 as it bends to the east. You'll see signs as you enter the town of Pupukea, and you'll find Sunset Beach on the left just after you pass Banzai Pipeline. If you've passed Turtle Bay Resort, then you've gone just a little bit too far.

You can park right across the street from the beach at Sunset Beach Support Park. This beach is designed to accommodate fans of the surfing competition, so there's ample parking.
Surf's Up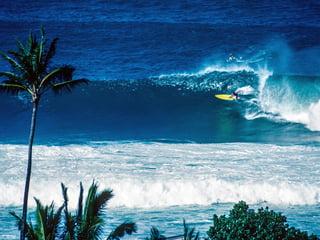 There's a reason Sunset Beach takes up real estate on one of the most famous stretches of sand in all of Hawaii -- it's absolutely beautiful. Sunset Beach, as well as Banzai Pipeline and Ehukai, feature sugary soft white sand, crystal clear blue water that you swear you could drink, and incredible weather.

But these beaches offer some of the most dangerous waves during wintertime. If you're keen on surfing the waves here, then you should arrive during the skirt seasons (fall and spring) while checking the daily surf report for waves up to your skill level.

Otherwise, you have options. You can watch the surfers during the winter, challenge the waves yourself during fall or spring, or you can go for a relaxing swim and snorkel during the summer.