Kauai is a geological wonder; an experiment of pressure and time. And you can witness this experiment up close and personal at Spouting Horn State Park.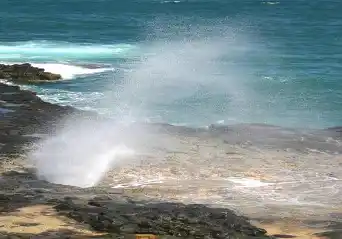 Drive south on Kauai's main road out of Lihue, turn left onto Maluhia Road through The Tree Tunnel and continue south past the historic town of Koloa on Poipu Road. Once you get to a roundabout at the Kukui'ula Shopping Center, take the second exit onto Lawai Road. Follow Lawai Road until it ends.
At the end of the road, you'll find a sizeable parking lot full of tour buses. Park your car and walk through the collection of tents. Here, you'll find locally made wares for sale. It's a great place to pickup a souvenir.
On the other end of the shopping stalls, you'll find a viewing platform. At first, it doesn't look like much. You'll simply be staring out onto a lava shelf with the violent Pacific Ocean beyond. This side of the island is reliably hot and dry which makes the color of the ocean pop. The Pacific is unbelievably blue from Spouting Horn's viewing platform.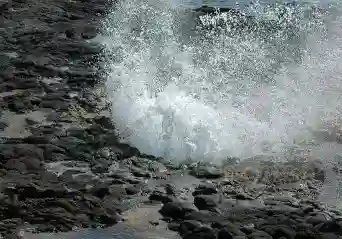 Wait a moment for the show to begin. Large waves roll towards the lava shelf, but they don't break on the coast. Instead, the wave rolls under the shelf into a hollow cave, and the force of the water shoot a spray through a blowhole in the lava shelf. The spray can shoot up to 30 feet into the air, and a cooling mist will drift over the viewing platform.
This is one of Kauai's most picturesque locations, but it's up to you to time your picture perfectly. You want to catch the water as it shoots high into the air. And, if the light is right, the spray will produce a vibrant, colorful and temporary rainbow.