There's a little known fact that's a secret amongst intrepid ecotourists: When you hike a half-mile from the main road, you leave 90% of tourists behind. And it's this little bit of effort that keeps Secrets Beach on Kauai a bit of a secret.
But "Secret" is a bit of a misnomer. The beach is well known, and you'll hear plenty of tourists talking about it, but the required effort keeps the beach sparsely populated. That's why Secret Beach is perfect for a little romantic escape.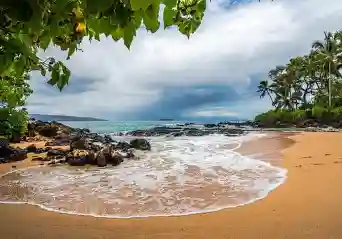 Locally known simply as Secrets, this beach features incredible seclusion, soft sand and a crown of palm tree-covered sea cliffs. There are no resorts in sight. It can feel rather remote when you lay back to daydream in this tropical paradise. After all, you're sitting on a rock that's smack dab in the middle of the Pacific Ocean with only a few souls in sight.
To find the secret, you'll have to turn off of the Kuhio Highway onto Kalihiwai Road in Kilauea. You'll find a steep trail down to the beach at the end of the first dirt road off of Kalihiwai. There's no formal parking lot, but you'll find plenty of cars parked near a private residence. Park here and the trail is easy to find.
The hike down to the beach is steep, and the trail is made up of Kauai's infamous red dirt. You should treat this clay-like substance with respect. The dirt can get as slippery as lake ice when it is wet and compacted, so make sure to pack sturdy footwear for the 10-minute hike. And the trail is bound to be wet and compacted from a day's worth of surfer foot traffic. Use tree roots and rocks for footholds, and take your time. Test each step before you take it, or you might find yourself sliding down to the beach.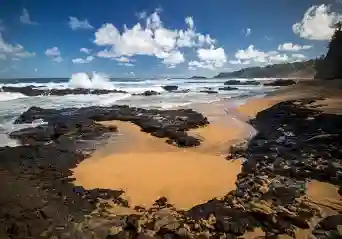 An impressive wall of black lava rock marks the west end of the beach while the back of Secrets is guarded by a tree-lined cliff. Off in the distance, you can make out Mokuauia Island and the Kilauea Lighthouse is perched high above. It's a beautiful scene that's made all the more breathtaking by a waterfall pouring out of the beach's guardian cliff.
Walk along the guardian cliff and you'll find a piece of bamboo sticking out of the rock. The water pouring out of the bamboo has been filtered through the cliff for years, and locals will tell you that it's safe to drink. But drink the water at your own risk. Most of Kauai's wild water is non-potable due to tropical bacteria.
There are no facilities at Secrets. You won't find any bathrooms, showers or lifeguards. That means your water safety is solely your responsibility. Conditions for swimming at Secrets are mostly seasonal. During the summer months, the water can be as calm as glass while keiki-sized tidal pools form around the lava rock just off the shore. During winter, the waves can come crashing in at 10 feet high.
You can always check the online surf reports before heading down to Secrets for a summer swim, but, even if the report is favorable, always be aware of your surroundings and never turn your back on the ocean in such a remote area. Rogue waves can make summer swimming dangerous very quickly. But, if you keep your wits about you, then you should be able to enjoy the water when the surf is calm.