Honolulu is surprisingly big. You'll likely marvel at the size of the city when you land in Honolulu International Airport, and you'll wonder just how they built such a massive city on such a remote island. And Honolulu offers up the comfortable amenities of any major American city which makes for a very convenient and comfortable home base for a vacation on Oahu.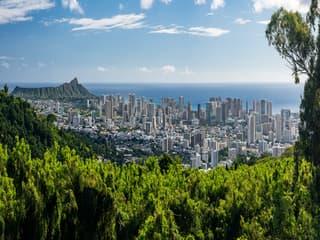 But you might just find yourself yearning for more remote locations during your Honolulu vacation. After all, it's easier to relax away from the hustle and bustle of a big American city. Fortunately, there's a quick and easy escape that's situated very close to downtown Honolulu.

Puu Ualakaa State Park offers up incredible views, tranquility and short hiking trails into Oahu's rainforest, and it's all just 20 minutes away from the city. So, if you have a rental car and you want to escape the sounds of the city for an hour, or so, then pop up the mountainside to the park for a quiet retreat.

How to Get to Puu Ualakaa State Park
Take Punchbowl Street east out of Honolulu and follow the road for 2.5 miles. Take a right onto Makiki Street before a quick left onto Round Top Drive. Follow the drive for 2.4 miles before a slight left into the park on Nutridge Street. You'll find ample parking for the small park.

The Puu Ualakaa State Park Lookout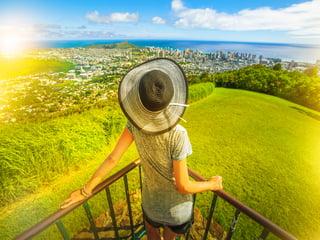 Puu Ualakaa State Park is built upon a cinder cone at the edge of the Honolulu Watershed Forest Reserve. The park sits high above Honolulu, and the most striking feature of the park is the view. You'll get an uninterrupted vista from Pearl Harbor to the west all the way to Diamond Head in the east. Make sure you visit the park on a clear day.

Sunsets are absolutely breathtaking from the veranda in the heart of the park. This is where you'll get the best views over the city, but you'll likely have to share space with other tourists.

And you'll find a paved one-mile walking path through the rainforest. It's an easy walk, it's suitable for all ages, and the trail offers convenient peace and quiet. You'll find benches, picnic tables, and bathrooms along the route.

The state park is perfect for a light stroll, picnic and an evening watching the sunset on Hawaii's most iconic city. It's perfect for families and even a little bit of romance.