Puako Bay, on The Big Island's reliably hot and dry west coast, doesn't have much beach. In fact, there's only a small strip of white sand and the water is rather rocky. It makes for incredibly poor swimming. So, that begs the question -- why would anyone want to visit?
The answer is simple -- snorkeling and diving.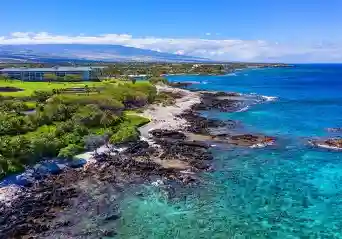 There are abundant reefs just off the shores of Puako Bay. Colorful reefs, undisturbed marine life and green sea turtles wait to be discovered in the waters off this rocky coastline. But before you go snapping on your snorkel mask, you absolutely must check the weather and water conditions.
Chances are that the water is too violent for a good snorkel during the winter months. The water tends to be a lot calmer during the summer, but you still have to be vigilant about your own safety. There are no lifeguards here, and current an easily throw you into lava rock or reef. You could even potentially be taken out to sea. So it is imperative that you check the ocean's conditions online and then be constantly aware of your own safety while in the water.
But, if the water is calm, you'll be treated to some of the best snorkeling and diving in the state of Hawaii. The outer edges of the reef offer up the most abundant array of colors and wildlife, but, again, you need to be aware of your position in the bay at all times.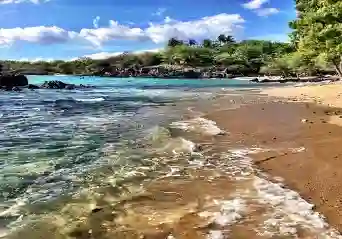 Snorkeling and diving aren't the only reasons to visit this impressive stretch of coast. During low tide, the bay is dotted with tide pools that trap small fish and other marine creatures. It's fun to take kids down to the bay at low tide to see them marvel at the life in the tide pools. Just make sure everyone is wearing sturdy footwear because the tide pools are rather rocky and sharp.
Puako Bay is also home to the largest collection of petroglyphs in the state of Hawaii. You can find more than 3,000 of these ancient carvings in the rocks around the bay, and you can even visit the nearby Puako Petroglyph Archeological Preserve to learn about the history of the drawings. It's an incredible way to connect to the past, and it's a great way to learn about American history. After all, Hawaii is America's 50th state.
Drive north out of Kona on highway 19 looking for mile marker #70. At the mile marker, turn towards the ocean on Puako Road. You'll have to choose between six different public access trails to the beach which are located near telephone poles 106, 110, 115, 120, 127 and 137.