Pahoehoe Beach is the perfect place for a picnic. It sits just four miles south of Kona, and features some of the nicest ocean views on the west coast. Just don't expect to swim at this rocky beach. The coastline is mostly made up of shattered coral and lava rock.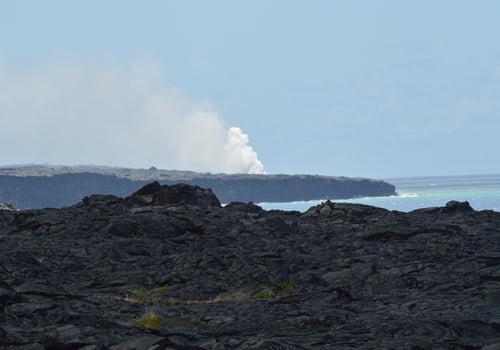 The first thing you'll notice when you arrive at the beach park is the low sea wall that dominates the coastline. This wall protects the shady grassy area from large waves, and you're likely to see a bunch of local fisherman using the wall to hold their rods. Walk up to the wall, and you'll quickly see why there's no good swimming at Pahoehoe Beach.
Walk north along the rocky coast, and you'll eventually find an area where it's "sandy.," but this sand is comprised of crushed rock and coral. It's sharp and uncomfortable underfoot, and it's certainly no place to throw down a blanket.
But you won't need a blanket at Pahoehoe Beach. There is a large grassy area leading up to the sea wall and the water, and the whole area is covered with palm and kiawe trees. Under the shade of trees on the cool grass, you can enjoy one of the beach's many picnic tables. And there's enough room on the grassy area for a game of catch or wiffleball. It's a great place to tucker out rambunctious kids who need to run around.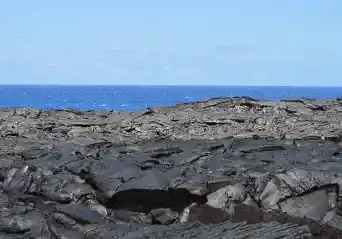 The water at Pahoehoe Beach is incredibly clear and unbelievably blue which makes this beach park the perfect place for a day dream staring at the surf. When the water is calm, don't be surprised to see divers and snorkelers carefully navigating the rocky coral to plop into the water. There are underwater archways, colorful reefs and abundant marine life to explore at Pahoehoe Beach, but you need to be an experienced diver.
The coast here is notorious for swift current changes, disorienting underwater landscapes and rough surf that like to throw you into the rocky coral. Only dare to join them if you are extremely confident or experienced. There are no lifeguards at this beach park, so you safety is in your hands.
Pahoehoe Beach is very easy to find. Simply drive south out of Kona on Ali'i Drive to find the beach park between mile markers #3 and #4.