If you ask three locals where Maui's Turtle Town is located, then you'll likely get three different answers. But one of the most prominent answers is south Maui's Makena Beach. Turtles love to feast on the vegetation just off the shore of this popular beach to tourist's delight.
But just next to Makena Beach is perhaps one of Maui's best kept secrets. Oneuli Beach features black sand pouring out of the backside of a cinder cone, and you'll also find plenty of turtles.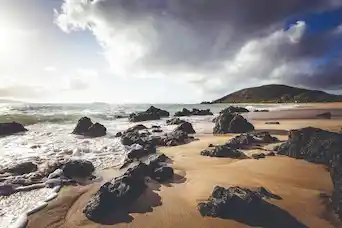 You'll find this hidden gem just south of Makena Beach Park about 11 miles south of Kihei. Simply take Highway 31 south out of Kihei and wait until the highway turns into Makena Alanui Road. This will eventually turn into Wailea Makena Road. You'll find a small dirt parking lot for the black sand beach just north of Makena Beach.
The parking lot is made up of crushed volcanic rock, so it's not too kind to your rental car's tires. But an economy rental car should do just fine if you're careful on the bumpy and washed-out lot.
You'll find this black sand beach on the Wailea side of the Pu'u Ola'i cinder cone. In fact, the black sand comes directly from the prominent geological features. Decades of waves crashing have bashed the cinder cone into sand-sized bits, and the lava rock has mixed with marine calcium to give the beach a salt-and-pepper look.
The cinder cone itself is quite a sight to behold. It's the pour-point of a long dead volcano that hardened quickly, and you can see the gash in the cinder cone created by the bashing waves. If you use your imagination, you can almost see the shattered lava sand pouring out of the cone and onto the beach.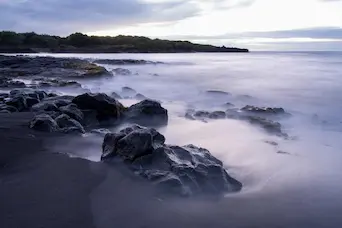 You want to be careful on black sand because the smashed volcanic rock can be scratchy. Make sure to wear sturdy shoes, but, if you choose to brave the beach barefoot, walk gingerly at first. Don't go running out towards the water to pull up with scratched feet.
The swimming at Oneuli Beach isn't great. You'll notice that the sand quickly gives way to a hard lava rock shelf as you enter the water. But the rocks attract turtles, and you'll also find abundant marine life just under the water in the beach's fringing reef. It's an A+ place for an epic snorkel.
You won't find any facilities at Oneuli Beach, nor will you find any lifeguards. That means your water safety is up to you. Always check the surf report before going into the water, and, if there's any doubt about safety, it's best to stay out.