Maui is the island for romance. It's where couples from around the world get married, honeymoon or vacation together due to the island's secluded white sand beaches, breathtaking sunsets, and pampering resorts. And you'll find these romantic resorts on the western side of the island.
Maui is the tale of two islands. The Valley Isle looks as if two separate islands fused in the middle, and each of these smaller islands has its own personality.
The eastern island is huge. It's where you'll find the exhilarating Road to Hana wrapping around the massive might of the Haleakala Volcano. This is Maui's adventurous side where you'll find challenging hikes and the world's best windsurfing beaches.
The smaller western island is the former home of whaling stations, but each of these whaling towns has transformed into romantic resort villages. This lush area is home to sugary white sand beaches, candlelit restaurants, and soothing spas. And it's here, in the midst of one of Maui's nicest resort towns, that you'll find the hidden gem that is Napili Beach.
Nestled Amongst Resorts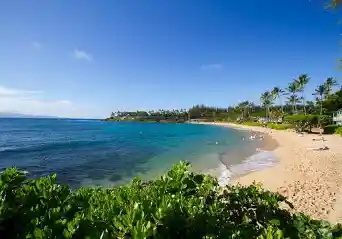 This incredible beach is tucked away inside a cove of resorts, most notably the Napili Kai Beach Resort. It's a lesser-known beach, but it provides everything you'd want in a tropical beach experience.
Napili boasts some of the clearest and cleanest water in Maui as well as some of the softest white sand. And that sugary sand gradually descends into the water to make for incredibly pleasant swimming conditions.
The soft sand eventually brings you to shallow coral heads that are full of colorful marine life. If you're confident in your swimming abilities, then simply swim out about 100 yards with your snorkel gear to see some of Hawaii's prettiest fish in their natural habitats.
The calm, crystal clear waters also make Napili Beach perfect for a stand-up paddleboard experience. If you're lucky, then you'll be paddleboarding this world-class beach with the sea turtles that frequent the area.
Amenities & Surf Conditions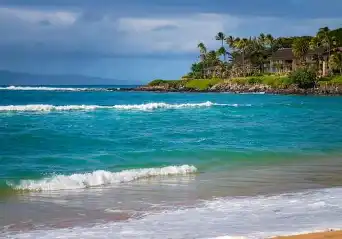 The Napili Kai Beach Resort was built a few decades ago, and the resort isn't as fancy as you'd expect from the looks of its world-class beach. The crescent-shaped beach is crowned by what looks like condos, but the resort has plenty of amenities that you can use at your leisure. You'll find restaurants, gift shops and bathrooms inside the resort, and there are a supermarket and shopping center within walking distance just past the resort.
The water at Napili Beach is commonly glass calm, but the small crescent beach can experience high surf and rip currents when the sea is high. This usually happens during the winter months but can happen at any time of the year. Always check the surf report before heading to any beach in Hawaii, never turn your back on the ocean and only swim if the conditions are calm.