Snorkeling on Maui is an absolute dream. The tropical sunlight pierces the drinkable clear ocean water to glitter and sparkle amongst the coral and colorful fish. And the teeming underwater life doesn't seem disturbed by your presence. It's like you've been invited to another world.
And you'll find some of the best snorkeling on Maui at Mokuleia Bay, otherwise known as Slaughterhouse Beach. But don't worry. The nickname comes from the fact that there used to be a slaughterhouse in the area. 

There are no slaughterhouses there today, only a beautifully clear ocean, sugary white sand, and a fringing reef full of life. But, if you choose to explore Mokuleia Bay in all of its underwater grandeur, then you'll need to know how to get there, when to go and what to bring.

Tale of Two Seasons and When To Go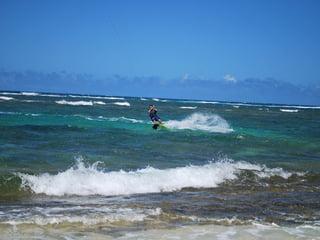 Mokuleia Bay is a wonderful place to go when the water is calm, but the beach and its water can be dangerous when the ocean is violent. And the water conditions vary in Hawaii mainly by the seasons.

Summer is known as the dry season. It features temperatures that are just a few degrees warmer than winter, but you'd be hard-pressed to find even a passing rain shower during the summer months.

Winter, meanwhile, is known as the "wet" season, but that's fairly misleading. Winter days are just a few degrees cooler, usually in the mid-'80s, and they start out beautiful. The humidity then builds throughout the day before a short afternoon rain shower cools everything off before a clear night rolls through.

But the main difference between the seasons remains the ocean water conditions. Summer usually heralds glass-calm waters while winter brings massive waves and violent surf.

This makes Mokuleia Bay a dream during the summer months, but you should avoid the waters of the crescent-moon bay during wintertime when the waves are high and strong. Of course, the water could be dangerous on the occasional summer day and safe on the odd winter day. The only way to know for sure is to check the online surf reports before heading off to one of Maui's best snorkel beaches.

How to Get There
You've checked the surf report and it looks safe to go. Now you need to get there.

Mokuleia Bay sits on the northwest coast of Maui north of Lahaina. From Lahaina, take the coastal HI-30 North for almost 10 miles before turning left into the small parking lot for Mokuleia Bay. Look for a chain link fence up against the coast. You'll only find about 10 parking spots, but that's a good thing. It means the beach will naturally be less populated.

What to Bring
There are no amenities at Mokuleia Bay save for a trash can in the parking lot. This means there are no lifeguards on duty, so your water safety is your own hands. Make sure to check the surf reports before heading to Mokuleia Bay to make sure the water is safe, and only snorkel if you are confident in your swimming abilities. 

Bring sunscreen that's at least 30 SPF. Apply 15 minutes before sun exposure in a shady area and reapply every two hours. It's also advisable that you stay out of the sun during its peak from 11 a.m. to 1 p.m.

Bring beach towels and chairs. You won't find any pavilions or snack stands, so you'll also want to pack plenty of water, perhaps in a cooler. And you'll want to bring your own snacks if you plan on spending a long time at the beach.

Of course, you'll want to bring your snorkel gear. There is a fringing reef teeming with life, but that reef makes the body and boogie boarding almost impossible. So, you'll want to leave that boogie board behind.

The Payoff -- Snorkeling
You'll need to navigate a long flight of cement stairs that bring you down to the crescent-shaped cove that is Mokuleia Bay. The stairs can be a challenge for the extremely young, old, and for those with limited mobility. 

Once down on the sparsely populated sand, it's easy to pick a spot for some peace and quiet. The morning time also features plenty of shade as the bay's cliffs temporarily block out the sun.

The water is crystal clear and full of boulders that make for the perfect turtle habitat. Hawaii's friendly green sea turtles like to come into Mokuleia Bay to feast off of the vegetation growing on the boulders.

You'll also find a colorful fringing reef full of fish, and, on a sunny day, they seem to sparkle in the sunlight. If you feel daring enough, are confident in your swimming ability and the water is clear, then you can swim north out of the bay while hugging the coast. You'll eventually surface at Maui's famous Honolua Bay.

Exploring both beaches makes for an unforgettable day on Maui, but, just remember, that swimming between the beaches will work up quite an appetite. Perhaps show up early in the morning, snorkel between Mokuleia Bay and Honolua Bay, and then escape the midday sun by getting lunch in Lahaina to refuel for afternoon adventures.