Simply drive towards Pearl Harbor out of Honolulu to find this beautiful hike to a hidden waterfall. Take the Punahoe Exit, and you'll find a parking lot at the base of the falls. You'll have to pay a $5 fee for parking, and the lot fills up quickly. It's best to get here early in the morning to make sure you grab a spot to beat the crowds on the hiking trail. The parking lot and the falls are open everyday from sun rise to sun down.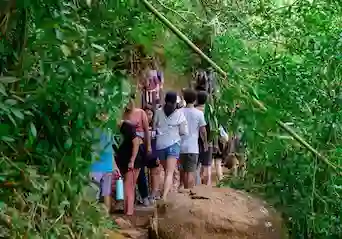 You'll walk underneath a thick canopy of trees which helps shield you from the sun, but don't take the cover for granted. Make sure to apply plenty of sunscreen whenever you're outside on the Hawaiian islands. The tropical sun will scorch you through clouds and canopies.
You'll ascend about 800 feet in a 0.8 miles. It's pretty steep up to the falls, but it shouldn't be too challenging. Manoa Falls makes for a great hike for the whole family, including beginners.
The beginning of the trail is flat and narrow, and then it opens up into a lush rainforest. It's easy to imagine a scene out of Jurassic Park here under the canopy, and that's because parts of the film were shot here. The trial continues through the rainforest before the very end where ti gets steep, narrow and slippery.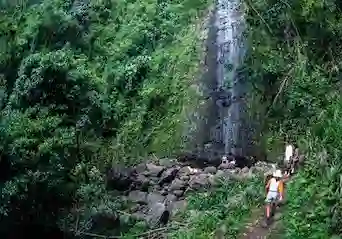 The majority of the ascent happens at the very tail end of the hike towards the falls. Make sure to wear shoes with plenty of grip. The moisture and heat under the canopy also makes this area ripe with mosquitoes, so make sure to pack some insect repellent, as well.
The trail ends at a cliff wall that is covered in greenery. The lush cliff side is cut by the waterfall that comes cascading down a steep rock face. At the bottom of the falls, there are a collection of boulders that have been thrown over the top. You'll have to rock hop to the falls.
There is a pool at the base of Manoa Falls, but swimming is highly discouraged as there is a threat of infection. The entire area is well-signposted and popular. You'll likely be sharing this beautiful scene with people from all over the world. After you've snapped a few pics, make your way back down the slippery trail carefully.