If you're lucky enough to have the means, you can stay in one of the luxury accommodations that surround this beautiful little beach. But don't worry if you can't afford the digs. There's a visitor's parking lot that's just a 15-minute walk to the beach.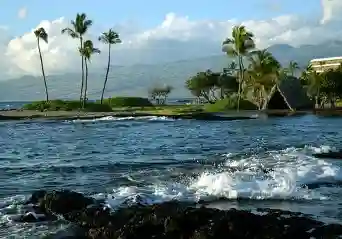 You'll find this lovely little cove and its lagoons surrounded by the Mauna Lani Bay Hotel and its affiliated condos. The bay sits about 30 miles north of Kona, and you can find the hotel, its condos and the beach between mile markers 73 and 74.
To find the public parking lot, take the second exit at the roundabout and then turn left onto Pauoa Road. The parking lot will be on your right. There's a paved path that takes you to the coast through a glassy lava field. Make sure to bring plenty of sunscreen and water as the walk can be terribly hot. Then the path turns past ancient fish ponds before making its way down to the picturesque little cove.
There is a small patch of sand that is surrounded by man made levees. The sand is impeccably white, soft and inviting, which makes it easy to make a day of it here. But the real draw is in the water where you'll find abundant coral reefs and fish. It's a first-time snorkeler and diver's dream.
The water here is crystal clear, and you're likely to see fish swim around you as you wade into the water. Make sure to bring your snorkel gear and an underwater camera. The marine life is beyond belief at this little beach. Just make sure not to touch any sea turtles should you find them snacking on the beach's mossy rocks. It is illegal to touch turtles, and the oils in your skin can degrade the animal's shell. Enjoy the turtles from a distance, and take care not to drift into the animal while taking a selfie.
The shallow water near the sand is perfect for small children, and it's easy to find a shady spot underneath the palm trees that crown the beach. It's a very family-friendly area. The water is usually calm and perfect for a snorkel, but the protected bay can be affected by the winter's violent surf. Make sure the water is calm before you snap on your snorkel mask.