Locals have a few names for this little beach cove. Some refer to it as White Sands Beach Park while others call it Disappearing Sands. But each of these names refers to the disappearing magic white sands of the beach. Each winter, the powerful waves erode the beach to leave a rocky shoreline, but you can still find the soft white sand if you wade out into the water.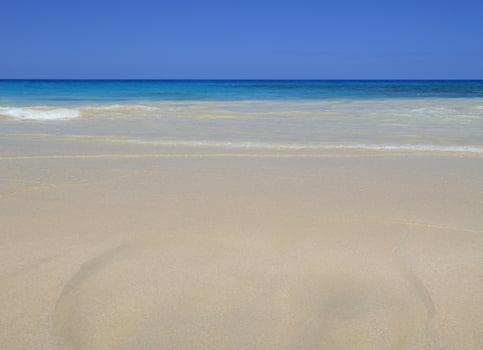 The swimming conditions are usually quite good at this popular little spot just south of Kona Town. You'll find plenty of locals and tourists swimming, snorkeling, boogie boarding and surfing here. You might even see a few divers come in from the deep during your stay on the disappearing sands.
Magic Sands Beach has a short shorebreak which creates powerful waves when the surf is up. That's when you'll find crowds lining the white sands to watch the city's best surfers challenge the waves. When the surf is low, you'll find world-class snorkeling at the south end of La'aloa Bay. Colorful coral and interesting topography lines the bay, and it's all waiting for you to discover just off Magic Sands Beach.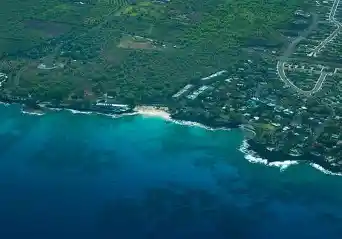 The sand may also disappear on you during the day. The tide can reach up all the way to the back end of the beach where the sand meets the road. The waves pull the sand out into the bay at high tide, and then return the sand as the waves lap up over the rocks as the tide draws out. This keeps the sand incredibly clean and impeccably white. Hence the name White Sands Beach Park.
You'll have to fight the crowds at this popular little spot. There's not much sand to go around, even at low tide, so you're best bet is to arrive early to throw down your blanket. You'll just have to keep an eye on that blanket as the sand disappears.
Drive on Hawaii Belt Road (Highway 11) south out of Kona Town to get to this popular strip of magic sand. Four miles south of town, turn right onto La'aloa Avenue and continue until you hit Ali'i Drive. Turn right and you'll see the beach park's parking lot, bathrooms, picnic tables, lifeguard tower and showers.