Laupahoehoe Point Beach Park was once the site of a Hawaiian fishing village. Then, one fateful morning in 1943, a tsunami blew through town killing 19 schoolchildren and five adults. In a painfully ironic twist, the tragedy occurred on April Fool's Day. You can find the names of those who lost their lives carved into a lava rock at this scenic viewpoint.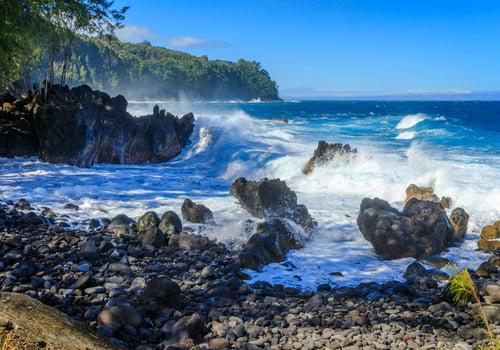 Laupahoehoe Point Beach Park is not good for swimming, but it is outstanding for photography. Bright green grass, deep black volcanic rocks and unbelievably blue water serve as a study in color contrast. The entire scene makes a great composition, and the water here is particularly blue when the sun hits it just right.
You'll find a few tide pools on the lava shelf at this beach park, but your water activity options are limited. In fact, you should never turn your back on the ocean at this scenic viewpoint as the waves have been known to reach up onto the lava shelf. And the water here is much too violent for swimming or snorkeling even if you see a few locals taking a dip.
It's best to bring a picnic, sit under the shade of palm trees and enjoy the view. You'll find picnic tables in the shaded areas that give you a great view of the surf crashing on the rocks. At low tide, you san carefully walk down to the lava shelf to inspect the tide pool. These little pools give off stunning reflections at sunrise and sunset which make for a perfect pic.
Laupahoehoe Point Beach Park is real easy to find out on the northeast shore of The Big Island. The park is well-signposted just north of the Laupahoehoe Lookout and Laupahoehoe Train Museum on Highway 19. And there's plenty of parking.