Koko Head looms over Honolulu. So much so, that the US military installed pillbox bunkers into the hillside to lookout for the enemy in the mid-1900's. The Army Core of Engineers then built a train line into the side of the mountain in order to run supplies to the bunkers at the top. Now the railroad ties have been re-purposed as stairs for the hiking public. There are 1,050 of them altogether. It's physically challenging, but you'll be rewarded with incredibly views at the top.
You can find the trailhead in Koko Head District Park. You'll find the beginning of the stairs and a bunch of sweaty hikers at the back end of the parking lot. Just remember to pace yourself when you challenge this hike. It gets increasingly difficult near the top.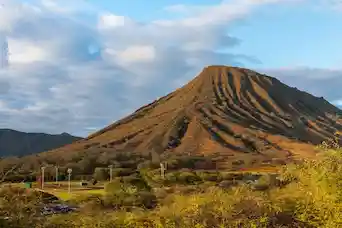 The first 100 steps are easy, but don't speed up. Save that energy for the back half of the hike. At step 500, it gets really steep. Take a break every 100 steps, or so, and look around to enjoy the view. Hanauma Bay and Port Lock Peninsula will reveal themselves as you ascend.
At about the halfway point, the trail will level out. The hiking is easier here, but it's still not for the faint of heart. The flat section of track turns into a bridge with a 40-foot drop to the bottom. You can see right through portions of the track, so the bridge can frighten those who don't like heights. If you're one of those people, you can sidestep the bridge by taking the small dirt path to the right.
You'll be amazed at some of the locals challenging this hike. The fitter outdoor lovers like to jog much of the trail, and it's rather impressive for the final and steepest 100 steps.
You'll climb above the pillbox bunker at the top of the hill, and you'll be treated with 360-degree views of your tropical surrounding. Make sure to take your time drinking in the views. The hike back down the stairs is just as challenging on the knees. It takes about 30 minutes to an hour to ascend the hill, depending on your fitness level.