Locals like to use this stunning beach park for informal gatherings, picnics and weekend parties. This beach park is loaded with amenities, and you'll find some of the best picnic pavilions on The Big Island along this stunning section of black-rock coastline. And the colors here are absolutely magnificent. Unbelievably blue water swirls playfully underneath red cliffs that are crowned by dazzling green trees.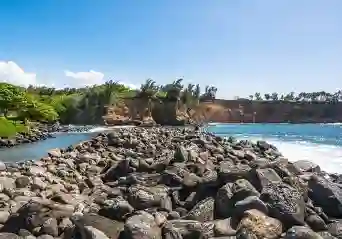 Unfortunately, the swimming at Keokea is poor. There is no offshore reef to protect the waters in this dreamy little cove, so swimming is not advised even if you see locals taking a dip. Islanders have made an effort to calm the water here by placing a line of breakwater boulders to protect the cove, but the conditions are still only safe for the most experienced ocean swimmers.

You'll find a lovely little stream that feeds right into the ocean in the middle of the cove. Small children love splashing around safely in the cool stream, but you should always keep an eye on the youngsters. That stream feeds right into the turbulent waters of the cove.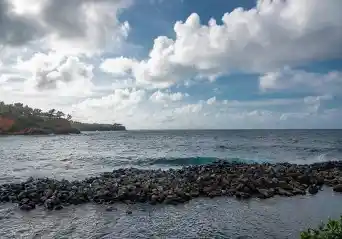 You'll love watching the motley crew of surfers that challenge the waves in this cove, and all that surf-watching can be done from an elevated pavilion that overlooks this black-rock cove. And the celebratory gatherings here at Keokea Beach Park don't have to end when the sun goes down because that's when it's time to use the fire pits. There's nothing like watching the night sky with a cold drink as waves crash below on The Big Island. Just make sure to bring friends and family.

And the crew will love the clean bathrooms, showers and clean drinking water provided by the park. Keokea Beach Park makes for the perfect picnic pit stop during a day exploring the majesty of the Big Island's north shore.