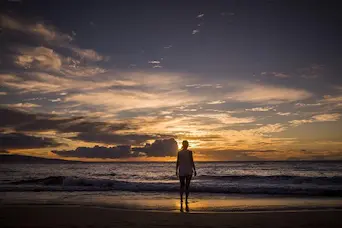 Located on Maui's southern coast at the end of Kihei Road, is this long sandy white beach that runs .7 miles. It's a great beach for sunbathing, swimming, kayaking, boogie boarding, walking, and snorkeling. You'll find that the shoreline is highly developed with pricey beach houses, luxury condos, hotels, and restaurants. Luckily, they are far enough away from the beach that you won't notice them too much. The beach itself is not commercialized. Another name for Keawakapu is "forbidden cove." One reason for the name could have been to prevent Hawaiians from settling on this particular part of the shoreline many years ago. This area is more prone than others for having storms which can hit fairly hard. Since it is unprotected, sand will disappear into the ocean. In an attempt to preserve the development, an artificial reef was made. It not only protects the shoreline, but also the fish.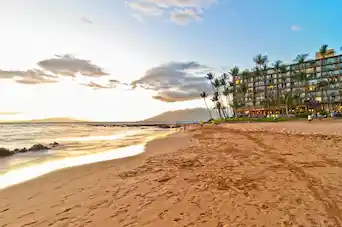 You should check out the living tide pools at night, especially if there is a full moon. This is an excellent chance to go snorkeling to see marine life you wouldn't see in the daytime. Swimming is fantastic! You'll be able to swim laps the entire length of the beach. The Mana Kai hotel rents kayaks, paddle boards, bikes, and snorkeling equipment, if you don't have your own. Did you know that about 400 yards offshore is an artificial reef made up of 150 car bodies? They were dumped here in 1962, along with 2,250 tire modules by a barge. In the winter, high surfs and strong currents are highly possible. By the way, the sunsets here are amazing and whale watching is very good between November and March.

There is parking near the Mana Kai hotel with three beach accesses. The beach amenities include: showers, port-a-potties, a convenience store, hotel, and a restaurant, but no lifeguard.