The ancient Hawaiians believed in a god named Maui, and Maui had a magical fish hook. The god cast his hook to the bottom of the Pacific Ocean and pulled an island to the surface of the sea. And the ancient Hawaiians named the island after the god.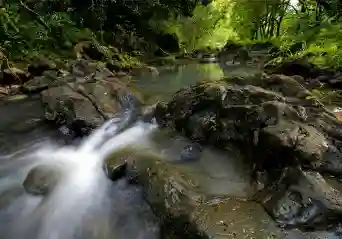 That must have been some fish hook because the highest point of Maui stands over 10,000 feet above the waves. The Haleakala Volcano dominates the skyline as you land at Kahului Airport, and the still-active volcano marks the middle of Maui's bigger, eastern "island."
Yes, Maui is made up of two "islands." Simply pull up a map of Maui on your phone, pan out and you can see these phenomena yourself. Maui looks like two islands conjoined at birth.
The smaller, western island is home to former whaling stations that have transformed into romantic resort towns. The larger, eastern island is centerpiece by Haleakala, and the world-famous Road to Hana wraps around the volcano's eastern edge. This is where you'll find the Keanae Arboretum.
The Road To Hana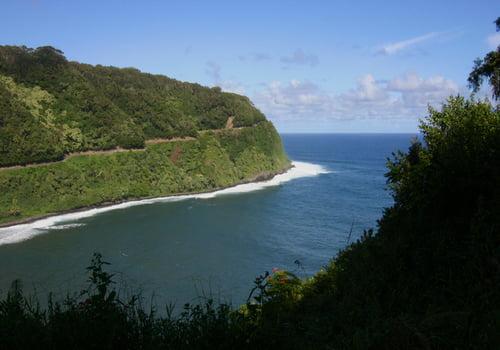 The Road to Hana is a must-do for any first-time visitor on Maui. The road zigzags along the eastern shore of Maui under the shadow of the indomitable Haleakala Volcano, and it takes you past beautiful beaches, stunning waterfalls, misty rainforests and manmade points of interest. You'll be able to sample authentic Hawaiian food while taking in some of the best scenery the state has to offer. And the road takes to -- you guessed it -- the city of Hana.
Driving the Road to Hana is a popular activity for tourists, so you'll want to get an early start to beat the crowds. You can also beat the crowds by doing the Road to Hana in chunks, and staying in hotels or campgrounds along the way.
The Keanae Arboretum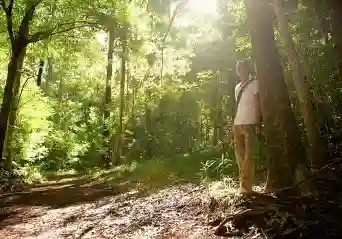 You'll find the Keanae Arboretum just 0.8 miles past mile marker 16 on The Road to Hana. While there is a myriad of sites along the road, this is a great pitstop for those who want to stretch their legs while learning about the flora and fauna of Hawaii.
Entrance is free every day of the week, and you'll find a lovely little paved path that stretches for a half-mile through a forest dense with bananas, taro, and yams. There are a wide variety of different types of bananas in Hawaii, so it's fun looking at all the different types of fruit.
The forest is made up of 150 different species of tropical plants and trees, and you'll find helpful information about the plants along the flat and easy hike. This little pit stop is recommended for all ages and is great for young families or those with mobility challenges. The path is paved, easy to follow, and the walk is lovely under the shade of trees on a hot day in Maui.