You'll find this little strip of sand on The Big Island's northwestern coast just behind the Four Seasons Resort at Hualalai. You can drive up to the resort and talk to the front desk to get a public access pass to this beach. This will allow you to drive through the property to its back end where you'll find the beach.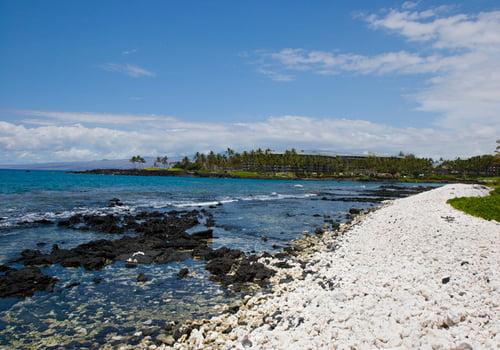 This strip of sand is populated, not surprisingly, by guests of the Four Seasons, but you can find better beaches on The Big Island. The beach here is sandy, so it's nice for a picnic or a sunset, but you don't want to swim in its waters. A lava bench leads into the water to make swimming conditions poor year-round.
But, if you walk down the beach to the Kona Village Resort, you'll find a sandy bit of water that is good for a swim. There's not much room to maneuver, but wading in the cooling water is certainly possible.
Unfortunately, you won't have much to look at during your safe, sandy swim. That's because the Kona Village Resort was partially destroyed by a tsunami that hit the northwest coast of The Big Island back in 2011. The earthquake that started the giant waves originated in Japan.
Viewing the hotel's damage is a good way to educate yourself about the power of the ocean. An earthquake on the other side of the world sent a hotel-wrecking wave all the way to The Big Island. This hotel stands as a reminder to tourists that the ocean is not to be messed with. Only swim if the water is calm because the waves can hit you with incredible force, and currents can grab hold of you in ankle-high water. And never turn your back on the ocean.