Located in the town of Kihei, just off Kihei Road on Maui's South side, Kamaole Park is divided into three separate beaches. Kamaole Beach Park I is the nicest and largest beach out of the three. It's known for its beautiful white sand with great swimming, snorkeling, beachcombing, and kayaking. The sand is similar to that of the more popular beaches of Wailea and Makena. This crescent shaped beach is about one-third of a mile long and if you're lucky, you'll catch the breach of a huge humpback whale. It's almost always sunny and warm here. Kihei is a very nice vibrant community where you'll find unique shops and great restaurants. It's also one of Maui's hotspots for nightlife and the Maui Brewing Company, Maui's largest brewery.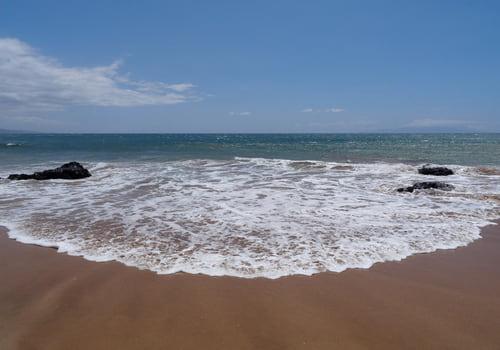 At the southern end of the beach, there is a grassy area where children can play and families can enjoy get-togethers, barbeques, and picnics. Picnic tables and grills are here for your convenience. You may also find a volleyball net set up for extra recreation opportunities. The beach is a little protected from the busy beach road with small sand dunes. There is available parking in a lot and parking along Kihei Road, as well as a dirt lot across the street. Showers, restrooms, and lifeguards are also amenities for Kamaole Beach Park I.

Kamaole Beach Club is right across the street and is the perfect spot for watching the spectacular sunsets. The views of Haleakala Crater towering on Maui's eastern skyline are breathtaking!