The Kalalau Trail is Hawaii's most epic hike, and it's not for the faint of heart. You'll have to pack a tent, plenty of water and food because you'll be spending the night in Kauai's wilderness. The trail is just too difficult and too long for a one-day out-and-back trek.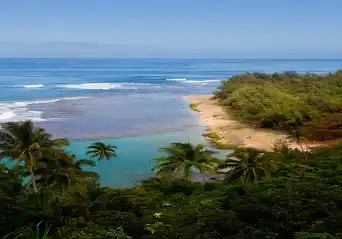 You'll find the trailhead at Ke'e Beach on the northwest of the island. Simply drive Kauai's one highway north out of Lihue, follow the road as it bends west and drive until the road ends. You'll find a cramped parking lot at the trailhead with bathrooms, showers and drinking water. You'll also likely find a local selling ice cold coconuts out of the back of a truck in front of the yellow and brown Kalalau Valley Trail sign. Remember him. He'll be your best friend when you return from Hawaii's most remote and beautiful valley.
The trail starts easy enough. You'll ascend up the first cathedral cliff of the Na Pali Coast on a staircase made of rock. Soon, you'll burst through the rainforest canopy, and you'll have incredible views of Ke'e Beach below. Stop, take a picture and sip on some water, but don't linger. There's a lot of hiking ahead of you and the views to come are much more spectacular.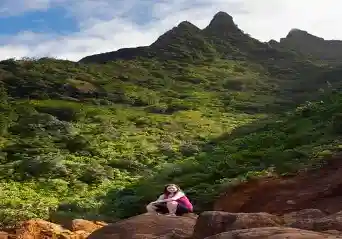 At the one-mile marker, you crest the first cathedral cliff of the Na Pali Coast. You'll be able to see all the way down the indomitable coast, and you'll be presented with the challenge ahead. You'll have to ascend and descend each cathedral cliff as far as the eye can see before emerging into Kalalau Valley. It's 11 miles one way.
The other side of the cathedral cliff is different. The plants are shorter and stouter, the air is dry and it's hotter. But you'll be meandering downhill to Hanakapi'ai Valley with its incredibly beautiful and dangerous beach. Feel free to explore the rocky beach, its hiker-built cairns and its cave, but don't dare swim in the water.
You'll have to get wet crossing Hanakapiai Stream. All that water is pouring over the 1,600-foot Hanakapiai Falls two miles into the valley. But you won't be hiking to the falls. At the trail juncture, you'll be turning south to continue along the Kalalau Trail.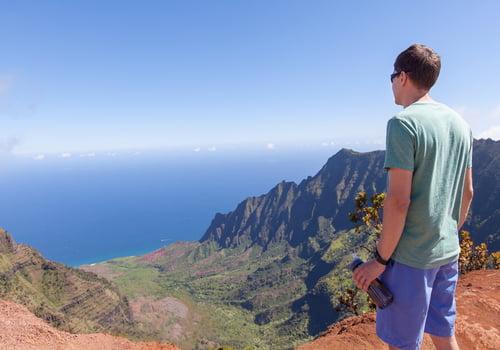 You'll begin a series of ascents and descents into different valleys and through different climate zones. You'll marvel at massive and ancient plants, and you might be able to spot spinner dolphins and whales out in the deep. It's a challenging hike that will take you through streams, over towering cliffs and into rainforest , but it's nothing compared to what lies ahead -- Crawler's Ledge.
At the seven-mile mark, the trail takes a turn for the treacherous. The trail becomes inches wide as it sandwiches itself between a cliff wall and a drop to the ocean. Many hikers are so scared that they resort to crawling this 100-yard section of trail, and there's not enough room for two-way traffic. You'll have to coordinate with any outgoing hikers. And make sure there's plenty of sunlight for this section of the hike so you can see exactly where you're stepping.
But, if you're brave enough, you'll be rewarded with the Kalalau Valley. This is Hawaii's most beautiful stretch of land, and not many tourists make the trek. The white sand beach is soft and lined with caves for exploration. The valley is full of fruit trees for a sweet treat. And you can even shower underneath a perfectly placed waterfall in this tropical paradise.
Turn off your technology. Time doesn't exist here in Kalalau Valley, and there's certainly no cell signal. You're one of the few that gets to live like the ancient Hawaiians; rising with the sun, enjoying the fruits of the land and forging a strong connection with Mother Earth.